A blog site carrying the name of the Department of Social Welfare and Development (DSWD) is enticing netizens to register in exchange for cash assistance to be coursed through a popular money remittance service. This is fake.
"10K AYUDA IPAPADALA SA PALAWAN NGAYONG ARAW MAG PA REGISTER NA (Financial aid worth P10,000 to be sent via Palawan Express today, register now)," read the post in Blogspot website DSWD NEWS AND UPDATE published on Sept. 30 but which continued to dupe netizens a week after it first appeared.
In its scam attempt, the blog urged people to write their contact details in the comments section. Todate, 22 netizens shared their phone numbers and addresses.
Palawan Express has also figured in a few posts involving non-existent cash assistance this year and has warned the public against online fraud using its name. Previous posts involving cash handouts tagging the money remittance service were fact-checked by VERA Files and found to be fabricated.
(See VERA FILES FACT CHECK: Palawan Express cash giveaways FAKE; VERA FILES FACT CHECK: Palawan Pawnshop, Lucio Tan cash giveaway BOGUS)
Asked about the latest mention of Palawan in connection with the cash aid, Palawan Pawnshop Group digital marketing officer Karen Mae Zanduete told VERA Files: "We cannot comment on posts that are not in our official social media accounts and website."
And on its Facebook page, the company warned its customers: Palawan Pawnshop is not connected to any online cash or ayuda.
In the early months of the pandemic and a lockdown was imposed, the DSWD provided cash aid to qualified beneficiaries and those who registered through the ReliefKaya mobile app had the option to receive cash aid via Palawan Express. That is no longer the case.
The recipients of the department's 2020 subsidy program were eligible to receive P5,000 to P8,000 per family according to a joint memorandum circular.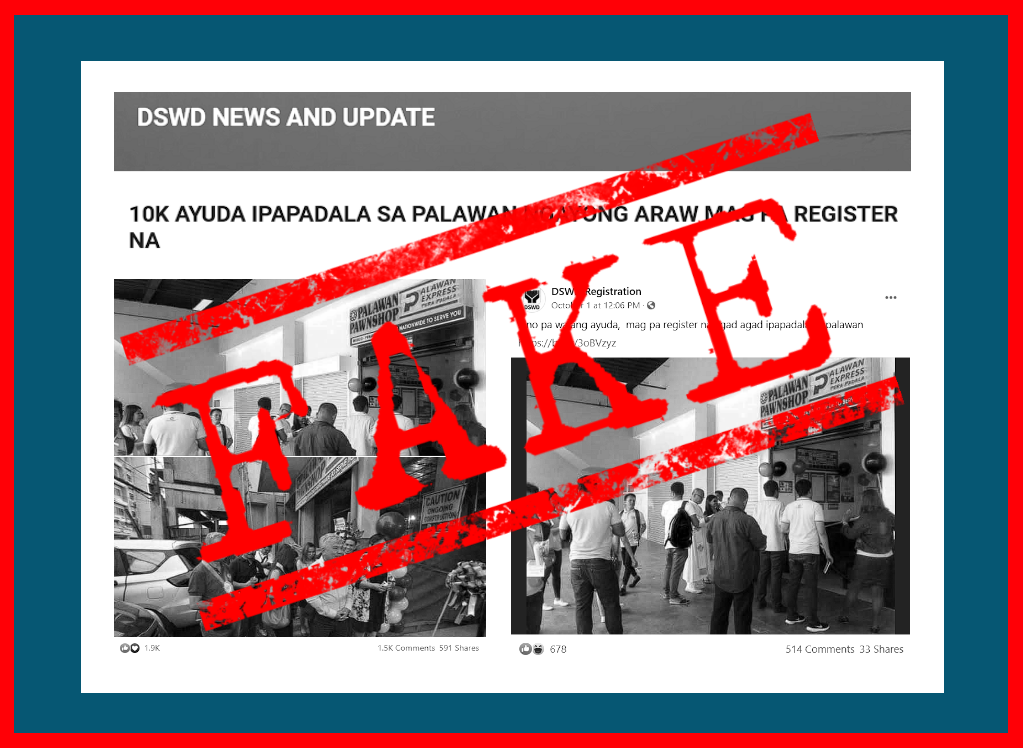 DSWD NEWS AND UPDATE also carries scam posts on other types of "ayuda." It is managed by Blogspot user "AXIE," who also created the website NEWS AND UPDATE containing scams about mobile game Axie Infinity.
Facebook (FB) page DSWD Registration and FB group DSWD UPDATE, which were previously tagged as bogus, created posts on Oct. 1 carrying links to the sham giveaway. Captions of these posts urged people to "register" using the link and to "share" the post.
Both the FB page and the FB group bolstered the claim about sending cash aid worth P10,000 via Palawan Express by carrying photos of the remittance center's branches in the town of Mexico, Pampanga in 2018, and in Davao City in 2019.
The bogus post garnered nearly 2,600 reactions, 2,000 comments, and 700 shares on FB. It emerged a day after the DSWD admitted that there are no funds in next year's budget allocated for its social amelioration program.
VERA Files Fact Check previously debunked a similar scheme involving a fake website and impostor DSWD accounts on FB. (See: VERA FILES FACT CHECK: Post on Duterte's P10K cash aid to mothers FAKE)
DSWD UPDATE, previously named DSWD 2nd and 3rd Tranche of SAP 4ps Update and DSWD PHILIPPINES, was created in September 2020. DSWD Registration, meanwhile, emerged in May 2021.
(Editor's Note: VERA Files has partnered with Facebook to fight the spread of disinformation. Find out more about this partnership and our methodology.)
Have you seen any dubious claims, photos, memes, or online posts that you want us to verify? Send us a message here or here.