Pro-Duterte Facebook pages and groups are sharing a post from a satirical page that extolled President Rodrigo Duterte as a U.S. International Anti-Corruption Awardee, a recognition that was actually given to Pasig City Mayor Victor "Vico" Sotto.
On Oct.11, FB page Cebu Dairy News congratulated Duterte and referred to him as "a standard-bearer for a new generation of Philippine politicians who prioritize anti-corruption and transparency initiatives in his election campaign and in office."
The social media post is a satire. The citation was actually for Sotto, who was among 12 state and civil society leaders around the world who were awarded by the U.S. State Department in February for their work "to defend transparency, combat corruption and ensure accountability in their own countries."
Thinking the post is real, netizens congratulated Duterte, calling him the "greatest president of all" and "my best President ever we have of my existence [sic]." One reader who calls herself a Duterte supporter was aware it was Sotto who received the recognition but said she still considers Duterte the best president without the award.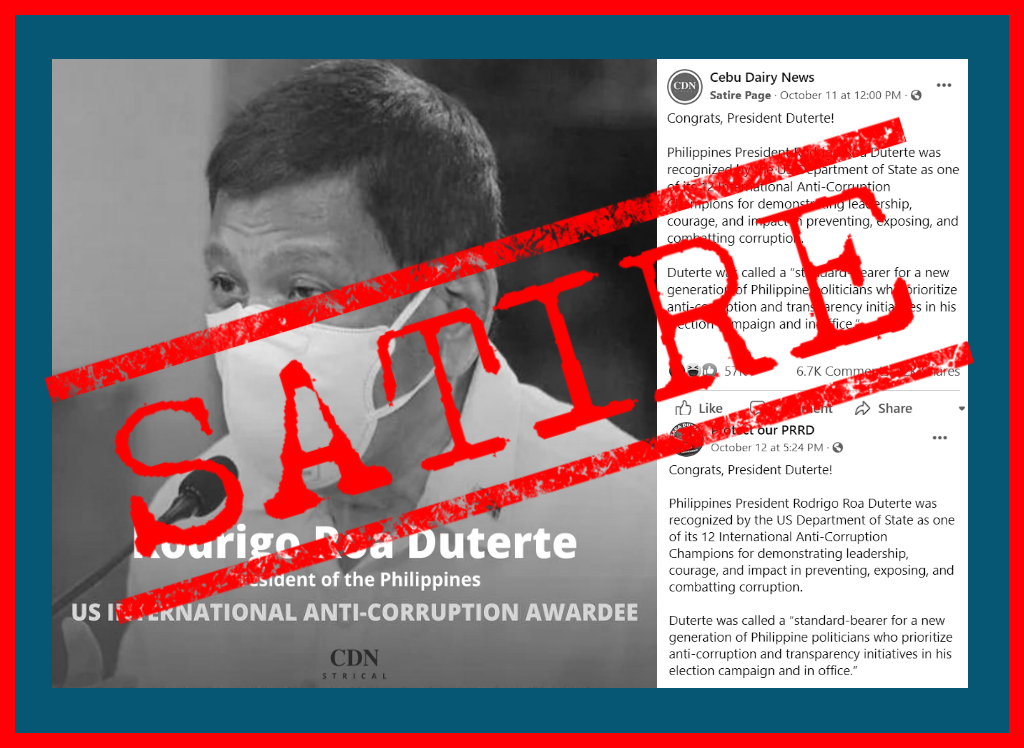 The satirical claim was reposted on FB pages Protect our PRRD and Alyansa ni Inday Hongkong Chapter, as well as in FB groups ORGULLO DE MINDANAO and Dugong Bayani2 ph Para sa Bayan DU30 Online Warriors. Several pro-Duterte FB pages also shared the post but most have been deleted or were already rated through another fact check article.
The post garnered 57,000 reactions, 6,700 comments, and 42,000 shares on FB. Posts by Protect our PRRD, Alyansa ni Inday Hongkong Chapter, ORGULLO DE MINDANAO and Dugong Bayani2 ph Para sa Bayan DU30 Online Warriors got over 3,500 interactions in total.
Cebu Dairy News calls its FB page satire/parody. While mimicking the graphic design and logo of legitimate news portal Cebu Daily News, it says they are not connected. It carries this disclaimer: "This page … was just made to either ridicule or make fun out of everything we deem as satirical worthy."
VERA Files last month published a story on a post on the satirical site about the Cebu-Cordova Link Expressway after a reader asked that it be verified.
Cebu Dairy News was created in July 2021, Friends of Sara Duterte in August 2019, Protect our PRRD in March 2016, and Ronald BATO dela Rosa Tapat at Totoo sa Serbisyo in Oct. 2018.
(Editor's Note: VERA Files has partnered with Facebook to fight the spread of disinformation. Find out more about this partnership and our methodology.)
Have you seen any dubious claims, photos, memes, or online posts that you want us to verify? Send us a message here or here.