A satirical post about a tollway bridge project in Cebu province is gaining traction on social media for the wrong reason.
Facebook (FB) page Cebu Dairy News, which describes itself as "Cebu's #1 satrollical page," posted on Aug. 31 an altered graphic of the Cebu-Cordova Link Expressway (CCLEX), with the text, "CCLEX CONTRACTOR: WE WILL NEED TO REALIGN THE BRIDGE."
A reader asked VERA Files Fact Check to verify the claim.
Cebu Dairy News mimics the graphic design of Cebu Daily News Digital, a legitimate news portal, and true to its aim to "ridicule or make fun out of everything we deem as satirical worthy," the platform carries content that should not be taken seriously. Yet netizens believed its post about the CCLEX that showed an image of the connecting bridge with its two sections misaligned.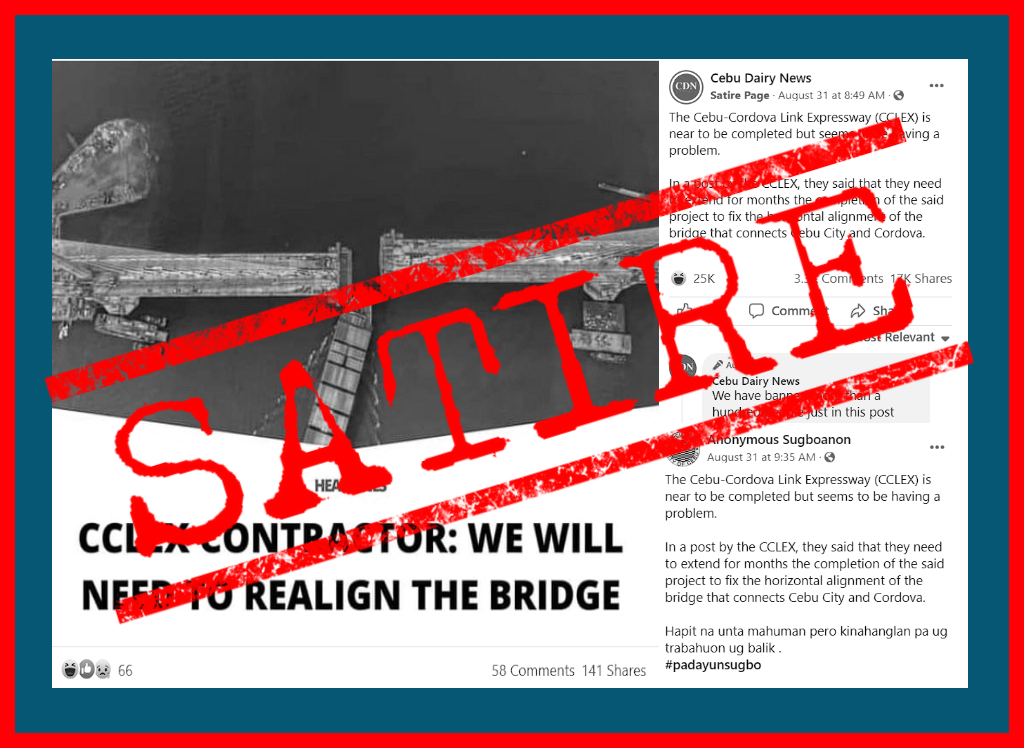 Some who thought the satirical page's post was real said that a slight miscalculation in mega infrastructure projects "should not be taken lightly," while another said it's an "unacceptable mistake by the contractor."
Reactions to the post concerning the P30-billion project that will connect mainland Cebu to Cordova town on Mactan island prompted declarations from the Department of Public Works and Highways (DPWH) that things were going well.
"The main bridge of the Cebu Cordova Link Expressway is almost complete," DPWH Sec. Mark Villar said in an Aug. 31 FB post. "There is no truth to the realignment as well as the closure of the CSCR viaduct."
On the same day, the chairman of the DPWH's Build, Build, Build Committee, Anna Lamentillo, echoed Villar's statement. "Nakakaloka (This is crazy). Haha. We are not aligning the Cebu Cordova Link Expressway. Hindi po totoo na di sila aligned (It is not true that they are not aligned)."
As early as Aug. 26, CCLEX's official FB page issued a clarification after some people spread a manipulated image of the expressway. "We know that people are just having fun and sharing this as a joke. We are posting this clarification because some people believed the memes to be true."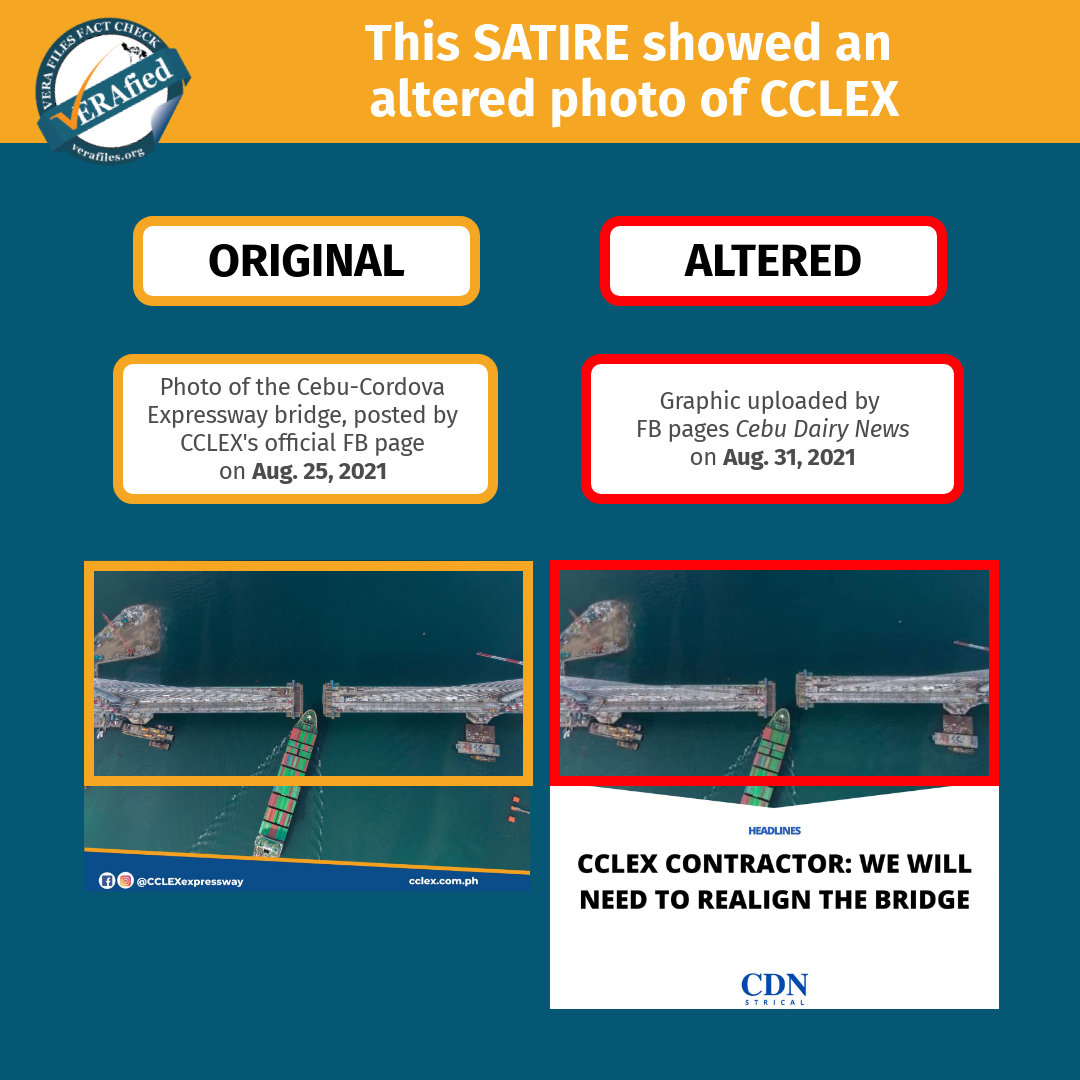 FB page Anonymous Sugboanon was among those that reshared the satirical post, thinking it was true. It garnered 66 reactions, 58 comments, and 141 shares from netizens. The page was created last Aug. 26.
Cebu Dairy News' post emerged a day after CCLEX's management announced that the two sections of the bridge were just 14 meters apart. It then got 25,000 reactions, 3,300 comments, and 17,00 shares. According to social media monitoring tool CrowdTangle, the post could have been shared with 484,600 netizens.
Because of netizens' negative reactions to the post, the satirical page said it turned some of them away. "We have banned more than a hundred people just in this post alone. If you already know what this page is all about, just don't do anything stupid," it said. "Refrain from SPAMMING, STATING THE OBVIOUS, writing keywords like CLICK-BAIT, FAKE PAGE, FAKE NEWS, FAKE POST and etc."
In a succeeding post, it addressed the readers' reactions and said people who use social media should always check and verify sources of information.
(Editor's Note: VERA Files has partnered with Facebook to fight the spread of disinformation. Find out more about this partnership and our methodology.)