A Filipino Facebook (FB) page gave false context for two images used to promote a Japanese foot massage mat. It also provided a bogus link for the online delivery of the said product. 
The false Oct. 3 FB post featured a photo of an elderly man in a hospital bed and another of four men carrying a casket. A reverse image search shows that the pictures are neither connected nor related to the foot massage mat advertised. 
The FB page Nelly Sabinn was behind the bogus post. It claimed a doctor advised her to buy a genuine foot massage mat from Japan after her grandfather allegedly died from diabetes, hypertension, and stroke. 
VERA Files Fact Check has debunked a similar claim before. (READ: VERA FILES FACT CHECK: Unrelated photos MISREPRESENTED as 'Megamall sale crowd')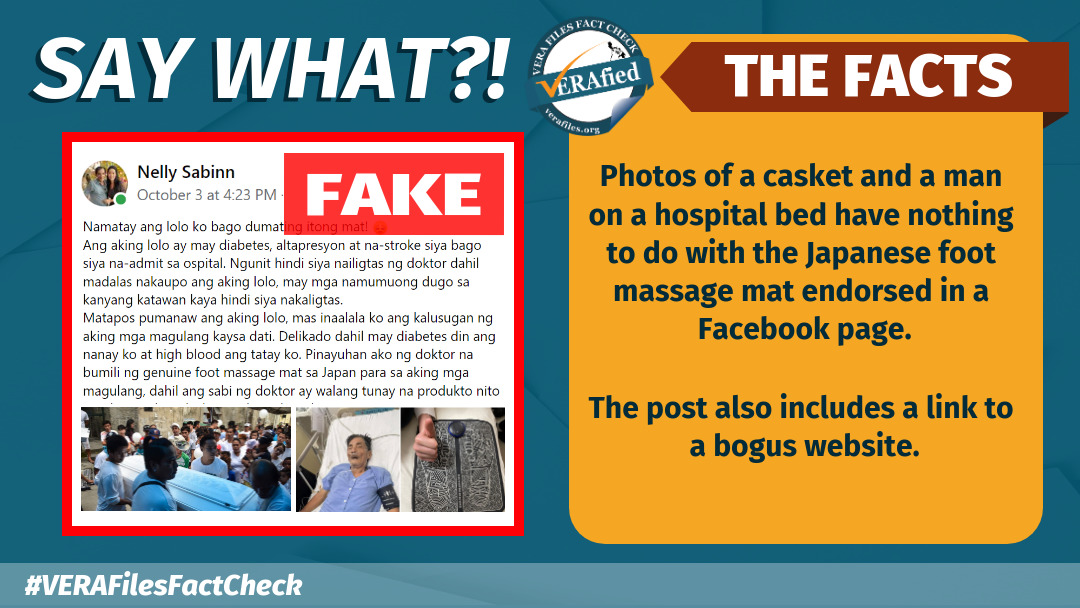 The photo of the casket, taken on Oct. 23, 2017, was from the burial of a 35-year-old tricycle driver, a victim of extrajudicial killing on Oct. 11, 2017. Contrary to what the post insinuated, the casket did not carry the man in the hospital bed.
The elderly patient in the hospital bed was not Filipino. Vietnamese news sites identify him as former actor Thương Tín, who was admitted to a hospital in February 2017 due to a stroke.  
Nelly Sabinn's profile picture does not show a woman with her grandfather, as the post made it appear. The original is of Thương with actress Trịnh Kim Chi taken March 4, 2021. The artists are not related to each other. 
The erroneous post, which garnered over 4,672 interactions, also provided a link, which opens to a web page asking for personal information.
Have you seen any dubious claims, photos, memes, or online posts that you want us to verify? Fill out this reader request form.
(Editor's Note: VERA Files has partnered with Facebook to fight the spread of disinformation. Find out more about this partnership and our methodology.)