Online posts claiming an Australian university has discovered that bananas can help prevent the spread of the coronavirus disease (COVID-19) are false.
On March 15, a reader asked VERA Files Fact Check to verify a 58-second video uploaded by a netizen on Facebook. It was captioned, "Banana is the key to fight coronavirus!"
The untrue clip leads off with 20-second footage lifted from a three-and-a-half-minute Jan. 24 ABC News Australia report about University of Queensland scientists working on an anti-COVID-19 vaccine. Overlaid with background music, it was spliced together with a Feb. 14 Wall Street Journal video and several stock footage of doctors and bananas.
Nearly 40 seconds in, text on the video reports that the university's scientists "have proven" that bananas improve one's immune system because they contain vitamin B6, and that the fruit can "help prevent coronavirus." More, the video also advised viewers that "a banana a day keeps coronavirus away."
While it is true that researchers from the University of Queensland are currently developing a vaccine for COVID-19, neither the ABC News Australia report nor a press release from the university about the research made mention of bananas.
According to a fact sheet on bananas by the Harvard School of Public Health in the United States, the fruit does contain vitamin B6, which is involved in the immune system function. There is currently no scientific evidence, however, proving that eating bananas prevents or lowers one's chances of acquiring the coronavirus disease.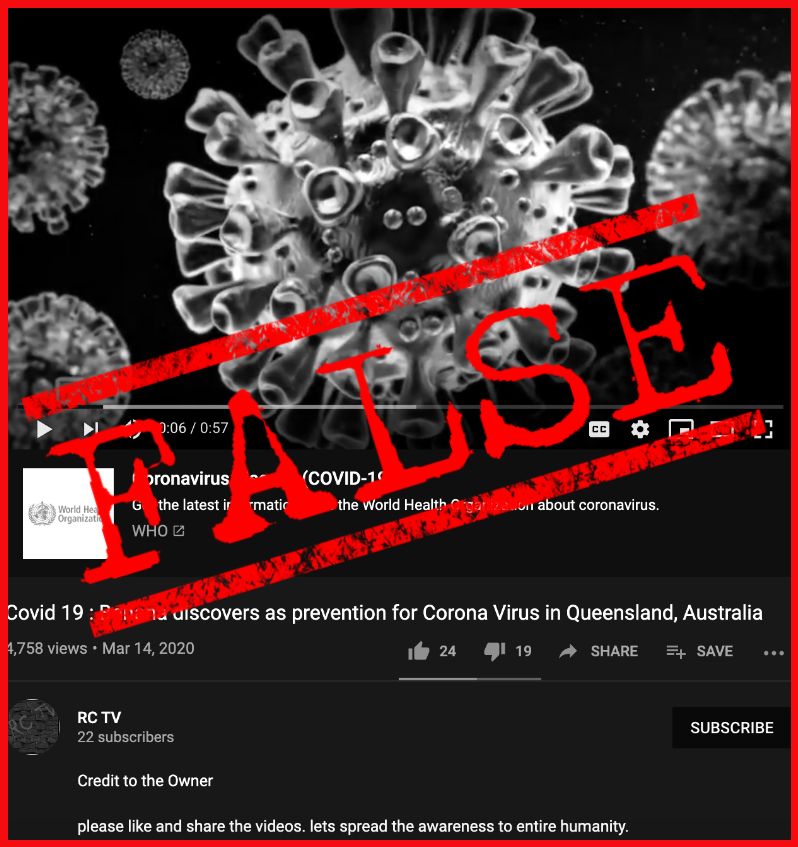 The World Health Organization still has not declared any drug, vaccine, or therapy as a cure for COVID-19.
A look at the false claim's history on the Internet shows that it is currently being propagated by several YouTube channels, which have re-uploaded the video on their own accounts. The inaccurate post also appears to have made the rounds via private messaging.
VERA Files Fact Check traced the sources of the footage used in the video and found that the false post edited together 14 different clips. Apart from the ABC News Australia report, it also used graphics from Australian television program 60 Minutes, a short clip from the Wall Street Journal illustrating how a potential vaccine may fight off the virus, three different clips from an informational video about bananas by YouTube channel Herbs cures, a stock image of the fruit, and seven stock footages of doctors, scientists and medical equipment. There was also one clip of the banana that VERA Files Fact Check could not trace online.
This video reported by a reader to VERA Files Fact Check has been viewed 249 times. YouTube channel RC TV's upload, which is the earliest retrievable copy of the video online, has gotten 4,700 views as of writing.
Netizens continue to share the misleading video as the confirmed COVID-19 cases all over the world reached staggering numbers. As of writing, the Johns Hopkins case tracker has already recorded over 198,000 positive cases — with 7,954 total deaths.
(Editor's Note: VERA Files has partnered with Facebook to fight the spread of disinformation. Find out more about this partnership and our methodology.)