A Filipino physical therapist who has spread erroneous information about vaccines is claiming that the Department of Health (DOH) does not monitor deaths in connection with the inoculation campaign against coronavirus disease 2019 (COVID-19). This is not true.
The DOH does track fatalities and serious adverse effects following immunization (AEFI) with COVID-19 vaccines through a reports-based surveillance system.
In an Aug. 14 post on Facebook (FB) page Doc Ron Ang Malakas, Ron Samaniego wrote: "Wala daw namatay sa BAKULAM sa Pinas. Talagang wala kayong mare report. Di n'yo naman tina track. Ang meron kayo c0víd tracer. Wala tayong bakulam death tracer sa Pinas."
(It's said no one died from the vaccine in the Philippines. You really can't report anything. You don't track it. You have COVID-19 tracers. In the Philippines, we don't trace those who died from the vaccines.)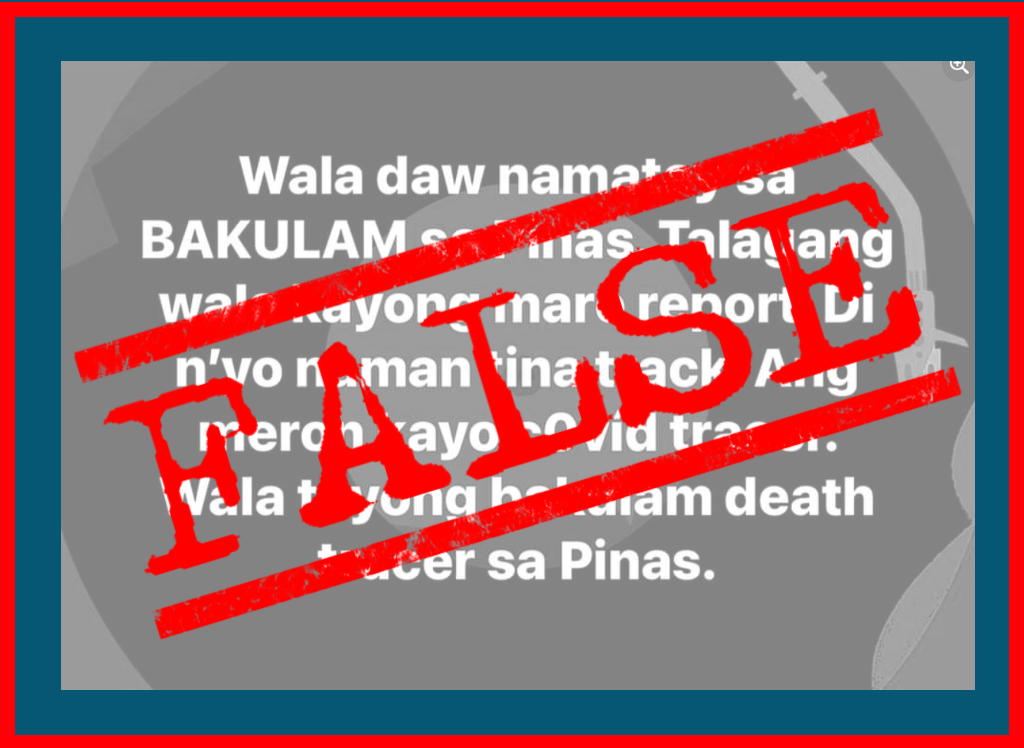 From March 1 to Aug. 8, a total of 24,279,750 COVID-19 doses have been administered to Filipinos. Of the 55,854 suspected adverse reaction cases, 572 fatal events were reported, according to the Food and Drug Administration (FDA), an agency under the DOH, noting that the fatal events were not necessarily caused by the vaccine.
Of the total deaths assessed by an independent committee, 238 were not related to the vaccine, 16 were "indeterminate," 13 were "unclassifiable," while the remaining 305 cases are being assessed, the FDA said.
Reports of serious adverse effects — death, prolonged hospitalization, life-threatening events, and significant disability — are monitored through the DOH's surveillance reporting system. They come either from the health department's epidemiological surveillance unit, hospitals, self-reports from patients, or from pharmaceutical companies.
After initial assessment by a regional AEFI committee, the national committee then decides whether or not the reported serious AEFI is directly caused by COVID-19 vaccination, according to the DOH's national deployment and vaccination plan.
In an Aug. 16 FB post, the DOH announced that as of Aug. 9. there have been no deaths directly caused by COVID-19 vaccines.
Samaniego reacted to the post by repeating his spurious claim and calling the health agency the "number one source of medical misinformation in the Philippines."
His erroneous FB post got 2,200 reactions, 550 comments, and 450 shares. It emerged two days after a retired medical professor claimed without basis that COVID-19 vaccines are more dangerous than COVID-19.
VERA Files debunked Samaniego's other erroneous claim that vaccines are being used to reduce the country's population. He was also called out by a group of professional physical therapists for spreading falsehoods in his videos.
Doc Ron Ang Malakas was created last June 2021.
(Editor's Note: VERA Files has partnered with Facebook to fight the spread of disinformation. Find out more about this partnership and our methodology.)