In justifying his decision not to get a vaccine, a retired professor of the University of the Philippines College of Medicine claimed that the drug is "more dangerous" than the coronavirus disease 2019 (COVID-19) virus itself. But he gave no proof to back this up.
Pharmacologist Romeo Quijano made this baseless claim in an Aug. 10 interview on the DZRH News program DOS POR DOS with radio hosts Anthony Taberna and Gerry Baja. It has gotten 5,100 views as of publishing.
The following day, DZRH News reported on Quijano's statement, repeating his claim without airing statements from other health experts. Titled, "COVID-19 VACCINES, MAS DELIKADO PA KAYSA SA MISMONG VIRUS, AYON SA ISANG GRUPO NG MGA DOKTOR," the video got at least 2.4 million views before it was taken down.
(Translation: COVID-19 vaccines more dangerous than actual virus, says group of doctors.)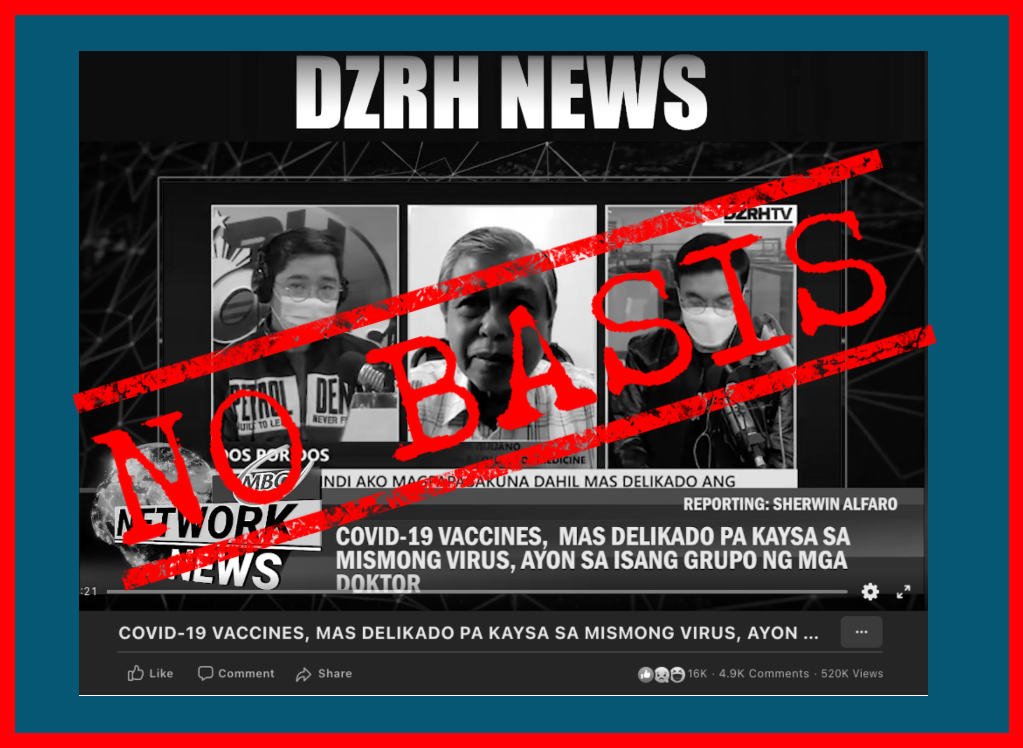 Health authorities and the institution Quijano previously worked with issued statements challenging his claim.
"There is a growing number of real-world evidence globally which have consistently shown that COVID-19 vaccines have led to a significant reduction in hospitalizations and deaths among vaccinated individuals," the Department of Health (DOH) said in an Aug. 12 statement addressing Quijano's remarks.
The UP College of Medicine's Department of Pharmacology and Toxicology, which was identified in the DZRH report as affiliated to Quijano, also said in an Aug. 12 statement that it supports "the evidence-based approaches to addressing the COVID-19 pandemic, including vaccination."
"Based on our evaluation of the evidence, the benefits of the vaccine far outweigh the risks," it added.
Here are Quijano's three main claims that have no basis and need context:
| | |
| --- | --- |
| Claim | Rating |
| That there is scientific evidence that spike proteins used in COVID-19 vaccines can replicate inside the body, produce a "mechanism of toxicity," and is the main reason why there are negative effects from the vaccine. | NO BASIS |
Quijano did not cite a specific study in his interview. But VERA Files Fact Check found that a new medical study in the United States (U.S.) is recently being used as "evidence" that vaccines may cause serious harm by spreading "toxic" spike proteins into one's bloodstream and internal organs.
The study observed that the spike protein of SARS-CoV-2, the virus that causes COVID-19, was found in the blood of 11 out of 13 Moderna COVID-19 vaccine recipients.
Public health experts from Meedan's Digital Health Lab, however, explained that spike proteins in the body produced from COVID-19 vaccination are widely considered safe, and play a vital role in training the body's immune system against the disease.
They added that false claims about the toxicity of spike proteins from COVID-19 vaccination "often misinterpret studies" since they "fail to take into account how spike proteins from COVID-19 vaccination behave differently than the spike proteins from natural COVID-19 infection." A spike protein is found on the surface of SARS-CoV-2.
A similar claim was made in June by an immunologist in Canada, and debunked by the fact checking teams of the Associated Press, Australian Associated Press and Reuters.
| | |
| --- | --- |
| Claim | Rating |
| That Europe and the U.S. already recorded more than 15,000 deaths and over 500,000 adverse events — half of this being serious cases — following COVID-19 vaccination. | NEEDS CONTEXT |
Adverse events experienced by individuals after they received jabs against COVID-19 were indeed reported from all over the world. But health authorities, including the U.S. Centers for Disease Control and Prevention (CDC) and the European Medicines Agency (EMA), continue to stress that a causal link between said events and vaccination has not been established.
"Reports of adverse events […] following vaccination, including deaths, do not necessarily mean that a vaccine caused a health problem," the U.S. CDC stated in its website.
"The fact that someone has had a medical issue or died after vaccination does not necessarily mean that this was caused by the vaccine," the EMA stated in its COVID-19 vaccine safety updates (Pfizer, J&J;, Moderna, AstraZeneca).
Of the figures Quijano mentioned, he was correct in his estimate that about 500,000 people in the U.S. and Europe — within the European Union, at least — have reported suspected adverse events. But it was far from reality in terms of deaths post-vaccination.
Source

Total adverse events

Serious adverse events

Deaths

U.S. VAERS

as of July 30

510,774

79,385

6,356

EMA

as of July 29

479,282

n/a

5,738

Quijano

over 500,000

~250,000

over 15,000
Lastly, his estimate was over 300% the actual number of serious adverse events in the U.S. EMA did not distinguish between severe and non-severe adverse events in its data, raising questions on the basis of Quijano's claim.
| | |
| --- | --- |
| Claim | Rating |
| That there are many ways to kill the virus that do not require vaccination, such as taking ivermectin, vitamin C, turmeric, virgin coconut oil (VCO), and saluyot | Unproven |
The World Health Organization (WHO) said there is currently no licensed cure yet for COVID-19.
Ivermectin, an antiparasitic drug, still lacks scientific support as a COVID-19 cure, as of publishing. In fact, an oft-cited study on the drug's effectiveness as a treatment against the disease has been pulled out of Research Square, a multidisciplinary preprint and author services platform, last July 14. An article by The Guardian quoted Research Square as saying that the pull-out was done due to "ethical concerns."
Quijano made a similar claim in May endorsing ivermectin as a safe and effective treatment for COVID-19, but studies on the drug were about its use as an antiparasitic and not as a COVID-19 medicine. (VERA FILES FACT CHECK: UP expert's claim on Ivermectin safety NEEDS CONTEXT)
The WHO has said vitamins do not kill SARS-CoV-2, and the claims that turmeric and saluyot (jute) (jute) can treat COVID-19 have not been medically proven. VCO is currently being studied for its potential to ease symptoms of COVID-19, but it has likewise not been proven to be a cure.
While they are considered safe and life-saving, vaccines "do not fully protect" everyone who is vaccinated, as emphasized by the WHO. But what is known is that currently available COVID-19 vaccines are effective in reducing severe disease, hospitalization and death.
Apart from getting vaccinated, health experts have reminded the public to continue practicing physical distancing, wearing a mask, keeping rooms well ventilated, avoiding crowded places, and keeping hands clean, to fight the pandemic.
(Editor's Note: VERA Files has partnered with Facebook to fight the spread of disinformation. Find out more about this partnership and our methodology.)