A former Pfizer worker's claim that there is "irrefutable" evidence of the "toxic" substance graphene oxide in coronavirus disease 2019 (COVID-19) vaccines is false. This claim had been refuted repeatedly by experts, official records and various fact-checking organizations.
Karen Kingston was interviewed in a 25-minute episode of the Stew Peters Show in the United States that was uploaded on July 28, 2021. She said that graphene oxide – an oxidized version of a single layer of carbon atoms – is not listed in the patent of COVID-19 vaccines because it is a "trade secret."
This claim has no basis.
The ingredient is not found in the fact sheet of Pfizer that shows the contents of the vaccine, as released by the United States' Food and Drug Administration.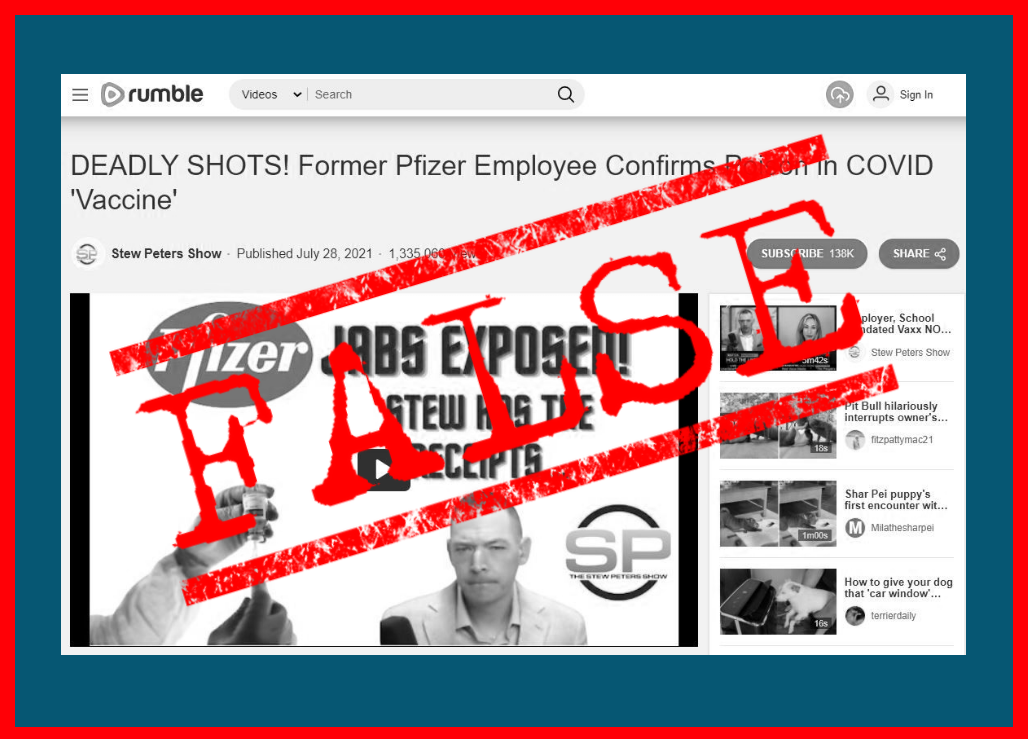 VERA Files Fact Check has looked into the same claim from another source and found it needing proper context (See VERA FILES FACT CHECK: Filipina vlogger shares report that NEEDS CONTEXT). The claim has also been debunked by several international fact-checking organizations.
A Pfizer representative also told fact checking website Lead Stories that Kingston "was not involved in the research, development or manufacturing of the Pfizer-BioNTech COVID-19 vaccine."
While Kingston did say that the ingredient was purposely not included, she misleadingly added it was because billionaire and philanthropist Bill Gates wanted to keep the vaccine formulation a secret.
Disinformation being peddled has blamed Gates for allegedly wanting to implant microchips with the COVID-19 vaccine to track those inoculated (See VERA FILES FACT CHECK: Microchips, quantum dots and other coronavirus conspiracy theories).
In an April 25 interview with British media Sky News, Gates was asked if "allowing the recipe of these vaccines to be shared would be helpful." He said no and this was misinterpreted as hiding substances in the vaccines' patents.
Gates is against the public disclosure of the recipe of the vaccines as it may jeopardize the safety of manufacturing the vaccines. "You've got to do the trials on these things, and every manufacturing process has to be looked at in a very careful way," he said.
Kingston also claimed that graphene oxide is in the polyethylene glycol (PEG) -lipid nanoparticles to keep the particles stable. But there is no evidence of the substance in the said nanoparticles, according to an Aug. 5 email from global tech and health non-profit Meedan, which also uploaded the answer on its site.
"While certain amounts of graphene oxide could be toxic to humans, current research on the use of this compound in other vaccines indicate that the amount that would be in potential vaccines would be so small that it would not be toxic to human cells," according to Meedan.
The video carrying Kingston's claim started to circulate on Philippine social media a day after three million doses of the Moderna COVID-19 vaccine donation from the United States arrived in the country.
It could have been viewed by over 1.25 million Facebook users mostly from the US, according to social media monitoring tool CrowdTangle.
The video has 1,640,939 views on the site. The Stew Peters Show has 155,000 subscribers on video platform Rumble.
(Editor's Note: VERA Files has partnered with Facebook to fight the spread of disinformation. Find out more about this partnership and our methodology.)