Reports about a New York-based Filipina who developed a blood abnormality after getting a jab of Moderna's COVID-19 vaccine have raised concern among thousands of Filipino Facebook (FB) users.
On Feb. 8, The New York Times published a story on the case of 72-year-old Luz Legaspi, who was hospitalized with immune thrombocytopenia (ITP) a day after she received the drug on Jan. 18. ITP is a disorder that can lead to excessive bleeding or bruising because of the shortage of platelets — also called thrombocytes — or blood cells that form clots to stop bleeding.
The blood disorder has occurred in at least 36 people in the United States who got inoculated with either Moderna or Pfizer's COVID-19 vaccine, according to news reports. Health experts and authorities say a direct link between the drugs and ITP remains uncertain.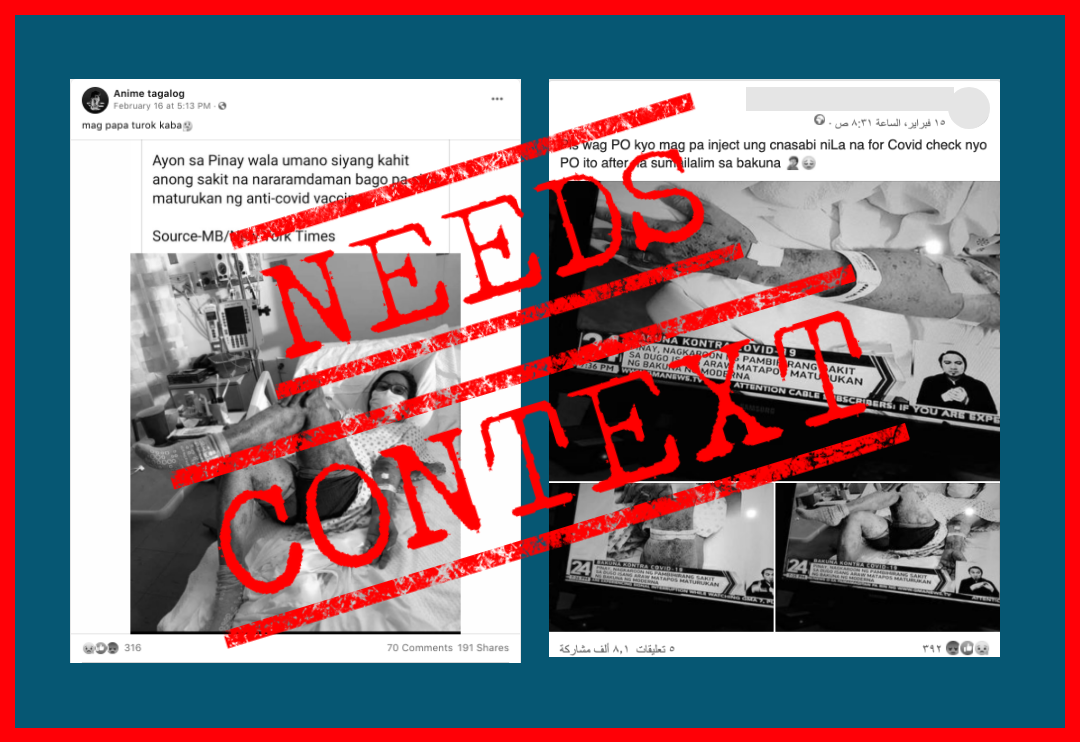 Legaspi, who was hospitalized for two weeks at Elmhurst Hospital, has since gone home and her platelet count has steadily increased, the Times reported.
Photos of Legaspi while in the hospital with bruises on her arms and legs have been making the rounds on the Web this week and are being used by some netizens to discourage others from getting inoculated against the coronavirus disease 2019.
Among the most popular posts using Legaspi's case as a warning was published on Feb. 15 by an FB user. It got over 8,000 shares before it was taken down.
Prior to Legaspi's case, an obstetrician from Florida who received a jab of Pfizer's vaccine on Dec. 18 developed a similar condition and died 16 days later from a brain hemorrhage.
ITP cases under investigation
The New York Times reported that officials from the U.S. Food and Drug and Administration (FDA) and the Centers for Disease Control and Prevention (CDC) are investigating the reported cases of ITP in COVID-19 vaccine recipients.
The agencies were also reported as saying that the cases could be "coincidental" since the rates of the vaccinated people with the condition "did not appear higher than the rates normally found in the U.S. population."
The vaccine maker, Moderna, was quoted in the Times story as saying that it "continuously monitors the safety of its COVID-19 vaccine using all sources of data."
Pfizer-BioNTech, on the other hand, which uses the same mRNA technology as Moderna for its vaccine, said in a statement it takes reports of adverse events very seriously and that it was aware of the ITP cases.
"We are collecting relevant information to share with the F.D.A. However, at this time, we have not been able to establish a causal association with our vaccine," Pfizer added.
The two are the only drugs that were granted emergency use authorization in the United States so far.
A team of health experts and researchers convened by global nonprofit organization Meedan told VERA Files Fact Check on Feb. 19: "It is too soon to know whether or not the timing of ITP and COVID-19 vaccination were coincidental in these cases. It's also not clear if vaccination led to an exacerbation of pre-existing unrecognized ITP, or if the vaccination caused ITP."
The benefits of the COVID-19 vaccine for people with no pre-existing ITP "strongly outweighs" the risks of avoiding vaccination out of fear of developing the condition, the experts said.
"ITP has also been observed as a possible reaction to COVID-19 among those without the vaccine at much higher rates than following the vaccine. Up to 10% of patients with mild disease and 20% in those who are severely affected," they added.
Doctors also say that for those with preexisting ITP, it is best to consult with a hematologist and obtain a platelet count before getting vaccinated.
(Editor's Note: VERA Files has partnered with Facebook to fight the spread of disinformation. Find out more about this partnership and our methodology.)
(This story was produced under a Health Fellowship program carried out by VERA Files with support from Facebook. Find out more about this project here.)