It is not true that the coronavirus disease 2019 (COVID-19) vaccines using messenger RNA (mRNA), such as Pfizer-BioNTech and Moderna, are "toxic" to the brain, heart, kidney, and lungs, contrary to a claim by an anti-vaccine doctor.
The Department of Health (DOH) said on June 18: "The mRNA vaccine is safe, effective, and was given an emergency use authorization (EUA) by the Food and Drug Administration (FDA)."
This debunks a claim by Dr Jose M. Oclarit in a Facebook (FB) video posted on the same day that says these types of vaccines are "dangerous." He has made similar claims that have been fact-checked (See VERA FILES FACT CHECK: Anti-vax doctor, ex-education Usec. peddle falsehoods about COVID-19 jabs).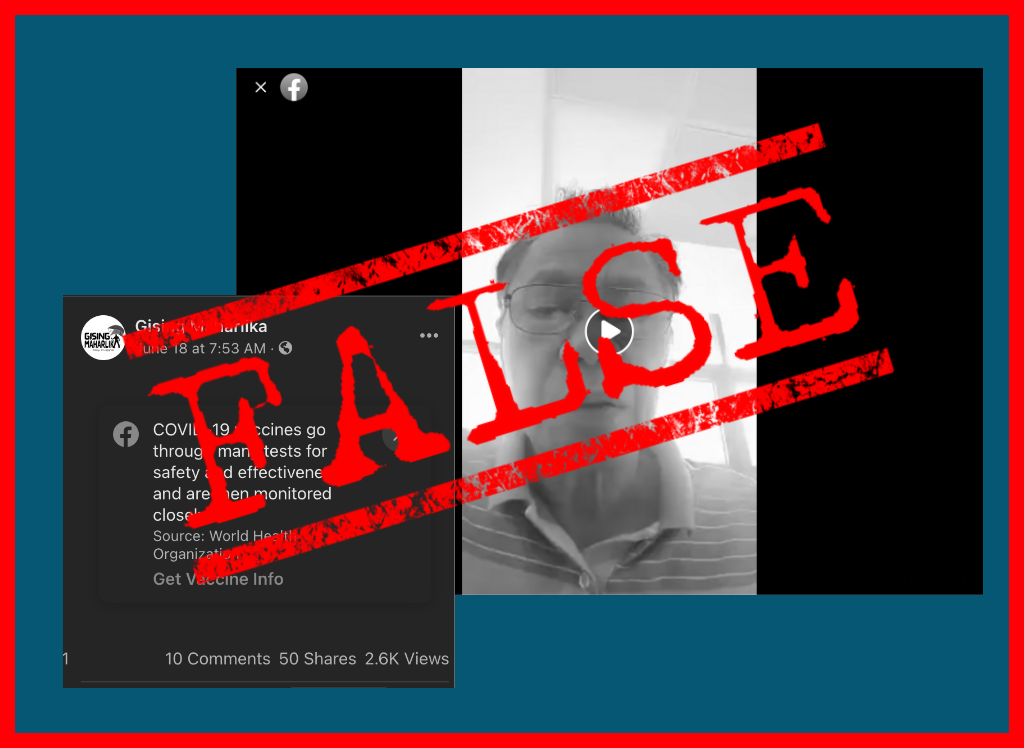 Oclarit, who identifies as an expert in molecular biology, falsely stated that the mRNA vaccine is "not a vaccine" because it does not use a weakened or killed version of the COVID-19 virus.
According to the Philippine FDA, an EUA is granted only if it meets certain conditions, including "if the known benefits and risks of the drug or vaccine outweigh the known and potential risks" based on adequate and well-known controlled trials.
There is also "no scientific evidence available that suggests that spike proteins created in our bodies from the COVID-19 vaccines are toxic or damaging [to] our organs," according to a team of health experts from global technology nonprofit Meedan.
The mRNA platform has been "in the realm of science even before COVID-19," said Rontgene Solante, infectious disease specialist, in an interview with VERA Files Fact Check. In fact, the said vaccine has been studied for other viruses such as flu, Zika, rabies, and cytomegalovirus (CMV).
"These are not new technology. These are vaccines that have been tested and have been used before although not as extensive as we are doing now with COVID-19," Solante added.
This type of vaccine uses one or more of the novel coronavirus' own genes. Upon introduction into the human body, small segments of DNA or RNA are converted into proteins which help create antibodies that will fight the virus (See VERA FILES FACT SHEET: Getting to know the COVID-19 vaccine prospects in the Philippines).
Apart from the Pfizer and Moderna jabs, Oclarit also claimed that the AstraZeneca and Johnson & Johnson vaccines, which use the adenoviral vector platform, are unsafe. This is also wrong.
The common-cold causing adenovirus, which are "naturally able to enter human cells," carries the genetic material of the COVID-19 virus. Experts explained that "these vectors are altered so that they can neither produce infectious viruses nor cause disease."
"The genetic material that's delivered doesn't become part of your DNA," based on a report about how vaccines work published in the United States (U.S.)-based Mayo Clinic.
In the Philippines, about 8.4 million people have received the COVID-19 shot, 2.1 million of them fully vaccinated as of June 20, according to the DOH.
Vaccine czar and chief implementer of the country's pandemic response Carlito Galvez said the Philippines has signed an agreement with Pfizer for 40 million doses of its COVID-19 vaccines. At least seven vaccine brands employing different vehicles to create antibodies are authorized for emergency use in the country.
"We need several of these platforms in order for us to maximize which among these platforms can really protect us," said Solante, who is also a member of the Department of Science and Technology (DOST) Vaccine Expert Panel.
The World Health Organization also said having lots of different vaccines in development "increases the chances that there will be one or more successful vaccines that will be shown to be safe and efficacious for the intended prioritized populations."
At least three of Oclarit's claims have spread on social media and have been repeatedly debunked:
The false video was posted on the FB page Gising Maharlika, which has over 4,400 followers and was created on Nov. 8, 2020. The said post was viewed by at least 2,600 users, based on social media monitoring tool CrowdTangle.
(Editor's Note: VERA Files has partnered with Facebook to fight the spread of disinformation. Find out more about this partnership and our methodology.)