A widely-circulated web article about a Philippine court ordering the arrest of American business magnate Bill Gates is fake.
Below, VERA Files Fact Check debunks two claims in a March 2 "fact-checked" article by News Punch, an alternative American news publication.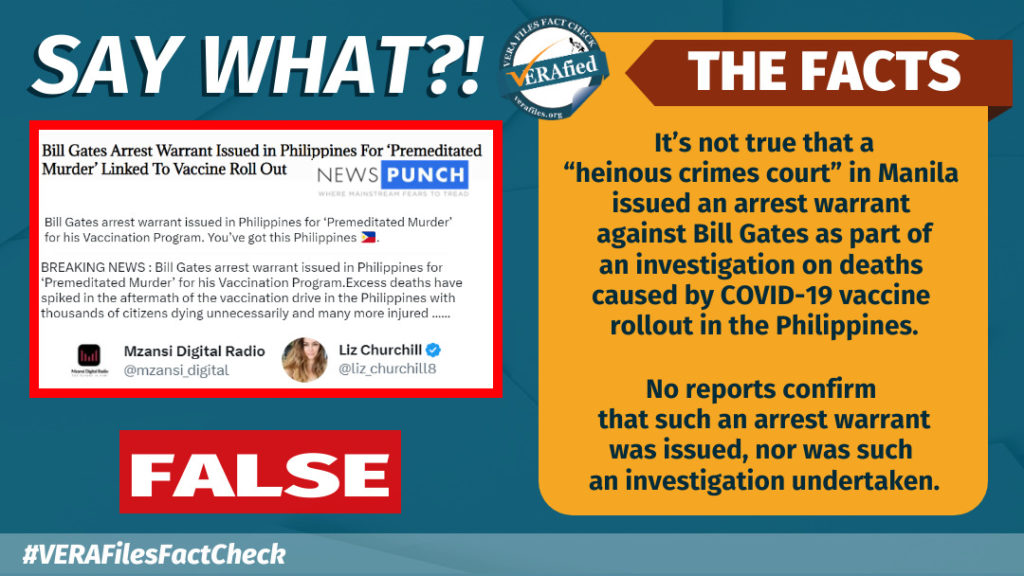 | | |
| --- | --- |
| Claim | Rating |
| A Philippine court issued an international arrest warrant for Bill Gates, as part of an investigation into the Covid-19 vaccination roll-out in the country | FALSE |
No court in the Philippines has issued a warrant of arrest against the Microsoft co-founder over COVID-19 related deaths.
In fact, there have been no reports of a state investigation into deaths allegedly caused by COVID-19 vaccination. Neither the media nor any court has reported on such a probe.
| | |
| --- | --- |
| Claim | Rating |
| The "Heinous Crimes Court" in Manila issued an arrest warrant against Gates | FALSE  |
There is no "Heinous Crimes Court" in the Philippines. Heinous crimes courts were designated in 1994 and 1996 to speed up trials but were abolished in 2004 by the Supreme Court due to a relatively low caseload and heinous crime court judges becoming easy targets for killers.
Heinous crime cases are now tried by regional trial courts.
The NewsPunch.com story also bore several other red flags that raise questions on its legitimacy:
It reported that a judge commented on the Gates cases but did not mention a name.
It contradicted itself by reporting that a Gates Foundation spokesperson "declined to comment" on the case but quoted the person as saying the case was a "misunderstanding."
To support its claim that the Philippines has a history of court action "against international agencies pushing vaccines in their territory," it falsely reported that "the state" previously won a court order against an anti-tetanus vaccine alleged to be an abortifacient. The case was not filed by the Philippine government but by pro-life groups.
The spurious article by News Punch got a total of 9,228 interactions and could have reached over 900,000 people, according to social media monitoring tool CrowdTangle. Two other tweets by Liz Churchill (@liz_churchill8) and Mzansi Digital Radio (@mzansi_digital) that reshared the article got a combined total of 1.25 million interactions.
The false post has also reached and has been debunked by fact-checkers in the United States, Spain, and Taiwan.
Have you seen any dubious claims, photos, memes, or online posts that you want us to verify? Fill out this reader request form or send it to 'VERA, the truth bot' on Viber.
(Editor's Note: VERA Files has partnered with Facebook to fight the spread of disinformation. Find out more about this partnership and our methodology.)