The vape genie is out of the bottle and the Senate, one of the two branches of Congress responsible for letting the genie out, is furious.
In a privilege speech on Feb. 6, 2023, Senator Pia Cayetano slammed the unregulated sale of vape products targeting minors through its flavors and packaging: "Ito talaga mangyayari sa atin (This is really what will happen to us) — M&M's, Skittles, those are the packaging materials of the products that are out there, your honor … I knew ito na 'yun (this is it), my dear colleagues. Dito tayo dadating (We will come to this) … It's a direct violation. What are we doing about it?"
Electronic or e-cigarettes, more popularly known as vapes, have flooded the market since Congress gave its all-out support in 2022 to a vape bill that lowered the age of access to vapes and heated tobacco products (HTPs) from 21 to 18 years old, transferred regulatory oversight from the Food and Drug Administration (FDA) to the Department of Trade and Industry (DTI), and allowed flavors other than plain menthol and plain tobacco, among others.
The bill hijacked a soon-to-be implemented amendment to the Sin Tax Law that provided stringent safeguards on the use, sale, manufacture, importation and distribution of vapes to protect public health.
Proponents claim that vapes and HTPs are 95% less harmful alternatives to smoking combustible cigarettes. But health advocates, including the World Health Organization, dispute this.
Flavors galore
There are 864 all-vapor product and heated-tobacco product establishments registered with the FDA throughout the country as of early March. These include retailers, distributors, manufacturers and traders. Almost 90% of the establishments registered with the FDA before July 25, 2022 when Republic Act 11900, known as the Vaporized Nicotine and Non-Nicotine Products Regulation Act, lapsed into law.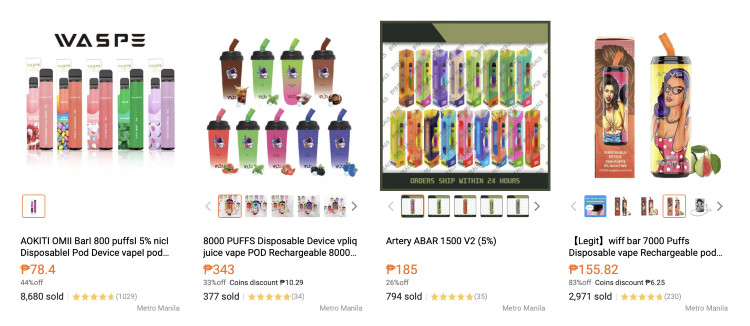 Cayetano, the lone senator who consistently opposed the passage of the vape bill in the Senate, called for an investigation into the violations of RA 11900 after showing her colleagues samples of different vape flavors available in the market— melon, blueberry, My Melody, Hello Kitty, Pokemon, skateboard, among hundreds, if not thousands, of others.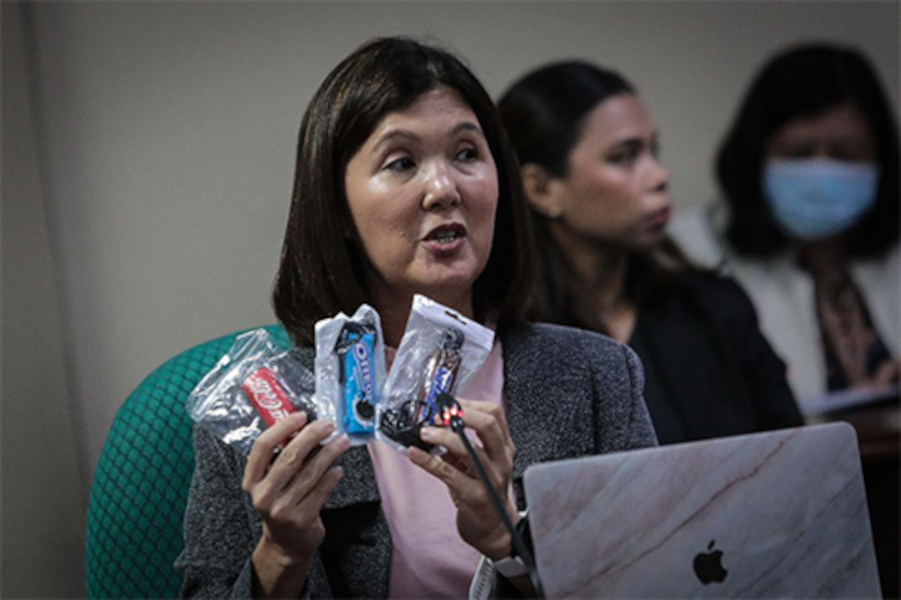 "We should have retained the Sin Tax provision that simply said no flavors are allowed, except [the] regular flavors [of] tobacco and menthol … Now we can see evidence that they are really targeting the youth. Why do they target the youth? Because that is their future market. The minute you hook a young person, [they] become your clients for the next 20, 30, or 40 years," she pointed out.
Section 12 of RA 11900 provides: "The sale of vaporized nicotine and non-nicotine products and novel tobacco products that are packaged, labeled, presented or marketed with flavor descriptors that are proven to unduly appeal particularly to minors shall be prohibited. A flavor descriptor is presumed to unduly appeal to minors if it includes a reference to a fruit, candy brand, dessert, or cartoon character."
A recent research by the Johns Hopkins University on vape ingredients and documented cases of vaping use-associated lung injury (EVALI) by the Centers for Disease Control and Prevention (CDC) indicate that vaping may even be more harmful than conventional tobacco itself and, therefore, not a harm-reduction tool. In February 2020, the CDC confirmed 2,807 cases of EVALI and 68 deaths.
The Global State of Tobacco Harm Reduction estimated around 82 million vapers globally in 2021, of whom 2.7 million are Filipinos.
A 2019 Global Youth Tobacco Survey showed that 14.1% or 1 in 7 students aged 13 to 15 were using electronic cigarettes — almost 21% were boys and 7.5% were girls.
Arguing that "anything that causes harm, especially something as potentially harmful as vaping, should not be promoted," Albay Rep. Joey Salceda, chairman of the House committee on ways and means, filed in November 2022 House Bill 5532 seeking to impose an average of 14% increase in taxes on vape products and a 20% ad valorem plus P20 specific tax on vaping devices.
Available in sari-sari stores
Now sold online and in shops and stalls in shopping malls, in 24-hour convenience stores, on sidewalks and even in sari-sari stores, the so-called novel tobacco products are prominently displayed, and use brands and packaging attractive to the youth.
Sari-sari stores and shops have tarps and posters announcing the products for sale; one brand is even offering a sales promotion.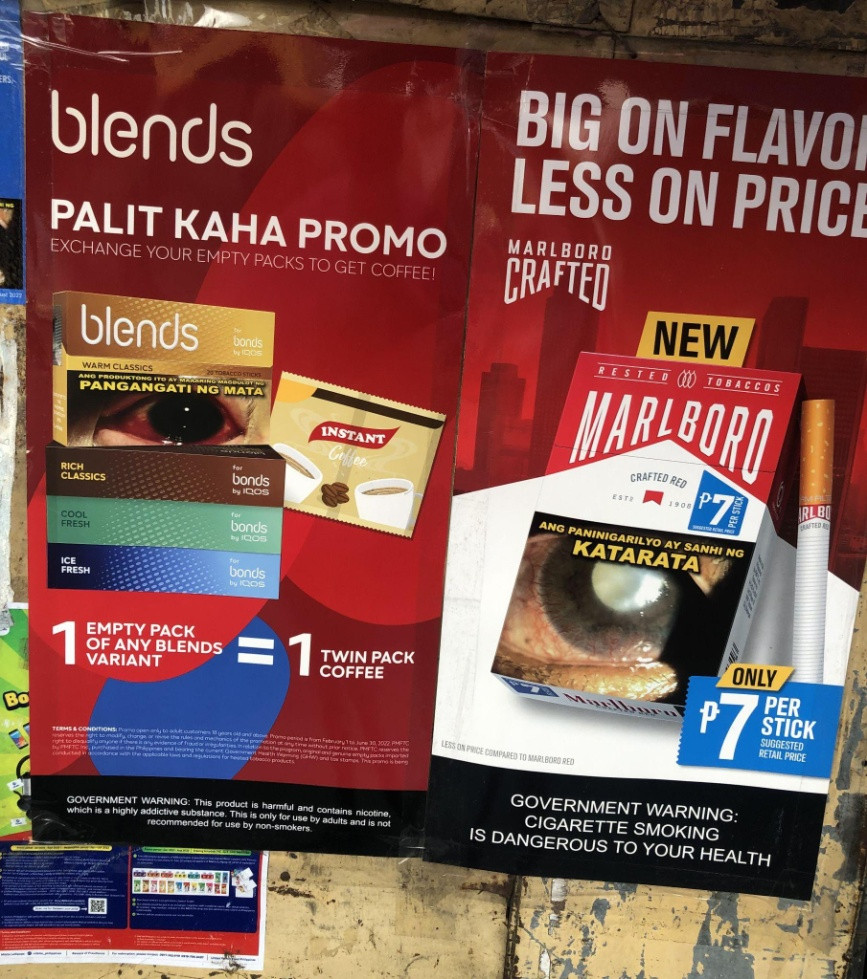 Blends, the heat tobacco sticks for the IQOS HTP device called Bonds, gives away one twin coffee sachets in exchange for an empty pack of 20 heat sticks. These are sold by "tingi" or retail at P5 per heat-stick, cheaper than the cost of Marlboro, the most popular cigarette brand in the country manufactured by Philip Morris. Marlboro is sold at P7 per stick in sari-sari stores, the same retail price for HEETS, the heat-stick used for IQOS Originals devices.
IQOS is the line of heated tobacco and electronic cigarette products manufactured by Philip Morris International (PMI). Its own stores in the country sell only three out of several all-imported HTP devices. Bonds is the cheapest at P990; Originals One is P1,690 and Originals Duo at P2,990.
PMI's heated tobacco products e-vapor products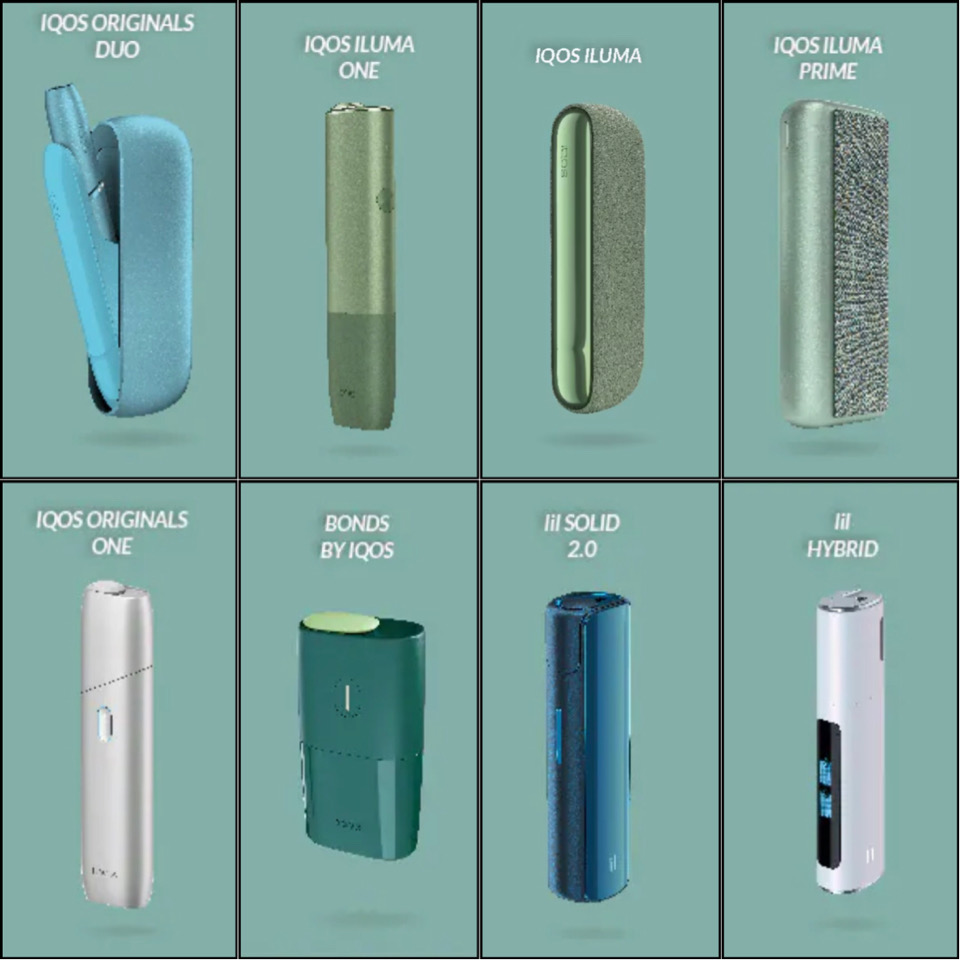 PMI's e-vapor products such as IQOS VEEV and VEEBA are not marketed in the country.
But widely distributed nowadays are different brands of disposable vapes or non-rechargeable e-cigarettes, which are described as budget-friendly, more convenient to use and with more flavors. Prices depend on the number of puffs. Those good for 3,000 puffs or hits sell for P200 to P250; 6000 puffs cost P350 to P450. E-juices used for refillable vapes go for P250 to P400 for 30-milliliter pods.
Vapes everywhere
"The vape shops have mushroomed everywhere. In fact, I'm afraid, I don't know if the restriction [in] selling of these vape products to minors, if they are being implemented, and more so for the online selling," Dr. Maricar Limpin, executive director of the Framework Convention on Tobacco Control Alliance Philippines (FCAP) and president of the Philippine College of Physicians, told VERA Files.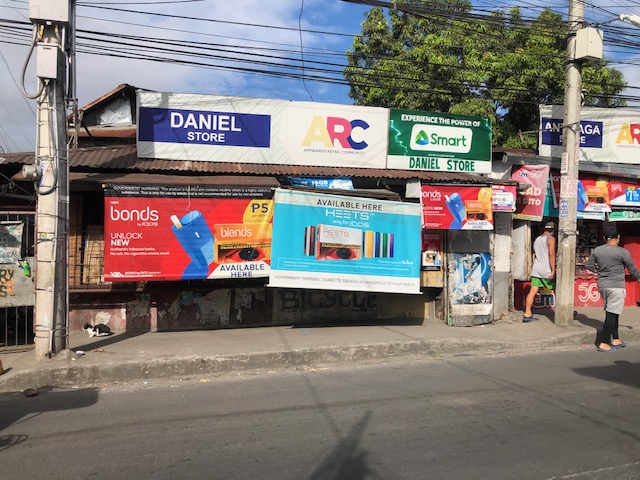 Limpin is the lone NGO representative to the Inter-Agency Committee on Tobacco (I-ACT), which has the exclusive power and function to administer and implement provisions of RA 9211, the Tobacco Regulation Act of 2003.
Although vapes and HTPs are tobacco products used to describe electronic nicotine delivery systems and, sometimes, electronic non-nicotine delivery systems, the law considers these as vapor products within the exclusive jurisdiction of the DTI — not the I-ACT.
Promoted as alternatives to tobacco use, these novel tobacco products were described as "consumer," "electronic" products by then senator now Batangas Rep. Ralph Recto, who played the role of a vape poster boy during the Senate proceedings and pushed for the bill the hardest.
Legal quandary
The classification of novel tobacco products as vapor products could pose a legal quandary following the recent Supreme Court ruling upholding the regulatory authority of the FDA over all health products, including tobacco due to their harmful effects on health. The High Court also ruled that the I-ACT, chaired by the DTI secretary, has limited jurisdiction, particularly to acts such as the regulation, access, sales, labeling, advertisements, sponsorships and promotions.
The Philippine Tobacco Institute, which filed the 13-year-old case against the Department of Health and FDA, is represented in I-ACT. It has appealed the High Court decision, which remains pending.
During the Senate probe last February on the sale of vape products targeting the youth, the DTI reported four violations observed during the enforcement monitoring by the Fair Trade Enforcement Bureau in the National Capital Region:
selling vapes within the 100-meter radius of facilities frequented by minors;
selling vapes with designs and flavor descriptors that are attractive to the youth;
selling vapes without the point of sale signage required under the law; and,
selling vapes without the required textual warning.
The vape law requires graphic warning as part of product packaging, not mere textual warning.
DTI Assistant Secretary Ann Claire Cabochan said only 23 firms have been monitored so far and 16 show-cause orders have been issued to those found with violations. Online platforms Shopee and Lazada have been sent letters and asked to comply with the law.
18-month transition period
This did not sit well with Cayetano. "So you found it, so paano (how), picture taking tapos (then) submission? Tapos (Then) show-cause? Hindi ko na alam 'yung gagawin ko (I don't know anymore what to do) … If you are telling me … that your administrative order stated blah blah blah eh kayo nagsulat noon e (you were the ones who wrote it). Hindi naman ganun ang batas na ginawa namin (The law that we passed is not like that). Masama na nga ang batas na ginawa namin, lalong pinasama pa ng admin order na nilagyan ng sangkatutak na requirements (The law that we passed was bad enough, it was made worse by the admin order that included too many requirements). Samantalang (Meantime) your lawyer is telling us that you have the right to confiscate."
When asked by Majority Leader Joel Villanueva how many vape brands have been duly registered and issued certification by the Bureau of Philippine Standards (BPS) and flavors allowed to be sold in the market, Cabochan said there was none because the law provided an 18-month transitory period for manufacturers or importers to comply. The DTI is still in the process of developing the Philippine national standards for novel tobacco products to be used as reference in the supplemental regulation to align with the vape law.
Cabochan said product claims of health (benefits) or risk reduction will have to pass through the FDA once the product registration is already in place since the DTI has "no expertise on health." The department is still crafting guidelines on how to address emergency cases.
The DTI responses exposed what Cayetano described as a tobacco industry strategy to evade government regulation with much help from lawmakers.
"Wala tayong (We don't have) registration? For the record, the Sin Tax Law that would have come into effect, minadali ng mga (was rushed by) pro-vapes and senators and members of Congress, minadali nila 'yun kasi magka-come into effect na ang (they rushed it because the) Sin Tax Law that would have required registration, and that's why they were in a hurry to pass this other law that would remove the jurisdiction para hindi pa rin sila nag-register (so they won't have to register) and hindi pa rin sila nag-comply (and they still did not comply). Ganyan ang lobby ng mga sin products dito sa Pilipinas (That's how the lobby for sin products goes in the Philippines)," she said.
The senator noted that the Sin Tax Law already provided for an 18-month transition period, which delayed the implementation of the original safeguards on vapes that the 18th Congress initially approved and later amended.
"Minadali itong bagong law kasi 'yung 18 months kulang pa sa kanila (they rushed this new law because 18 months was still not enough for them). Gusto pa nilang madagdagan (They wanted an extension). Ganyan talaga ang industry na ayaw magpa-regulate (That's an industry that does not want to be regulated) … I need the Filipino people to know that this is how these industries who do not want to be regulated, who do not care if people will die if young people get addicted. They don't care and they just want to go on and on unregulated, pretending that they want to be regulated but they don't," she added.
Crux of the problem
Without much discussion after Cayetano's privilege speech, the Senate immediately adopted an unnumbered resolution condemning the sale of novel tobacco products that attract the youth and urging the DTI to fully implement the law.
Citing the recent research and studies showing the harmful effects of e-cigarettes, she told her fellow senators: "That's all I've been trying to say from the very start. This is a new product, hinay-hinay lang sa pag-e-endorse (let's go slow in endorsing it)." She reminded them that an anecdotal account is not evidence, unlike peer-reviewed scientific studies.
But while Cayetano sees RA 11900 as the crux of the problem, her colleagues who supported the law believe the issue is enforcement of the law.
Minority Leader Aquilino "Koko" Pimentel III, who voted to transfer the regulatory oversight of the industry from the FDA to the DTI, said he is disappointed with the DTI because it has the wherewithal to regulate the industry, which was why he put his trust on the agency.
"When this was being discussed on the floor, I asked the then DTI secretary, 'kaya nyo ba?' Sagot n'ya sa akin, 'kaya' (can you do it? He replied to me [that] they can). But this is proof na hindi kaya or mukhang hindi kaya (that they can't, or it appears they can't)," explained Pimentel.
Best possible law
Senate President Miguel Zubiri, who championed the vape bill as majority leader then, saw nothing wrong with the new vape law.
"It's the story of our lives as legislators. We pass the best possible laws, debated by both the majority and minority; eventually we come up with the best possible laws that's unfortunately not implemented by the executive," he said.
Zubiri justified his vote for the vape bill by citing the experience of his driver who wanted to quit smoking and had shifted to vaping. "These people have to be given alternatives to smoking," he explained.
What the Senate president described as the "best possible law" is a "bad law" for Dr. Ulysses Dorotheo, executive director of the Southeast Asia Tobacco Control Alliance (SEATCA).
"It is actually quite unfortunate for us in the Philippines that the genie has been let out of the bottle because of the bad vape law so it'll be hard to put the genie back in … If I were to recommend a way to develop product standards for health, it should be the Health ministry, the FDA and other health authorities," said Dorotheo, a resource person in the Senate investigation on the sale of vapes.
Not novel tobacco products
Dorotheo advised authorities to stop calling vapes and HTPs as novel tobacco products since these are novel only when first introduced. He gave a brief history of tobacco products which showed that the industry does not stop coming up with new products to attract new buyers "to maintain the addiction of customers to justify premium prices to circumvent regulation and to misleadingly suggest that some products are less harmful than others."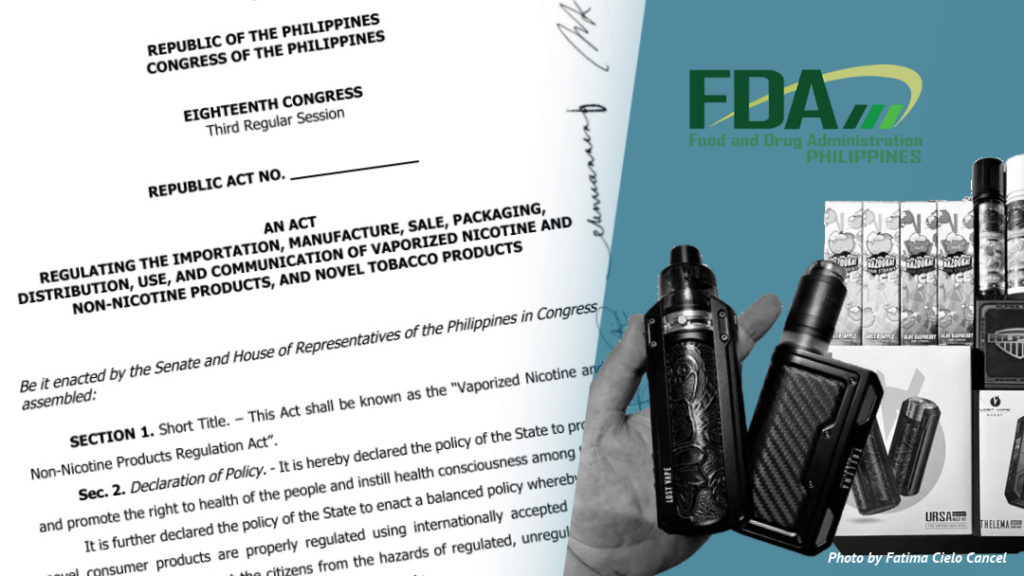 From the bill's approval in both houses of Congress in January 2022 to its transmittal to Malacanang and its eventual lapse into law six months later, RA 11900 had been shrouded with drama and shrewd maneuvers.
The FDA and DOH were lambasted in the House of Representatives for receiving grants from Bloomberg Philanthropies and The International Union Against Tuberculosis and Lung Disease, non-profit organizations involved in the campaign against tobacco use worldwide.
In the Senate, the crafting of the counterpart measure was fast-tracked and legislators expected to oppose the amendments pushed by vape proponents either eventually switched sides or abstained from voting. Sen. Christopher "Bong" Go, the former special assistant to then president Rodrigo Duterte and chair of the Senate committee on health, abstained.
The endorsed vape bill was ratified on Jan. 26, 2022, but it was not until the last few days of Duterte's six-year term when it was sent to Malacanang. Accounts from the political grapevine differ.
To veto or not to veto
Information gathered by Health Justice Philippines was that Duterte was prepared to veto the bill "whenever it comes to his table," according to Ralph Degollacion, OIC managing director of the non-profit public health think tank.
Health advocates saw a glimmer of hope when Director Eulogio Sabban of the Office of the Deputy Executive Secretary for Legal Affairs in Malacanang sent a request to Dorotheo asking for comments and recommendations on the consolidated House and Senate vape bills. The letter, dated June 24, 2022, stated that Congress presented the endorsed bill for the President's approval on "24 June 2022." It said, "the subject bill will lapse into law on 25 July 2022 if not vetoed or acted upon by the President, pursuant to Art. VI, Sec. 27 (1) of the Constitution."
Limpin, quoting from her own sources, claimed the bill reached the Office of the President two weeks before the end of Duterte's term, but that the outgoing president did not see the proposed law.
"Hindi na yata nakita ni presidente (The president did not see it), and therefore no actions were done … According to some inside information, nakita nila na nandun sa ilalim (they found it buried under). 'Di ba maraming dokumento, kumbaga matatabunan talaga siya (Aren't there several documents, it would really get buried). But, from what I know, parang wala mismo sa office ni Presidente (it did not reach the office of the president). It wasn't brought to him para makita niya, mabasa niya (for him to see, to read)," said Limpin, whose medical organizations also sent recommendations to the president to veto the measure.
Outvoted in the Senate, Cayetano admitted lobbying for a presidential veto of the endorsed bill and monitored its movement.
The puzzle
"Hindi ko dini-deny, panay ang padala ko ng prayers, spiritual prayers to the President na i-veto niya 'yan (I won't deny, I've frequently sent prayers, spiritual prayers to the president to have it vetoed) … Five months passed before that bill was transmitted to Malacanang.
"Bakit kaya itong bill natengga nang ganito? Fina-follow up ko, nasa desk daw ng ating high officials of Congress. Ano kaya ang inantay nila? Is it because nabalitaan nila na balak i-veto ni Presidente? Is it because ang balita is kinaladkad pa doon sa meeting kay Presidente ang mga high officials ng tobacco company para makiusap pero ang sagot ni Presidente, kwinento niya ang kanyang personal health condition na galing daw sa tobacco, clearly indicating na balak niyang i-veto (Why was it stalled that long? I followed it up, it was supposedly on the desk of the high officials of Congress. What were they waiting for? Was it because they've heard the president had planned to veto it? Was it because … we heard that high officials of the tobacco company were even herded to a meeting with the president to appeal to the president, and the president narrated his personal health condition which was due to tobacco, clearly indicating that he wanted to veto it) .
"So ito tayo (Here we are), five months, barely three days, just because the weekend na matatapos ang term ni President Duterte, saka pinadala (the president's term was ending when they sent it). This poses a lot of questions, dear colleagues. Tama ba 'yun (Is it proper) that the members of the 18th Congress who passed the bill, natapos na 'yung term nila (their term has ended), natapos na rin ang term ng presidente, na kung sino dapat magdesisyon kung ibi-veto niya 'yun o magla-lapse into law o kung anuman ang balak niyang gawin, dinelay para makarating sa next president? (the term of the president who should decide whether to veto or let it lapse into law or whatever he had planned to do has also ended, and this was delayed to extend to the next president?) That is a legal quandary, my dear colleagues," said Cayetano.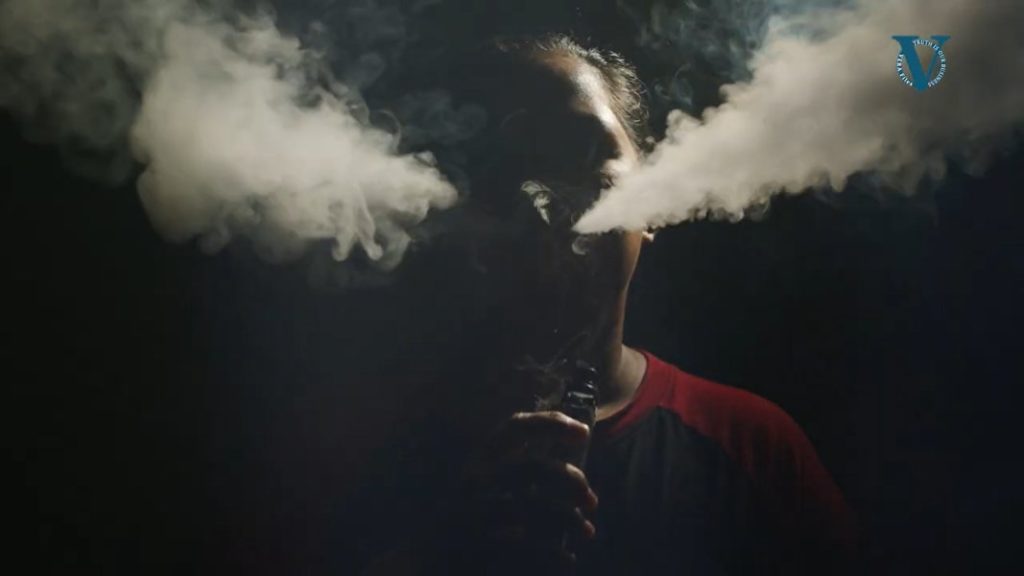 Duterte is a known anti-smoking, anti-vaping advocate. He issued executive orders banning smoking in public and, at one point, announced publicly a ban on vapes because these are "toxic." Why he did not act on an issue that was supposedly close to his heart remains a puzzle.
The president's choice
There was no lack of reminders for the president. Three days before he officially stepped down, then Health secretary Francisco Duque III called on Duterte to veto the vape bill "to save more lives." Citing a Supreme Court decision upholding the authority of the FDA over tobacco products, he said the High Court ruling "might as well be for naught, should the vape bill become a law."
The DOH position against the vape bill had the support of the Department of Education, Department of Finance and FDA.
The timing of the transmittal of the endorsed vape bill could have been key in the enactment of the law. But allowing it to lapse into law on July 25, 2022 was clearly the option chosen by Duterte's successor, President Ferdinand Marcos Jr. The favorite son of tobacco-producing Ilocos Region, Marcos is a staunch ally of the Northern Luzon Alliance, which carries the ball for the tobacco industry in Congress.
On his second day in office, Marcos vetoed the proposed new special economic zone in Bulacan. In the same month, he turned down the measures seeking tax exemption of poll workers' honoraria and the establishment of the transportation safety board.
Malacanang luncheon
Only five months into his term, President Marcos and First Lady Liza Araneta-Marcos hosted Philip Morris executives to a Filipiniana-themed luncheon in Malacanang — a first by a Chief Executive in the country's seat of power. Present during the lunch meeting were PMI executives led by chief executive officer Jacek Olczak, Philip Morris Fortune Tobacco Corp. president Denis Gorkun, Lucio Tan Group chief operating officer Lucio Tan III, and the president's son, Senior Deputy Majority Leader and Ilocos Norte Rep. Sandro Marcos.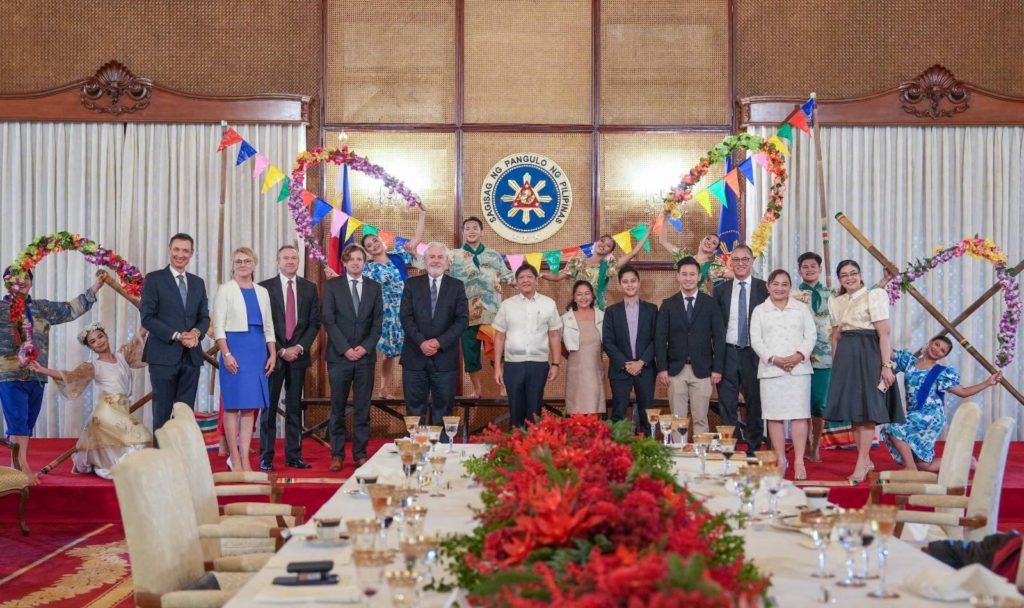 It was the second meeting between Marcos and PMI executives, who paid him a courtesy call, together with other business delegations, during the President's official visit to New York in September 2022 for the United Nations General Assembly.
Dave Gomez, PMFTC director for global communications, said the meeting in Malacanang was meant to communicate the firm's plan "to expand our economic footprint in the Philippines."
PMI is investing $150 million, approximately P8.8 billion, for the expansion wing of its manufacturing plant in the First Philippine Industrial Park in Tanauan, Batangas. The new wing is for the production of specialized tobacco sticks called Blends, which is used exclusively for Bonds by IQOS.
Consumer-acquisition barriers
Designed to address "consumer-acquisition barriers," Bonds by IQOS caters to the low- and middle-income market of tobacco users. The very affordable version of PMI's heated tobacco product was launched a few days before the lunch meeting in Malacanang, photos of which were shared by the official Facebook page of First Lady Liza Marcos.
IQOS is the world's No. 1 tobacco heating system and market leader in HTPs in the country.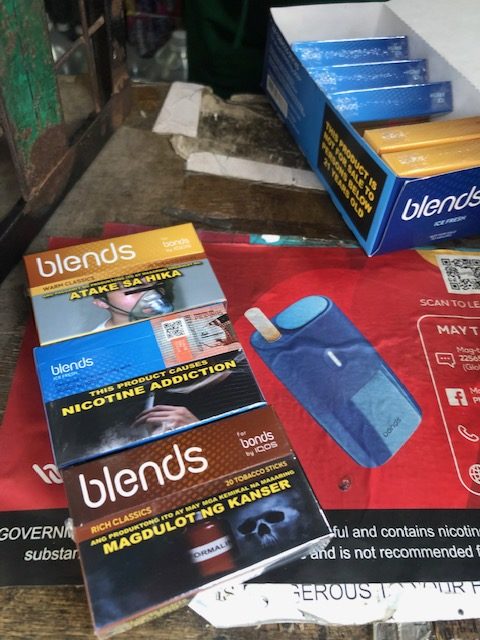 "Right now, in our R & D, we are looking at several platforms of nicotine delivery. But so far, we've only commercialized IQOS in the Philippines. Based on our R & D, it has to be acceptable to the consumer, it has to be very close to their smoking experience for them to switch," said Gomez.
Expanding the range of tobacco alternatives for smokers is in line with PMI's target of making cigarettes obsolete and replacing them with smoke-free products as soon as possible. The low prices are expected to attract the low- and middle-income and accelerate the achievement of the target.
Promoting its smoke-free products as a harm-reduction tool, PMI considers the IQOS line as critical to a "positive impact on the trajectory of public health." The tobacco industry no longer disputes the fact that tobacco kills.
The vision
"The vision is very clear because we want to move away from selling cigarettes as soon as possible … The most important milestone is by the year 2025, our vision as a company is 50% of our net revenues should be coming from these smoke-free products," said Gomez, adding that PMI's principle is: "If you don't smoke, don't start. If you smoke, quit. If you can't quit, change."
PMI earned $36.67 billion in 2022, of which 32.1% were from smoke-free products.
The meeting in Malacanang is a violation of the World Health Organization-Framework Convention on Tobacco Control (WHO-FCTC), which calls on parties to "protect public health policies with respect to tobacco control from commercial and other vested interests of the tobacco industry."
Signed by the Philippines in September 2003 and ratified by the Senate in June 2005, the WHO-FCTC is the first evidence-based international treaty that aims to address the global tobacco epidemic. Under the Philippine Constitution, a ratified international treaty has the equal status of a national law.
Guidelines to the implementation of Article 5.3 of the convention specifically states that "because their products are lethal … any preferential treatment of the tobacco industry would be in conflict with tobacco control policy." It recommended limited interactions with the tobacco industry and urged parties to "avoid conflicts of interest for government officials and employees."
Single biggest investment
In its periodic reports to the Conference of Parties, the governing body of the WHO-FCTC, the Philippine government has always identified "political environment" as the constraint or barrier in implementing the convention.
While discussions on the FCTC started in the 1990s, PMI made its biggest single investment in Asia in the Philippines in 2001. It constructed a state of the art cigarette manufacturing facility valued at $600 million in the Batangas export processing zone. Locator companies in export processing zones in the country are given tax incentives, among others.
Prior to its investment in Batangas, PMI products such as Philip Morris and Marlboro were contract manufactured by La Suerte Cigar and Cigarette Factory.
"We believed in the policies in place that supported foreign investment at the time. 'Yung investment namin ng (Our investment in) 2001, we presented it to GMA (President Gloria Macapagal Arroyo). We invited her to the groundbreaking; she couldn't make it so Tito Guingona, at that time vice president, was there for our groundbreaking. We're happy with the support that we got from all previous administrations, as legitimate multinationals doing business in the Philippines. They all welcomed us. We're very happy. No complaints," said Gomez.
RA 9211, known as the Tobacco Regulation Act that was rammed through the legislative mill in anticipation of the restrictive WHO-FCTC, was signed by then president Arroyo in 2003, three months before the Philippines signed the WHO-FCTC and two years before the Senate ratified the treaty.
Merger
PMI strengthened its grip on the Philippine tobacco market in 2010 after it entered into a joint venture with Fortune Tobacco Corporation of the Lucio Tan Group known for popular low-priced cigarette brands. The PMFTC merger has a combined share of more than 80% of the local tobacco market.
The most recent investment, expected to span a two-year period, could generate 220 new specialized jobs and support the local tobacco industry since the PMFTC has committed to include locally grown tobacco in the production of heated tobacco sticks.
PMFTC is very much concerned about the proliferation of "illicit" in the market, according to Gomez.
"Merong list ang BIR ng (BIR has a list of) registered brands and we're seeing a lot of unregistered brands in the market … It's a big concern for us now and we've expressed our concerns with relevant government agencies like BIR (Bureau of Internal Revenue) to please go after those selling illicit products. It's depriving the government of tax revenues and it's impacting legitimate businesses, impacting our farmers," he said, adding that these illicit products are not made in the Philippines but most likely from China and Cambodia.
Limpin is similarly concerned with the income lost from uncollected taxes, which could have funded health and social services. How the government could strictly monitor the sale of vapor products, particularly in sari-sari stores in far-flung areas would be a gargantuan task.
Major concern
But Limpin is more concerned about the sale of vapor products in sari-sari stores: "It's dangerous … ngayon mas mabilis na nakikita natin 'yung (it is now faster to see the) negative health effects of vaping … we are seeing an increase of vaping among the young."
She said they have not abandoned their plan to question the legality of RA 11900. The decision of the Supreme Court affirming the authority of the FDA over matters that concern health, although still on appeal, is a major development.
"Pinag-aaralan pa ng aming abogado (Our lawyers are still studying it). They just want to make sure that when they file it, it will hold. Hindi sya basta basta madi-dismiss (It won't just be dismissed) because of lack of merit," said Limpin.
While the signs of the times do not augur well for anti-tobacco advocates with the current Malacanang occupant hailing from a tobacco-producing region and the new FDA director-general the personal physician of the President, Limpin would rather look at the glass half-full.
"The director general of the FDA is a doctor and just like any other doctor, I think he will maintain a pro-health position as far as the vape law is concerned. I am hoping he will listen to the science about the vape," she said.
As for President Marcos, she hopes his priority would be the welfare of the people — not just the Ilocanos: "Since presidente na siya (he is now president), hindi na (not just) about his hometown of Ilocos. He is now the leader of the country, of all Filipinos."
This story was produced with support from the Campaign for Tobacco-Free Kids and Probe Media Foundation, Inc.