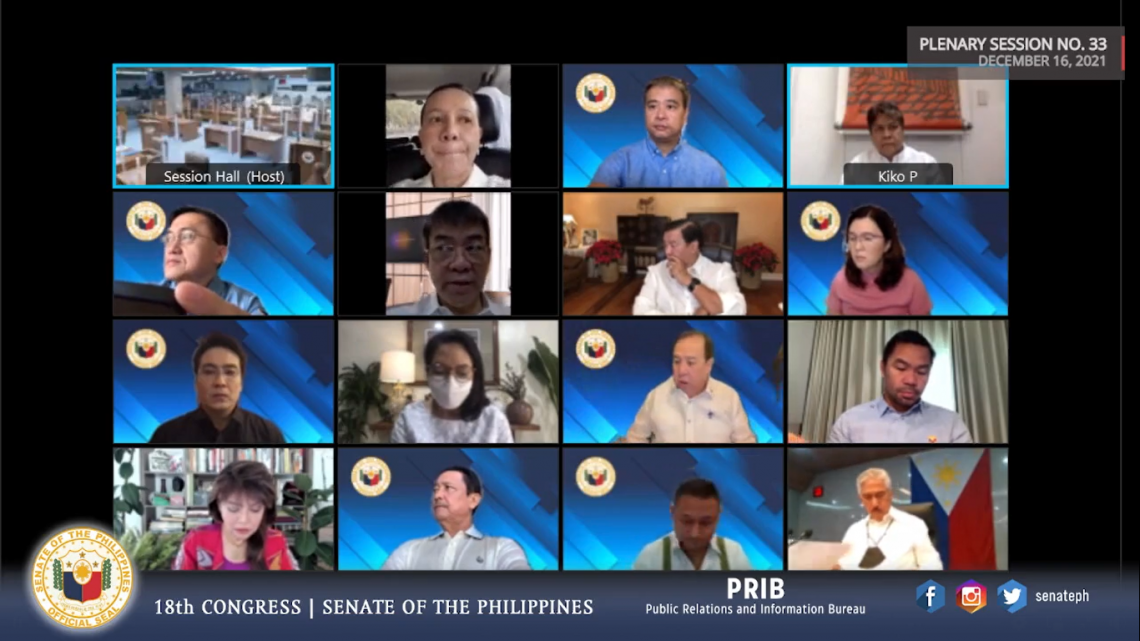 Screenshot of Senate plenary session no. 33 on Dec. 16
The Senate passed by a majority vote on Thursday the Vaporized Nicotine Products Regulation Act or SB 2239 that will allow the sale of novel tobacco products to people as young as 18 years old despite medical experts' warning against their harmful effects.
With 19 affirmative votes, two negative, and two abstentions, the Senate approved on third and final reading a measure that gives the Department of Trade and Industry (DTI) powers to regulate the importation, sale, packaging, distribution, and use of vaporized nicotine and non-nicotine products.
At present, such products are regulated by the Food and Drug Administration (FDA) under Republic Act (RA) 11467 or the law that increases the excise tax on so-called 'sin products' and Executive Order (EO) 106, which was signed by President Rodrigo Duterte in 2020.
Sen. Pia Cayetano, who has been vocal in her opposition to the bill, said she was "beyond disappointed and beyond saddened" by the decision, saying regulation of the products must stay with the FDA and that the minimum allowable age should be 21 years instead of 18.
Medical experts have warned against the harmful effects of vape products especially among the youth.
"That is all the intervention that I had to push from the beginning…this is exactly what this bill would have allowed to do – the supervision of the FDA," said Cayetano.
"But here we are. This Senate has allowed a provision in this bill that will now turn over (regulation) to the Department of Trade and Industry. What business does it have to regulate health?," she asked after the vote was made.
"We are now reinventing the rules of our government agencies," Cayetano added.
Senate President Pro Tempore Ralph Recto, sponsor of the bill, has rejected Cayetano's proposed amendments on regulation and the minimum allowable age of people who can purchase the products.
He has consistently said that vapes are less harmful than cigarettes and that shifting to these novel products would help smokers quit the habit. It was the same reason cited by other senators who voted in favor of SB 2239.
"Regulation is necessary, but that regulation should have included very simple amendments… allow the 21-year-old to stand…but this Senate said no, we want them (youth) to be able to access as early as 18," said Cayetano.
Sen. Christopher Lawrence "Bong" Go, who chairs the health committee, abstained during the voting of SB 2239. Sen. Francis Pangilinan was the other legislator who voted against the bill.
Call to junk the vape bill
Earlier this week, medical practitioners and advocates made last-minute appeals to legislators to scrap the bill they describe as 'anti-health and anti-youth'. (See Health experts, anti-tobacco advocates air last-minute appeal: Junk vape bill).
The FDA has said these vape products are not proven to be effective in providing nicotine replacement therapy because they may pose new risks in addition to those present in traditional cigarettes.
Some vape users have testified to this claim, adding that smoking heated tobacco products (HTPs) is just as addictive (See Easy to start, hard to quit: former and current smokers share their stories).
International tobacco company Philip Morris International said HTPs and most electronic cigarettes (e-cigarettes) still contain nicotine – an addictive and non-risk-free substance – according to a 2019 explainer on alternative novel products.
It also added that nicotine "is naturally present" in HTPs, while nicotine in e-cigarettes are "added to the e-liquid," it said.
(See VERA FILES FACT SHEET: Smoke-free alternatives to cigarettes explained)
Dr. Maricar Limpin, president of the Philippine College of Physicians, earlier questioned why legislators were in such a hurry to pass the bill amid the coronavirus disease (COVID-19) pandemic.
"While we are fighting against the pandemic… while we are risking our lives and our family's lives… the Senate is racing to pass this bill," she said, adding that legislators have set aside advice from health experts who have warned against vaping's side effects.
Sophia San Luis, executive director of public law interest group ImagineLaw, said in a press statement that "senators sacrificed Filipinos' health to the profit-driven interests of vape and e-cigarette companies."
"Once enacted into law, it will relax existing restrictions on these harmful products," she said.
A similar bill was passed by the House of Representatives last May.
San Luis urged President Duterte to veto the bill as his previous statements had advocated for stronger control and regulation on vaping and e-cigarette use.
"We trust that he will remain resolute in fighting for the public's health. The President should not allow this measure to pass and we strongly urge him to veto the Vape Bill for the sake of Filipinos' health," San Luis urged.
Medical doctors have vowed to campaign for Duterte's veto of the bill.
Editor's note: VERA Files is part of Project Seeing Through the Smoke, which has support from the International Union Against Tuberculosis and Lung Disease, Inc (The Union) and Bloomberg Philanthropies.