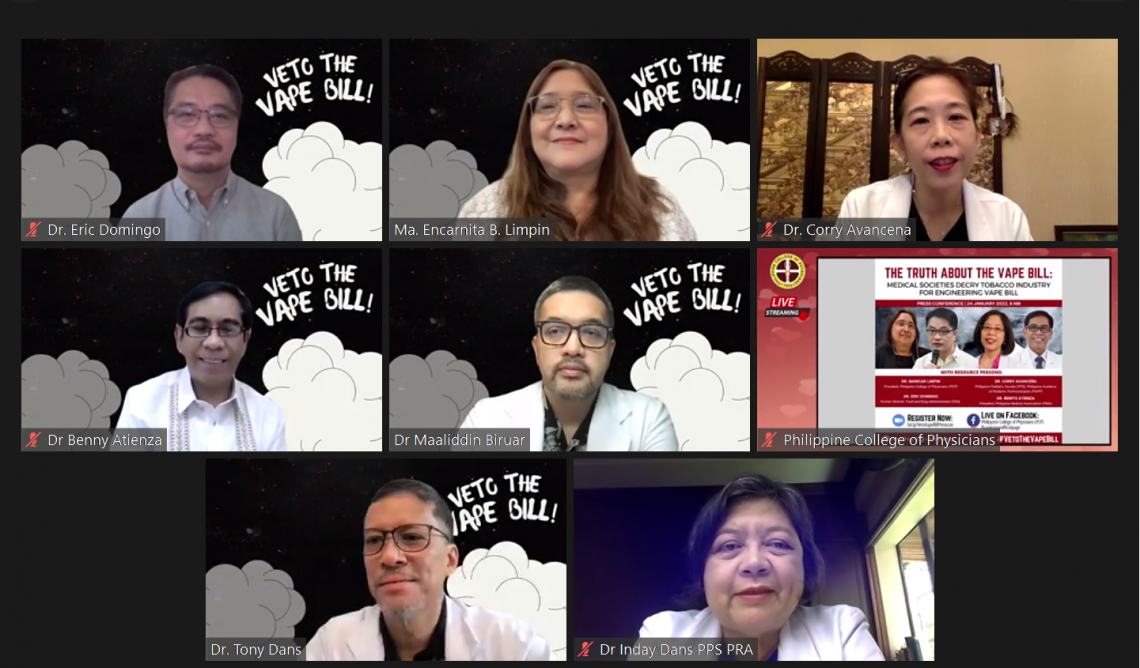 Screengrab on the online press conference titled "The Truth About the Vape Bill."
Leaders of the country's top organizations of medical practitioners appealed to President Rodrigo Duterte on Monday, Jan. 24, to veto the pending vape bill in its entirety, saying that the measure "goes against his vow to fight addiction" and weakens the regulations prescribed in a 2020 law that is set for full implementation by May.
"This vape bill will actually break the vow that you made to the Filipino People to fight addiction. What would happen is, it will even increase addiction to cigarettes, alcohol and illicit drugs," said Dr. Maricar Limpin, a pulmonologist and president of the Philippine College of Physicians, addressing an appeal to the president.
(Read Vape use could lead to alcohol and illegal drug use ー health experts)
Limpin, together with Dr. Benito Atienza, president of the Philippine Medical Association; Dr. Corry Avanceña, head of Task Force Anti-Smoking under the Philippine Academy of Pediatric Pulmonologists; and, Dr. Eric Domingo, recently resigned executive director of the Food and Drug Administration (FDA), spoke in an online press conference titled "The Truth About the Vape Bill."
They debunked reported claims of four physicians that the measure could become part of Duterte's "lasting legacy" if enacted and that it would give 16 million Filipino smokers a "less harmful" option to quit smoking.
The contentious issues are in Senate Bill No. 2239, which was approved on third and final reading last Dec. 16, and House Bill No. 9007, voted on third and final reading on May 25, 2021.
On Jan. 19, the third day of resumption of legislative sessions for the year, a bicameral conference committee convened and started ironing out differing provisions of the Senate and House versions of the bill. What they agreed on has not been made public.
Both chambers will then ratify the compromise bill and send an enrolled copy to the president, who has the option to sign it into law, veto it in whole or in parts, or allow it to lapse into law after 30 days from submission by Congress.
Nephrologist Maaliddin Biruar, who moderated the press conference, summarized that the controversial bill has three major features: lowering the age of access to vapes and e-cigarettes from 21 to 18, removing the two-flavor limit on electronic juices (e-juices) and expanding the allowed flavors to 11, and removing the regulatory function over these products from the FDA and giving it to the Department of Trade and Industry (DTI).
Atienza, who heads the PMA that counts 88,000 doctors and 55 medical organizations and community associations, said the bill is anti-youth and anti-health because of its deleterious effects, especially on young people.
Avanceña, a pediatric pulmonologist, said the pending bill expands the tobacco market by lowering the age of access to electronic cigarettes (e-cigarettes) and vapes from 21 to 18.
(Read VERA FILES FACT SHEET: What lowering age restrictions on e-cigarette smoking means for the youth)
For his part, Domingo said the bill is unnecessary, citing that Republic Act. No. 11467, which amended the National Internal Revenue Code of 1997 and imposed heavier levies on alcohol products and e-cigarettes, already included provisions regulating vapes and heated tobacco products (HTPs).
"The FDA has the capability to examine these products. We created a dedicated team to study and analyze…We don't need a new law," he said.
"Let us not be deceived… It is not a legacy nor is it a win for public health," said Limpin, adding that e-cigarettes and HTPs have not been proven effective for harm reduction.
"The mere fact that it has carcinogens means the possibility of getting cancer is high," she said.
Limpin lamented that RA 11467 and Executive Order (EO) 106, which contained regulatory provisions on these novel tobacco products, are already sought to be amended even before these are fully implemented by May after an 18-month transition period set in the law.
Domingo said that regulatory assessment impacts should be conducted after every order has been issued, but RA 11467 has yet to be fully implemented.
"We have to assess the law first before we make a new one. We already have one so we should let it [be fully implemented first] then we can check its impact," he said.
"Let RA 11467 and EO 106 be fully implemented. Let the FDA regulate. It could happen this May 2022…Please veto the vape bill," said Limpin, addressing the call to the president.
Biruar noted that the tobacco industry is apparently engaged in a "media blitz" to push the enactment of the proposed Vaporized Nicotine Products Regulation Act. He said it is "misleading to say that it's a regulatory bill," citing EO 11467 and EO 106 that already regulate the products.
Dr. Rafael Castillo, former president of the Philippine Heart Association-Philippine College of Cardiology and the Philippine Society of Hypertension; Dr. Dante Dator, former chief executive of the National Kidney and Transplant Institute; Dr. Assunta Mendoza, past chairman of the Department of Anesthesiology at Manila Medical Center; and Dr. Lorenzo Mata, president of advocacy group Quit for Good, were quoted in a press release published on Monday that the pending bill will "regulate vapor products and provide strict rules on its use to protect minors."
Domingo lamented that under the bill, the FDA had been stripped of the authority over the novel tobacco products that have "pharmacologic and physiologic effects" on humans.
He raised doubts that the DTI is as equipped as the FDA to oversee products that have consequences on human health.
Products such as e-juices, which are used on vapes and e-cigarettes, Domingo said, need to be regulated by the proper and competent authority such as the FDA because these are inhaled into the body and have effects on the health.
According to him, DTI can keep the regulatory authority over the vaping device, but not on the e-liquids or juices that should remain to be classified as health products.
"Cleaning supplies, crayons are regulated [by the FDA]. The products we put in our body, FDA should still be the one to regulate them," he said.
"[Consumer groups] say [vape products] are less harmful than smoking, so it is used to quit. But [the bill] will only make it more available to everybody, including the non-smoking youth. They lowered the age of access from 21 to 18 so, in reality, it is making these products more available to the non-smokers," Limpin pointed out.
According to the 2019 Global Youth Tobacco Survey, while the number of cigarette smokers aged 13 to 15 years declined from 12% in 2015 to 10% in 2019, those using e-cigarettes increased from 11% to 14% during the same period.
"One in every seven youths are using e-cigarettes. More of our youths are enticed to use e-cigarettes even before they start smoking. This is not harm reduction," she added, disputing the claim of the four doctors. She said the bill "even increases the harm by making it available for use even by non-smokers."
The country has already recorded a case of e-cigarette or vape-associated lung injury (EVALI) in November 2019 involving a 16-year-old girl who used both traditional and electronic cigarettes.
According to the Center for Disease Control and Prevention (CDC), nicotine, which is present in some of the novel tobacco products, can harm the developing adolescent brain, which is not fully mature until the age of 25.
Being exposed to vaping at an early age can affect parts of the brain that are responsible for memory, attention and mood control, according to Avanceña.
The medical practitioners also appealed to Trade Secretary Ramon Lopez to support their call for the president to veto the bill.
"This regulation of chemicals is really complicated because it has lots of chemicals. And these aren't just any chemicals; these are poisonous and they cause cancer," said Limpin.
The Department of Health, in a Dec. 19 press release, supported medical experts's call for a presidential veto of the bill, saying that vape products are "harmful and not risk-free and should be regulated as health products due to their toxic substances and effects."
This story is produced under the project 'Seeing through the Smoke', which has support from the International Union Against Tuberculosis and Lung Disease, Inc (The Union) and Bloomberg Philanthropies.