A three-month-old video that has President Rodrigo Duterte saying getting more than two doses of the COVID-19 vaccine is dangerous is being revived on Facebook (FB). The statement needs context.
Malacañang has since clarified its stance on booster shots and noted "clear evidence" shows the jabs provide added protection against the novel coronavirus.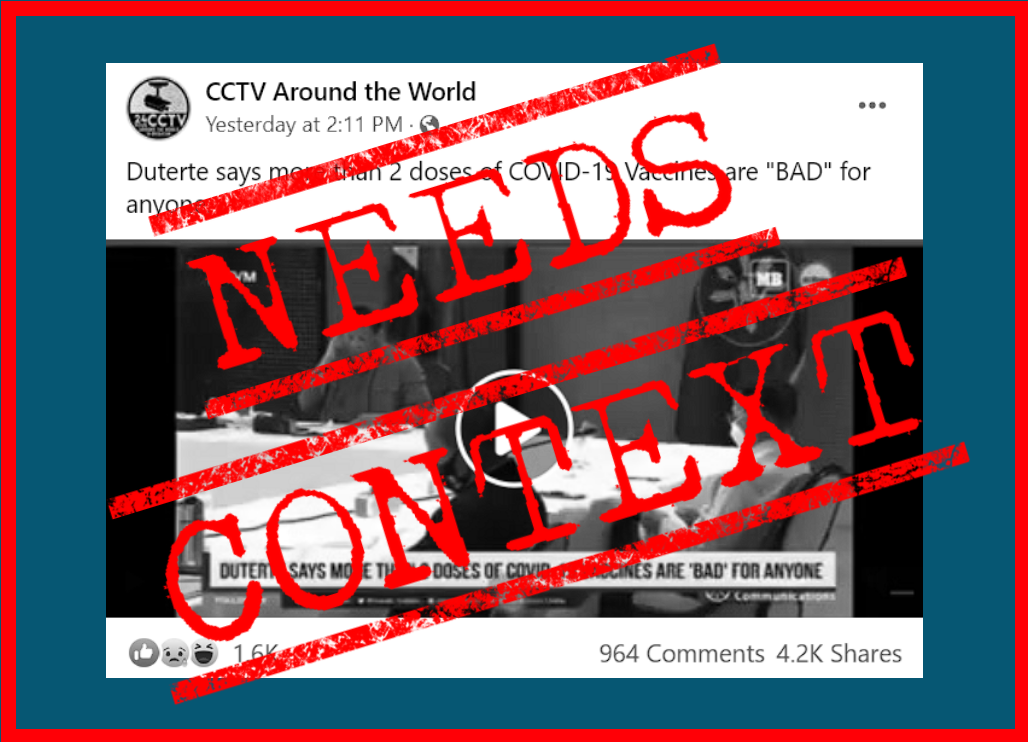 The circulating 70-second clip is an excerpt from Duterte's Sept. 30, 2021, weekly Talk to the People briefing. He did utter the following statement: "Tama na 'yang dalawang doses, huwag ninyong sobrahan. Delikado (Two doses are enough, don't give more. It's dangerous)."
Reacting to the recent revival of the president's remark from September, acting presidential spokesperson Karlo Nograles said in a Jan. 23 statement that the clip "should be viewed in the proper context."
"At that point, 21 million of our countrymen were fully vaccinated, and our priority was to increase this number, which is why the provision of booster shots had yet to be approved.
The situation today is now vastly different.

Last November, upon the recommendation of our health experts, the government approved the use of booster doses for all fully vaccinated individuals as we had ample supplies of vaccines and a substantial percentage of our population was already fully vaccinated."

Source: Office of the Presidential Spokesperson website, On the September 2021 video clip of the President regarding vaccine doses, Jan. 23, 2021
Nograles added that on Dec. 21, 2021, Duterte urged the public to "take advantage" of the availability of vaccine supplies by getting booster shots to protect themselves from the virus causing the coronavirus disease 2019 (COVID-19).
A booster shot is an additional dose of vaccine that "reminds our immune system to attack a virus or bacteria," according to a group of health experts assembled by non-profit organization Meedan. In November, the Food and Drug Administration approved the amendment to the emergency use authorization of some COVID-19 vaccines to be used as boosters.
The video clip circulating is published by the six-day-old FB page CCTV Around the World (created last Jan. 19). Its caption carried portions of Nograles' statement. However, a look at the post's comment section indicates that Duterte's statement on booster shots being "dangerous" resonated with netizens and earned praise from people who agreed with what he said.
The clip that needs context has also been circulating in private messaging platforms, according to a reader who requested VERA Files Fact Check to look into the post.
CCTV Around the World's post got a total of 5,500 reactions, 3,900 comments, 15,000 shares, and 245,000 views. It came out a day after the chief implementer of the government's COVID-19 action plan, Carlito Galvez Jr., reiterated on Jan. 22 the country's commitment to vaccinate all qualified Filipinos against COVID-19.
Have you seen any dubious claims, photos, memes, or online posts that you want us to verify? Fill out this reader request form or send it to 'VERA, the truth bot' on Viber.
(Editor's Note: VERA Files has partnered with Facebook to fight the spread of disinformation. Find out more about this partnership and our methodology.)