A quote card that shows vaccine czar and pandemic response chief Carlito Galvez Jr. saying a vaccine with a low efficacy rate is not apt for health workers but will suffice for the poor, is fake.
There are no official records nor any report from news organizations of Galvez making such a remark. The government's National Task Force (NTF) Against COVID-19 also debunked the statement and asked the public to refrain from sharing the quote card.
Based on a manual search on Facebook (FB), at least 63 accounts on the platform posted the spurious graphic from Feb. 22 to 24, earning Galvez the ire of scores of netizens.
The post manipulated a quote card from ABS-CBN News, cropping out the logo of the news organization and replacing a factual statement with a concocted one: "Huwag po nating maliitin ang Sinovac. Bagamat 50.4% lang ang efficacy nito, mas mainam na ito kesa wala. Hindi lamang talaga pwede sa mga health workers ang mababang efficacy rate. Pwede na ito sa mga mahihirap nating mga kababayan kaysa masayang."
(Translation: Let us not belittle Sinovac. Despite its efficacy only being 50.4%, this is better than having nothing. It's just that [vaccines] with low efficacy rates cannot be [administered] to health workers. This can be [given] to our poor countrymen instead of it going to waste.)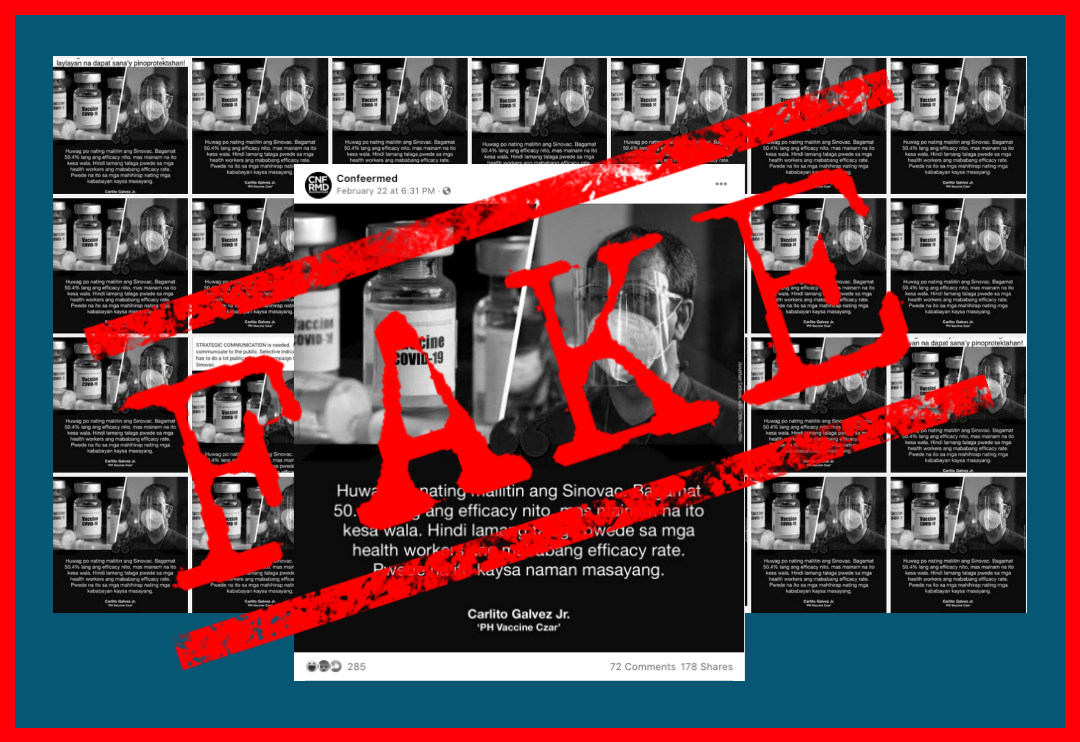 ABS-CBN denied on Feb. 23 that the graphic was their own.
The same day, the NTF Against COVID-19 issued a statement on its FB page calling the quote card "untrue."
"Sec. Galvez has never issued any such public statement and will never do so," the task force said, urging the public to be critical of posts they see on social media, and to be wary of posts that sow confusion, distrust and fear.
"This is something we would like to avoid as we prepare for the arrival of the vaccines, and the forthcoming rollout of our national vaccine program," it said.
The fabricated post surfaced on Feb. 22, the same day the FDA granted emergency use authorization for CoronaVac, the COVID-19 vaccine developed by Chinese company Sinovac Biotech.
The concocted statement appears to be a twisted version of a remark made on the same day by FDA Director-General Eric Domingo, who said the vaccine is "not the best" for health workers, who are at high risk of exposure to the virus.
He was quoted in news reports as saying that late-stage trial data for CoronaVac had a lower efficacy rate for health workers (50.4%) compared to healthy adults aged 18 to 59. It is also not being recommended for use among the elderly. But this doesn't mean the Chinese-made vaccine is bad, Domingo said in a TV interview.
The government's prioritization scheme for inoculation against COVID-19, however, prioritizes healthcare workers, senior citizens, and people with certain medical conditions.
In January, senators held hearings to question the government's preference for the Chinese vaccine, despite a clinical trial in Brazil showing that the drug had a lower efficacy rate than was previously announced.
The earliest publicly available copy of the fabricated post was uploaded by the FB page Confeermed on Feb. 22, which got 284 reactions, 72 comments and176 reshares. The page has a history of publishing manipulated quote cards.
(Editor's Note: VERA Files has partnered with Facebook to fight the spread of disinformation. Find out more about this partnership and our methodology.)