The Philippines officially began its inoculation program against COVID-19 on March 1 with health authorities taking the first jabs of China's Sinovac BioTech vaccine in different government hospitals to help dispel fears over the drug's safety and efficacy.
"Our decision to get Sinovac was based on science," said Philippine General Hospital (PGH) Director Gerardo Legaspi, the first to be injected during a public vaccination meant to boost the Filipinos' overall confidence in vaccines and allay doubts by medical frontliners who expressed mistrust of the Chinese-donated drug.
"Let's view the vaccine separate from politics, (political) parties, administration and beliefs, and instead look at the science that is clear," he said.
Vaccinated along with Legaspi were Food and Drug Administration (FDA) Director-General Enrique "Eric" Domingo and Institute of Molecular Biology and Biotechnology Director Edsel Salvana of the UP National Institutes of Health.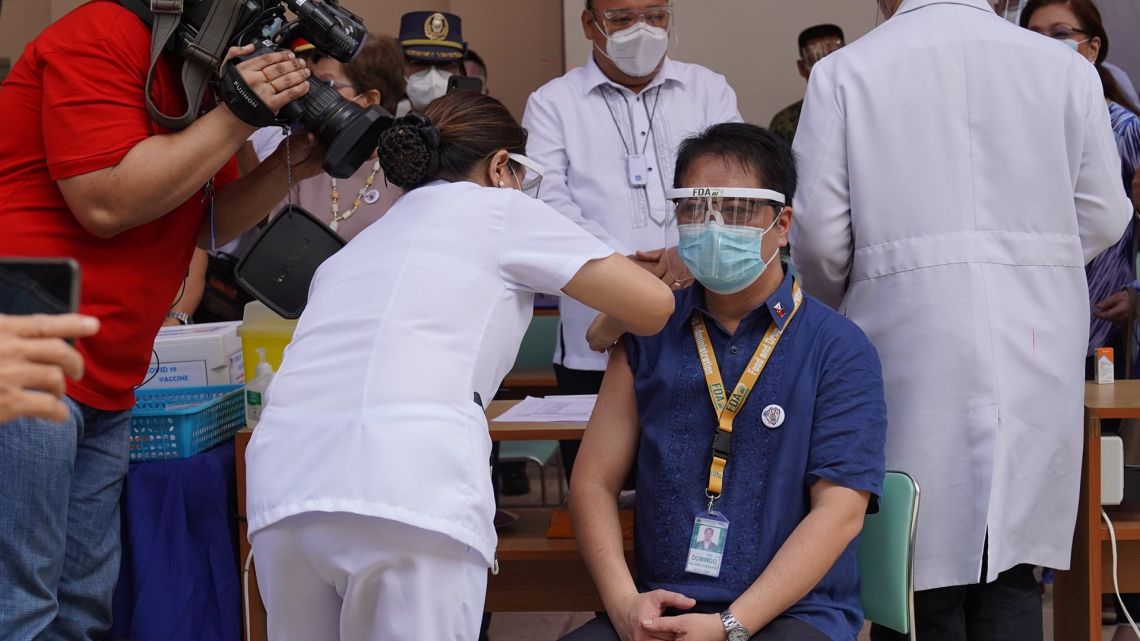 Food and Drug Administration Director-General Eric Domingo is among the first to receive a jab of the Chinese-donated CoronaVac on March 1 at the Philippine General Hospital, as the Philippines rolled out its inoculation program against COVID-19. FDA issued an emergency use authorization for the drug developed by Sinovac Biotech Ltd. on Feb. 22. Photo from Presidential Communications Operations Office.
The country's vaccination program has not been without hitches. Two days before the Sinovac vaccines arrived in the country, some healthcare groups within PGH itself held a picket outside the hospital, saying they "deserve the most effective vaccine."
Other medical groups also expressed reservations about Sinovac, which received an emergency use authorization (EUA) only last Feb. 22.
In issuing an EUA, the country's FDA noted that when used on "clinically healthy" individuals aged 18 to 59, it had an efficacy rate of 65.3% and 91.2% based on the initial data from its ongoing Phase 3 trials in Indonesia and Turkey.
A lower efficacy rate (50.4%), however, was observed when given to healthcare workers who are more exposed to COVID-19.
"It is not recommended for use in this group," Domingo said in a briefer on the EUA announcement, giving the same advice for senior citizens.
Four days later, on Feb. 26, the National Immunization Technical Advisory Group (NITAG) approved the use of Sinovac for healthcare workers who will choose to get it.
"Considering the circumstances that our country is in where the first vaccine that we have now is really Sinovac, the same considerations in evaluating were used: [t]he efficacy, the safety, and then rational allocation of the vaccine," said Marissa Alejandria, a member of the NITAG.
A survey of 5,745 PGH employees from Feb. 9 to 11 showed that 94.1% consented to getting vaccinated, Legaspi said on Feb. 15. But later, only 12% of 2,000 employees said they were willing to get vaccinated with CoronaVac after it was reported that Sinovac's drug, instead of the initial Pfizer-BioNTech vaccine, would be the first to arrive in the country.
PGH, the biggest COVID-19 referral hospital in the country, conducted inoculation simulations in February for the Pfizer vaccines, which has a 95% efficacy rate.
But the delivery of the initial 117,000 doses of Pfizer vaccines from the World Health Organization's COVAX Facility slated for Feb. 13 was delayed due to the absence of an indemnification clause in its supply agreement with the national government.
A shipment of AstraZeneca vaccines, another preferred drug, that was expected this week will also be delayed. Apart from the 600,000 doses of Sinovac that arrived in the country on Sunday, the government has separately ordered 25 million doses of the Chinese vaccine.
The NITAG experts said those healthcare workers who opt to wait for other vaccine brands will not lose their priority status on the vaccination list.
Under the National Vaccine Deployment Plan, the first-priority sectors for COVID-19 vaccinations are frontline health workers from public and private health facilities and indigent senior citizens.
"If they don't think this is the right vaccine for them, we will not penalize them," said Salvana, who is a member of the health department's Technical Advisory Group (TAG) in a presser on Feb. 26.
Public show of trust on vaccines
The total number of COVID-19 cases as of March 1 in the Philippines is 534,351, including 31,708 active cases and 12,322 deaths, according to the DOH COVID-19 tracker.
Experts during today's event said the "best vaccine is the vaccine in the arms of the people" and given that Sinovac is the only currently available vaccine in the country for now, health workers should get vaccinated as soon as possible to prevent the further spread of the disease.
The Philippines is among the last in Southeast Asia to secure supplies of COVID-19 vaccines.
"Ang daming mga agam-agam (There were so many doubts)… but when the director of PGH is vaccinated, that's a very very strong statement," said Minguita Padilla, co-convener of the Doctors for Truth and Public Welfare, who also got vaccinated today at PGH.
"Kahit anong gawing kampanya… hindi magkakaroon ng panatag na loob ang mga taumbayan para makapagbakuna hangga't hindi nila nakikita na ang kanilang mga doktor na pinagkakatiwalaan ay nagpabakuna (No matter how much you campaign… The people will not be relieved until they see their doctors, whom they trust, get vaccinated)," she added.
Meedan's public health expert Nat Gyenes told VERA Files Fact Check in December last year: "It is important for the global public health community to acknowledge that there is legitimate mistrust that communities experience in health institutions."
One of the ways to assuage fears in getting inoculated is for public leaders and politicians to be the first in line to show the vaccine's effectiveness. (See VERA FILES FACT CHECK YEARENDER: Hoaxes, myths precede COVID-19 vaccine rollout)
Among those who also got the vaccines in PGH were Carlito Galvez Jr., vaccine czar and chief implementer of the National Task Force vs COVID-19 (NTF) and Metro Manila Development Authority (MMDA) chairman Benhur Abalos. NTF deputy chief Vince Dizon received his shot from Dr. Jose N. Rodriguez Memorial Hospital in Caloocan City.
Meanwhile, Health Secretary Francisco Duque III administered the first shot at the Lung Center of the Philippines but did not get vaccinated himself because he is not eligible for Sinovac's age range.
President Rodrigo Duterte, who earlier boasted he would take the first shot, did not get the first Sinovac jab because he said on Feb. 28 his doctor has recommended another Chinese brand of COVID-19 vaccine for him.
Late last year, it was reported that some members of Duterte's military security detail were vaccinated with a drug that was smuggled into the country.
Officials are targeting to inoculate 70 million Filipinos over a year or so to develop herd immunity against the disease that has severely affected jobs and businesses under one of the world's longest lockdowns.
(This story was produced under a Health Fellowship program carried out by VERA Files with support from Facebook. Find out more about this project here.)