A photo of a woman wearing a blouse whose sleeve appears to cover her arm while being injected is falsely being claimed to show Vice President Leni Robredo.
The woman in the image is not the vice president but Flordeliza F. Grana, a pediatric surgeon from Amang Rodriguez Memorial Medical Center in Marikina City, who received the COVID-19 vaccine along with other medical frontliners on March 2.
Her name can be seen in the identification card that is visible in the photo taken by Philippine Daily Inquirer photojournalist Niño Jesus Orbeta.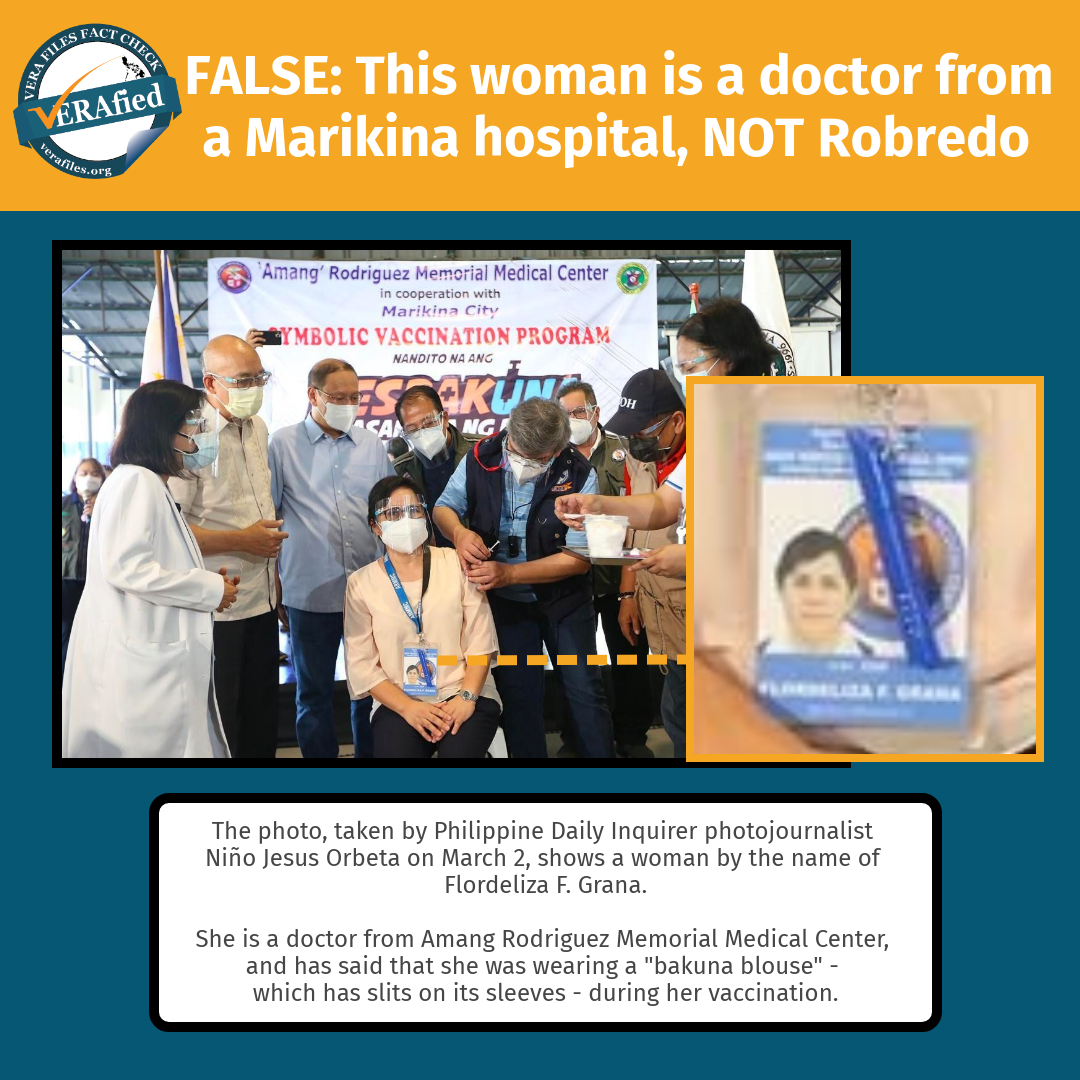 A copy of the photo uploaded on the Inquirer.net's Facebook (FB) page drew comments from netizens who mistook the doctor for Robredo.
"Ikaw lang ata yung nagpaturok ng nakasleeve sa buong mundo. Isa ka talagang alamat Aling Leni (It seems you're the only one in the world who got injected with shirt sleeve rolled down. You're a myth, Ms Leni)," read a screengrab of one comment. This specific post got over 600 interactions.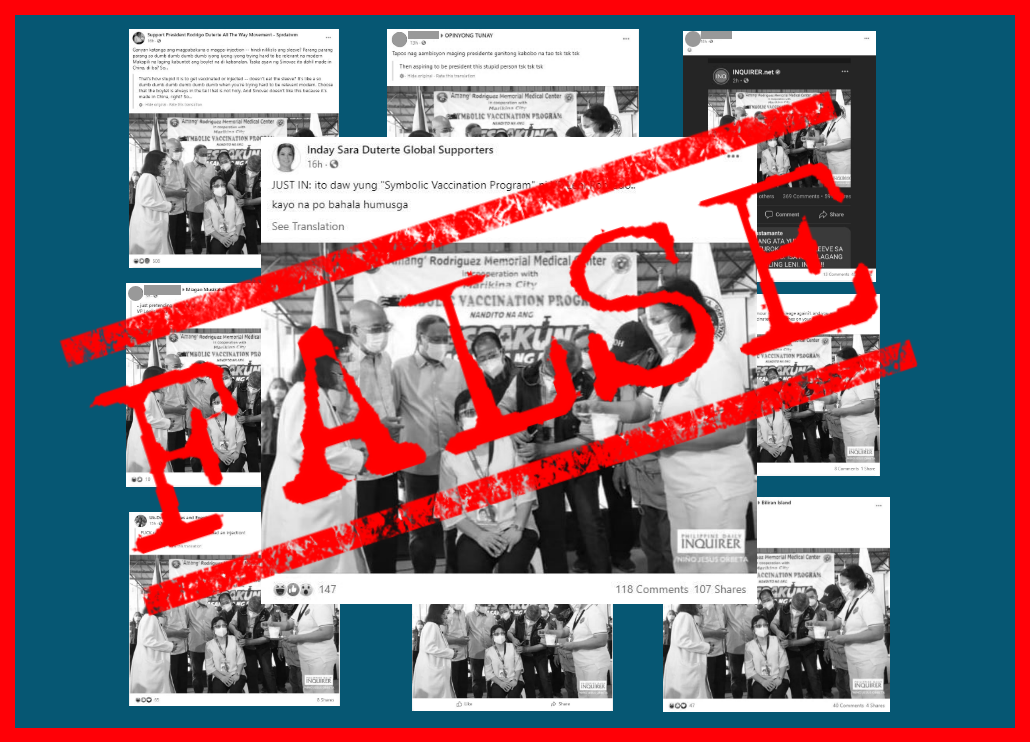 Robredo denied she was the woman in the photo in a status update on her personal Facebook page on March 2, and asked netizens to report the circulating false posts. The Office of the Vice President's FB page has also called it "fake news."
Robredo said she was told that the woman in the photo was Grana, and that the doctor was wearing a blouse with slits on its sleeves.
Grana, on her personal FB profile, re-shared the vice president's March 2 post and stated she was wearing a "bakuna blouse" during her inoculation against COVID-19.
A picture of Grana showing the slits in her bakuna blouse and her freshly inoculated arm was also uploaded by the Department of Health FB page on March 2.
VERA Files Fact Check has flagged at least four other posts that re-uploaded Orbeta's picture with the false claim that it was Robredo.
FB page Inday Sara Duterte Global Supporters called it the "symbolic vaccination program of VP Leni Robredo."
Many other posts did not mention Robredo directly, but used allusions, such as "madumb," which rhymes with "madame," and described the woman in the photo as "someone who intends to become president."
The false posts were also published in public FB groups FREEDOM WALL, Biliran Island and Miagao Musikahan, and FB page Uk-Dds Activities and Events.
The false claim came a few days after President Rodrigo Duterte during a Feb. 28 briefing dared Robredo to get vaccinated with the Chinese-donated Sinovac vaccine. In January, the vice president called on Duterte to get vaccinated first to boost the public's confidence in vaccines.
(Editor's Note: VERA Files has partnered with Facebook to fight the spread of disinformation. Find out more about this partnership and our methodology.)