A video making the rounds on social media claiming that Davao City Mayor "Inday" Sara Duterte-Carpio had clapped back at Mayor Francisco "Isko" Moreno Domagoso for his statement about election tarpaulins sprouting around Manila is false.
The concocted claim is in reference to comments made by Moreno on the proliferation of tarpaulins, instead of vaccines, in the Philippine capital. The tarpaulins are urging Sarah Duterte to run for president.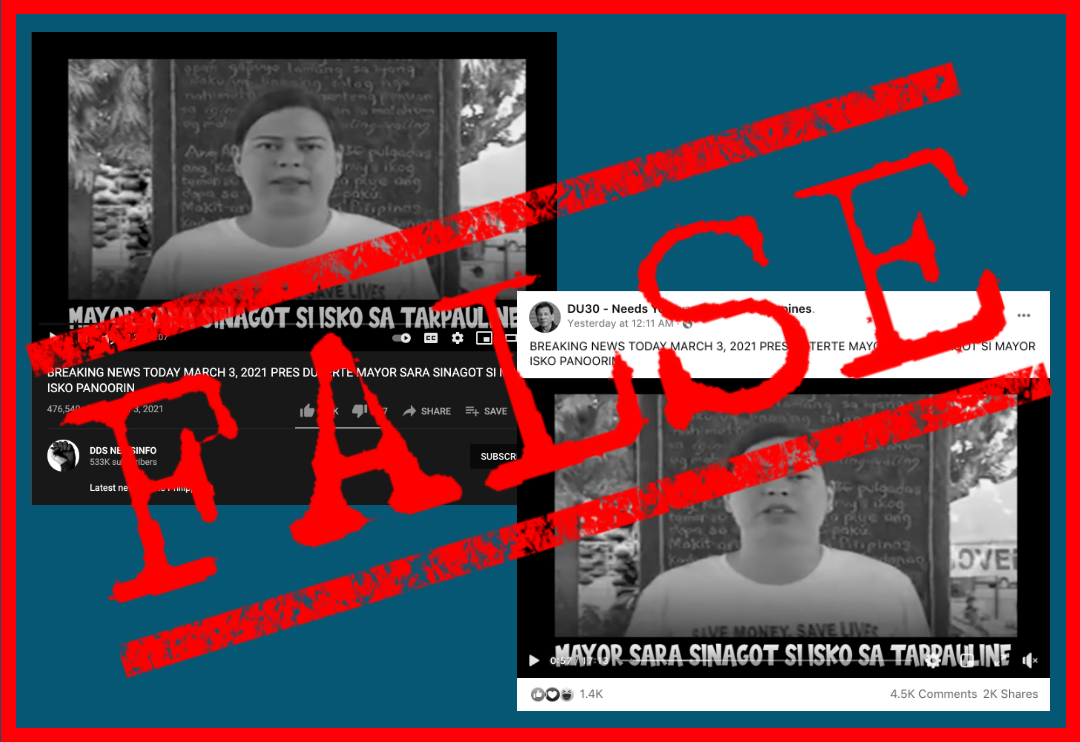 YouTube channel DDS NEWSINFO published on March 3 a video with the title: "BREAKING NEWS TODAY MARCH 3, 2021 PRES DUTERTE MAYOR SARA SINAGOT SI MAYOR ISKO PANOORIN (Pres. Duterte Mayor Sara responded to Mayor Isko, Watch)."
Its content is composed of four clips that played on a loop for eight minutes. One of these was a 65-second clip taken from a 76-second-long March 1 message of Duterte-Carpio addressing people who were calling on her to run for the presidency in 2022.
The Davao City mayor, however, made no reference to Moreno in her monologue. She only told her supporters that there is no need for "tarpaulins and motorcades" and that they should instead allocate their resources to "give food to those who are short on money and hungry, and create jobs for those who lost their livelihood."
DDS NEWSINFO repeated its false claim on a graphic shown throughout the video clip: "MAYOR SARA SINAGOT SI ISKO SA TARPAULINE (sic) (Mayor Sara responded to Isko regarding the tarpaulin)."
Moreno on Feb. 23 said there was a joke going around Manila about how the city is facing "a flood of tarpaulins, not vaccines." The local chief executive did not mention any specific tarpaulin, or politician or group behind it. At the time, the Philippines had not yet rolled out its vaccination program.
Apart from Duterte-Carpio's message, DDS NEWSINFO played three other clips featuring the following:
An audio recording of Domagoso's Feb. 23 interview with reporters where he made the statement about tarpaulins, overlaid on a different video of him while speaking. This was juxtaposed with an image of three "Run, Sara, Run" banners;
A report about President Rodrigo Duterte's dismissal of Philippine Ambassador to Brazil Marichu Mauro, who was caught on video maltreating her house helper. The clip's voiceover appeared to be reading a March 2 Brigada News article on the matter; and
A four minute-long portion taken from an hour-long March 1 episode of Counterpoint, a program by Chief Presidential Legal Counsel Salvador Panelo. In the short clip, Panelo talked about three potential presidential tandems for the 2022 polls.
Both Duterte-Carpio and Moreno ranked high in a poll conducted by OCTA Research from Jan. 26 to Feb. 1. Duterte topped both a presidential and vice presidential preference poll, while Domagoso placed fourth and second, respectively.
The presidential daughter has repeatedly said she has no intention to run for president in the next election. She has told her supporters to stop organizing "Run Sara Run" motorcades in Davao City and ordered the removal of tarpaulins, posters, and billboards.
President Duterte has also denied that her daughter is running, remarking that the presidency "is not for women."
DDS NEWSINFO's false video already has over half a million views on Youtube. Several pages reuploaded the video on Facebook (FB), with copies published March 3 by pages DU30 – Needs You (674,200 views), Duterte News Info TH (172,800 views), and Pinoy Today (81,500 views) receiving the most number of audience.
Social media tool CrowdTangle shows there are at least 13 FB pages and 62 FB either reuploaded DDS NEWSINFO's video or shared its Youtube link. These posts collectively received almost 19,000 FB interactions.
DDS NEWSINFO was created in December 2012 and has a history of sharing disinformation.
(Editor's Note: VERA Files has partnered with Facebook to fight the spread of disinformation. Find out more about this partnership and our methodology.)