Aside from repeating the false claim that COVID-19 does not exist, the United Kingdom-based Filipina vlogger behind FB page Lynn Channel has made two statements about Pfizer, Inc. and BioNTech SE's vaccine that need context.
In a Dec. 29 Facebook Live video, the vlogger talked about how a French infectious disease expert found numerous adverse effects of the vaccine candidate, and raised doubts about the product as it was reportedly developed in just a matter of hours.
Lynn Channel's video came at least two weeks before deaths in Norway linked to the vaccine were reported. The Norwegian government is investigating the deaths of frail, elderly people who were inoculated.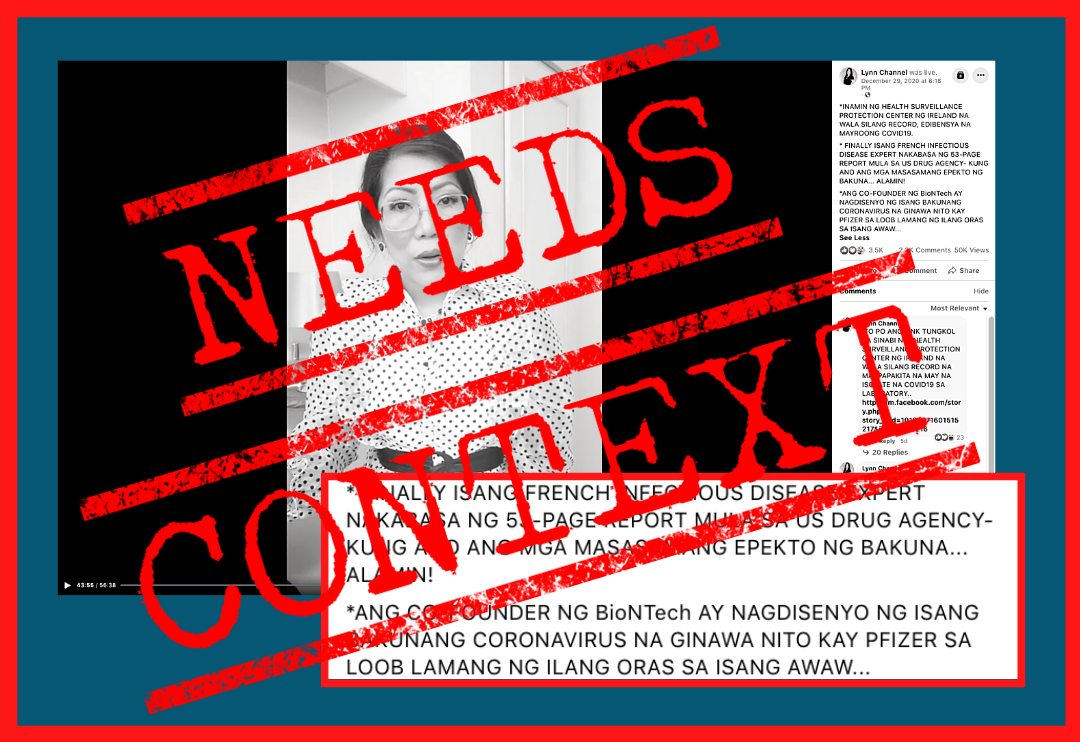 French health expert's comments on Pfizer vax needs context
The French expert Lynn Channel referred to is Eric Caumes, head of the Infectious and Tropical Diseases Department of the Pitié Salpêtrière University Hospital in Paris.
He was quoted in a Dec. 9 report by French news site Le Parisien saying he had "never seen such a high frequency of side effects for a vaccine," pertaining to adverse events experienced by trial participants of Pfizer's vaccine that were recorded in a United States Food and Drug Administration (FDA) briefer.
However, the FDA itself stated that "no specific safety concerns (were) identified" in the phase 3 trial results of the Pfizer vaccine that could prevent it from being issued an emergency use authorization. Commonly recorded effects were injection site pain and fatigue, and the report said the frequency of serious adverse effects were low.
Lynn Channel also wrongly claimed that the FDA report was hidden from the public and is not publicly available.
More, the Filipina vlogger failed to say that five days after Caumes made the controversial statement — about two weeks before Lynn Channel published its video — the French health expert said he was now willing to get vaccinated with the Pfizer drug "without any problem."
This was after he reviewed the vaccine's clinical trial results published Dec. 10 in The New England Journal of Medicine.
At the time the UK-based Filipina vlogger made the remarks, the French government had authorized the use of Pfizer vaccine.
BioNTech's 'speedy' vaccine dev't needs context
Lynn Channel also cited a Dec. 12 Business Insider article that detailed how BioNTech co-founder Ugur Sahin designed their vaccine candidate "in just a few hours over a single day."
The Business Insider's source was a Nov. 21, 2020 podcast episode from The Wall Street Journal and Gimlet Media, where Sahin said he finished designing their vaccine candidate "within hours" one weekend in January, using only his computer and the genetic data of SARS-CoV-2 readily available on the Web since Jan. 15.
Health experts convened by nonprofit organization Meedan explained that there are two primary reasons for the vaccine's speedy development: the use of messenger RNA (mRNA) vaccine technology, and the quick availability of the virus' genome sequence.
They told VERA Files Fact Check that while traditional vaccines "involve more timely processes like weakening or killing a virus or producing a part of the virus in the lab," mRNA vaccines only need the genetic sequence of the virus.
An mRNA vaccine, such as Pfizer and BioNTech's mRNA-1273, works by injecting the genetic information from the coronavirus into human cells. This will instruct the body to make "special spike proteins like the coronavirus" and trigger the immune system "to respond effectively to the virus."
"China's initial rapid identification of the genetic sequence and early sharing of the sequence globally on January 10, 2020, prior even to the understanding of human-to-human spread of COVID-19, promoted rapid availability of this critical vaccine development data," added Meedan's experts.
They also said that while "there are multiple, clear, reasons" behind Pfizer and BioNTech's quick development and production of their drug, "none… jeopardize the safety or efficacy of the vaccine."
Anthony Komaroff, editor-in-chief of Harvard Medical School's Harvard Health Letter, also emphasized in a Dec. 10 blog post that today's mRNA vaccine technology is not a standalone discovery but is a result of "30 years of painstaking research" that is built "on many previous breakthroughs" in medicine.
Lynn Channel's video came three days after President Rodrigo Duterte announced during a late night address that "many have already been injected" with China's Sinopharm vaccine in the Philippines, causing a public uproar since the vaccine has not been approved by the local regulatory body. Only the Pfizer vaccine has been given an emergency use authorization by the local FDA.
Lynn Channel's video has already been viewed 66,000 times by netizens, receiving around 4,100 reactions, 2,600 comments, and 6,100 shares since posting. Social media monitoring tool CrowdTangle shows the post could have reached 25 million social media users, with the page itself and public groups Bryna Pancito Fans Group and Friends Who Like Dante Maravillas as its top traffic generators.
(Editor's Note: VERA Files has partnered with Facebook to fight the spread of disinformation. Find out more about this partnership and our methodology.)