A Filipina vlogger incorrectly interpreted a statement from a March 31 paper by a British scientific advisory group and urged Filipinos not to get a second dose of the coronavirus disease 2019 (COVID-19) vaccine as this could kill them.
In an April 13 Facebook Live video, FB page Lynn Channel used a statement from page 10 of the study by the Scientific Pandemic Influenza Group on Modelling, Operational sub-group (SPI-M-O) to prove her claim that getting two doses of the COVID-19 vaccine kills people.
The statement reads: "The resurgence in both hospitalisations and deaths is dominated by those that have received two doses of the vaccine, comprising around 60% and 70% of the wave respectively."
The claim by Lynn Channel is false, and it needs context. The channel has been flagged several times by VERA Files Fact-check for posting misleading and false claims about COVID-19.
The document, which is a modelling study, aims to predict the increase in hospitalizations and deaths immediately after the United Kingdom (U.K.) finishes implementing its four-step roadmap to ease lockdown restrictions by July 2021. It has not been peer-reviewed and is currently being assessed.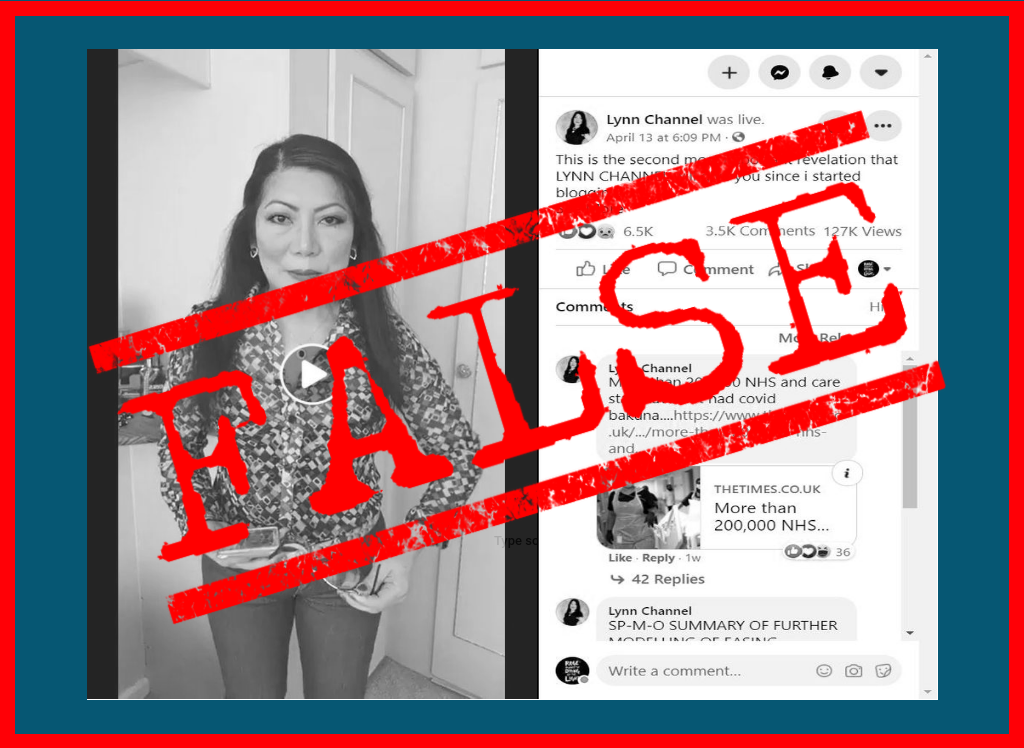 SPI-M-O's paper actually emphasized on page 18 that the projected hospitalizations and deaths are "not the result of vaccines being ineffective." The study ran with the assumption that 95 percent of people over 50 years old – who suffer from existing health risks – were vaccinated with two doses of the COVID-19 vaccine, while 5 percent were unvaccinated.
According to the U.K.'s Medicines and Healthcare products Regulatory Agency (MHRA), a high proportion of the elderly were vaccinated early. Adverse effects are more likely to happen coincidentally upon getting the shot, it added.
An article by the Harvard Health Blog noted that existing health problems that develop soon after vaccination could be incorrectly blamed on vaccines.
Citing health experts, a fact-check article by Lead Stories says it's statistically inevitable that some people will get sick or die after getting the shot for illnesses unrelated to the body's response to the vaccine such as cancer and heart attacks.
From December 14, 2020 to April 19, 2021, the United States (U.S.) Vaccine Adverse Event Reporting System (VAERS) has reported 3,486 reports of death (0.0016%) among 211 million people in the U.S. who have received a COVID-19 vaccine. Reviews of death certificates, medical records and autopsy reveal no evidence that vaccination played a role in these deaths.
No direct links have been found to prove that COVID-19 vaccines caused the recent deaths of 33 elderly nursing home patients in Norway, 27 people in India, and eight people in South Korea. Multiple fact checks have also debunked the link between vaccination and death in other parts of the world.
Lynn Channel's erroneous video got 6,500 reactions, 3,500 comments, 9,200 shares and 127,000 views on FB, before it was taken down. Its top traffic generators were FB groups Tutok and Win, Ferdinand BongBong Marcos Jr. For President Movement 2022, and DRT Bulacan Netizen group. A clip showing the portion of the video where Lynn Channel made its false claim is circulating among private messaging channels, which was flagged by a reader of VERA Files Fact Check.
(Editor's Note: VERA Files has partnered with Facebook to fight the spread of disinformation. Find out more about this partnership and our methodology.)