A phishing scam using the name of senator and presidential aspirant Manny Pacquiao is circulating online, deceiving netizens who are sharing personal information so they could receive cash giveaways promised by the fake post.
The fraudulent post claimed that Sen. Pacquiao would send P30,000 as business capital through the state-owned LandBank. It instructed netizens to send their name, contact information and address to impostor Facebook pages named after popular games linked to a legitimate television game show.
Netizens were also instructed to type the word "Xoxo" and to like and share the scam post so they can qualify for the bogus prize. This scam figured on impostor pages called 'Wowowin', 'Tutok to Win' and the mobile raffle game Will to Win.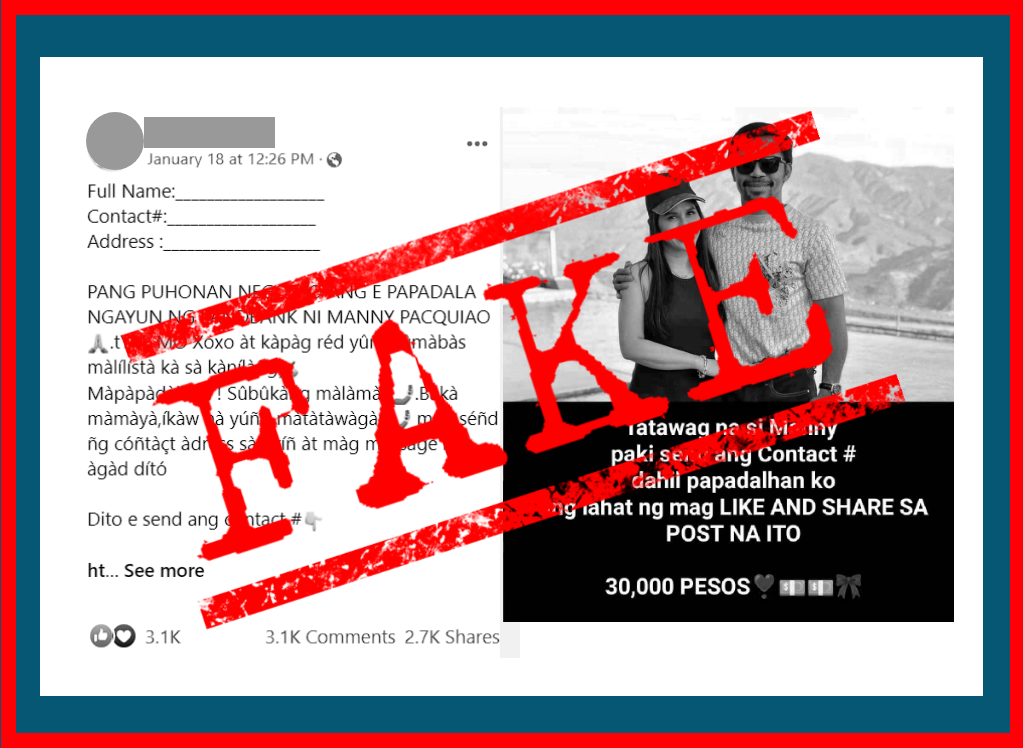 VERA Files Fact Check has debunked other fraudulent schemes with the same modus operandi using Pacquiao's name.
There is no such cash giveaway from Pacquiao, according to the LandBank. "Senator Pacquiao has no partnership with LANDBANK to provide any financial assistance… The post and the page you have provided is not legitimate," Land Bank of the Philippines' Corporate Affairs Department told VERA Files Fact Check via Facebook Messenger.
Neither are there any announcements on the senator's official social media accounts about any giveaways.
The bogus posts emerged three days after Pacquiao posted on Instagram and Facebook last Jan. 15 a campaign promise to provide real homes and jobs to the masses.
To evade detection from cursory search, the post mostly used letters with diacritic marks. Dozens of netizens expressing desire to be selected in the fake giveaway provided their personal details in the comments section.
Data from social media monitoring tool CrowdTangle shows that the sham cash giveaway was posted on Facebook (FB) 224 times since Jan. 18, garnering a total of over 62,600 interactions.
Have you seen any dubious claims, photos, memes, or online posts that you want us to verify? Fill out this reader request form.
(Editor's Note: VERA Files has partnered with Facebook to fight the spread of disinformation. Find out more about this partnership and our methodology.)