As the Philippines continues to log a surge in COVID-19 cases from March to April, claims on the effectiveness of a certain drug against the disease have been making rounds on social media.
A March 19 post by the Facebook (FB) page of wellness center Akesis Holistic Health that continues to circulate this month, said ivermectin is a "miracle drug" that could save lives amid the current health crisis. This has yet to be proven.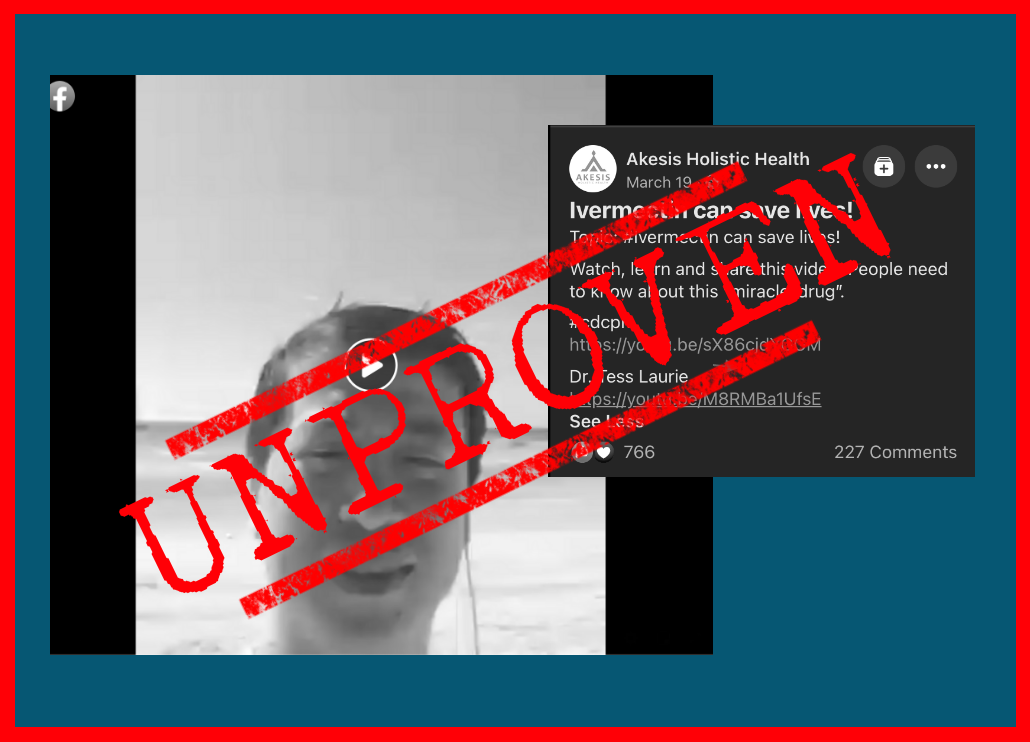 In the 10-minute FB Live video, the center's medical director Homer Lim advocated the use of the drug to treat and prevent COVID-19. It is typically used in low doses to treat parasitic worms and skin conditions like rosacea, and in veterinary practice.
The World Health Organization (WHO) has said current evidence on the use of the ivermectin against COVID-19 is inconclusive, and recommended that it only be used in clinical trials.
The European Medicines Agency (EMA) has also said it advises against the use of the drug for COVID-19 "outside well-designed clinical trials," adding that results so far from clinical studies were varied, with some showing no benefit while others reporting a potential benefit.
In the Philippines, the Food and Drug Administration (FDA) has not approved the drug "for treatment of any viral infection," including COVID-19, but it has granted a compassionate special permit (CSP) to three unnamed hospitals. This permit allows for the restricted use of ivermectin — which has not been registered as a COVID-19 medication — for a certain type of patient, a specific volume, and period of time.
Akesis Holistic Health's post also included a misleading claim on the use of the drug abroad, and recommended doses for it.
| | |
| --- | --- |
| Claim | Rating |
| "Ivermectin has been shown to be effective. If you would look at the rates of death in Mexico, in Paraguay, in Peru, wherein when they started ivermectin, all their death rates suddenly dropped." | MISLEADING |
There is no evidence to support that ivermectin has caused a nationwide "drop" in deaths in the above mentioned countries. Lim did not identify the source of this claim, but a cursory search surfaced a few researches on treating COVID-19 with ivermectin.
Mexico
Among these was a study published this month in the International Journal of Infectious Diseases. It found that COVID-19 patients in Tlaxcala, Mexico treated with a multidrug therapy consisting of Ivermectin, Azithromycin, Montelukast, and Acetylsalicylic acid improved their recovery and decreased their risk of hospitalization and death.
However, it must be emphasized that the study involved four drugs and not just ivermectin.
A preprint of a study done in February in Aguascalientes state found that neither ivermectin nor hydroxychloroquine decreased the length of hospital stays, respiratory deterioration and deaths among COVID-19 patients.
Peru
The Peruvian fact checking organization Verificador de la Republica debunked a similar claim last year that ivermectin supposedly reduced deaths in the regions of Ica and Loreto. While deaths did decrease in October and November, it said there was no evidence to prove it was because of ivermectin.
Paraguay
Paraguay's Ministry of Public Health and Social Welfare released an advisory in September 2020 stating ivermectin is "not used as a treatment for COVID-19." There are, however, at least two ongoing studies to test the efficacy of the drug in non-severe cases of the disease.
| | |
| --- | --- |
| Claim | Rating |
| Ivermectin "works really fast" and "people get well… [w]ithin three to five days." | UNPROVEN |
Ivermectin has not been proven to significantly reduce deaths or improve other clinical outcomes, said the Department of Health and several medical associations in a March 17 advisory, based on a systematic review of six randomized clinical trials "of good methodological quality."
The Philippines' FDA has also only evaluated the drug's safety and efficacy in oral and intravenous forms in the particular animal species for which they are labeled. "Using these products in humans can cause serious harm. Animal drugs are often highly concentrated and can be highly toxic to humans," it said in an advisory.
President Rodrigo Duterte ordered last week a local trial for ivermectin. Science and Technology chief Fortunato dela Peña said they are eyeing Dr. Aileen Wang from the Philippine General Hospital to lead the study to get "more reliable estimates of (the drug's) effects as an antiviral agent."
| | |
| --- | --- |
| Claim | Rating |
| The "proper dosage" of ivermectin "[i]f you are sick, if you get sick, you take ivermectin at 12 to 15 milligrams depending on body weight. If you are over 90 kilos, most likely you need to take more ivermectin." | MISLEADING |
In the Essential Medicines List of the Philippine Health Insurance Corporation (PhilHealth) as of July 3, 2020, the approved oral dose of ivermectin for human use is only at three milligrams and six milligrams in a tablet. The WHO also recommends a three-milligram dosage for several diseases, but not including COVID-19.
The FDA said the prescription drug is available in "topical formulation" for the treatment of external parasites such as head lice and skin conditions such as rosacea.
The 15 milligram prescription has not been issued a Certificate of Product Registration and its sale therefore is considered illegal.
| | |
| --- | --- |
| Claim | Rating |
| For the "average Filipino, (take) 12 to 15 milligrams of ivermectin once a day…together with doxycycline 100 milligrams twice a day together with your Vitamin C, Vitamin D, Zinc, maybe even melatonin." | MISLEADING |
While there are many ongoing clinical trials on ivermectin in relation to COVID-19, the United States' National Institutes of Health said "adequately powered, well-designed, and well-conducted clinical trials" are needed to provide "more specific, evidence-based guidance" on the drug's role in the pandemic.
Most studies on the drug had "incomplete information and significant methodological limitations" among them, some study outcomes were "not always clearly defined," some trials had small sample sizes, while some patient-participants also received other medications which can confuse the "assessment of the efficacy or safety of ivermectin."
Last April 15, FDA Director General Eric Domingo told Duterte during a meeting on COVID-19 concerns that high doses of ivermectin may cause fever, liver problems, pulmonary problems and neurologic and brain damage.
The misleading post by the Akesis Holistic Health FB page has received over 23,600 views and more than 1,500 interactions on the platform. Similar posts promoting the use of Ivermectin have also been debunked by the Associated Press in December 2020 as well as Agence France-Presse and Reuters in January 2021.
(Editor's Note: VERA Files has partnered with Facebook to fight the spread of disinformation. Find out more about this partnership and our methodology.)