Several Facebook (FB) users have posted this month a screengrab of a Google search result which falsely states that the probiotic milk drink Yakult is made up of "sperm of the cow."
This is false. Cattle sperm is not among the ingredients of the beverage.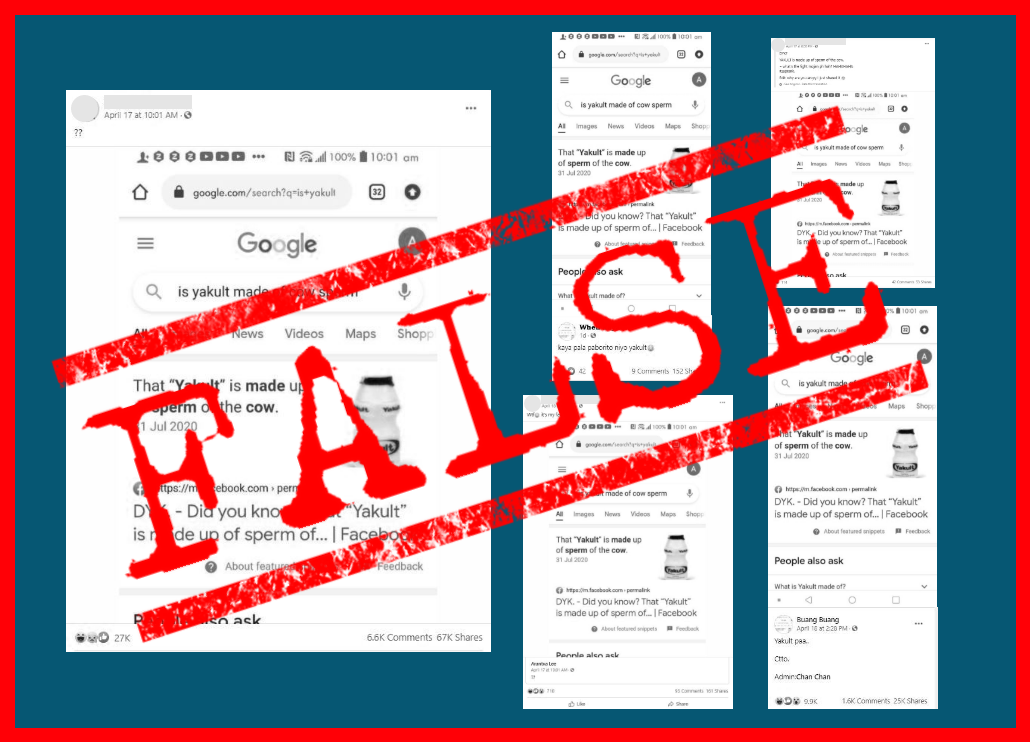 "Our Yakult probiotic drink contains 8 billion live lactobacillus casei strain Shirota, water, skimmed milk powder, glucose, essence or flavor and syrup," said Carlo Magsino from the Public Relations and Science Department of Yakult Philippines in an email on April 22.
Yakult Philippines' list of ingredients is also available on their website.
The beverage company began producing Yakult in Japan in 1935 and has been in the Philippines since 1977. Its website does not mention ever using cow sperm in their products.
The most popular copy of the false post was published on April 17 by an FB user, with over 67,000 shares as of publishing. It was uploaded 10 days after World Health Day on April 7 — when Yakult's official FB page posted a short clip encouraging people to drink Yakult for proper digestion.
The search result, which appears after typing the query "is yakult made of cow sperm" into the Google search operator, was actually a July 2020 post by a humorous FB page.
VERA Files Fact Check has found over 100 copies of the screengrab of the Google search result circulating on FB.
(Editor's Note: VERA Files has partnered with Facebook to fight the spread of disinformation. Find out more about this partnership and our methodology.)