A Filipina vlogger used a statement from an American biochemist that had been previously debunked to prove that polymerase chain reaction (PCR) testing cannot tell if a virus detected in a person, specifically that which brings about coronavirus disease 2019 (COVID-19), causes sickness.
In an Aug. 7 Facebook (FB) Live video, Lynn Agno further claimed that PCR tests and antigen tests used to detect SARS-CoV-2 are repeated because they are "not accurate." This lacks context. She also incorrectly dismissed COVID-19 as "just the flu."
The live video featured a 1997 clip of Kary Mullis, American biochemist and inventor of the PCR technique, saying: "[PCR is] just a process that's used to make a whole lot of something out of something. It doesn't tell you that you're sick, and it doesn't tell you that the thing you ended up with really was going to hurt you or anything like that."
This needs context. PCR testing is being done to detect the Ebola virus, human immunodeficiency virus (HIV), and Zika virus. It is a method that allows scientists to make multiple copies of DNA, a double-stranded molecule that contains information to create cells, bacteria, and viruses.
Other posts using Mullis' statement to claim that PCR cannot be used to accurately test for COVID-19 and other viruses have been debunked by fact-checking organizations The Journal in Ireland and Newtral in Spain.
People who cited Mullis' quote have left out the fact that Mullis was talking about the experiences of those who suffer from acute immunodeficiency syndrome (AIDS), a disease that weakens one's immune system. He was not referring to COVID-19 or the PCR test's ability to detect other types of viruses.
He argued that retroviruses, a family of microbes that infect cells using a single-stranded molecule called RNA, are responsible for AIDS. But scientists have long established that only one particular retrovirus named human immunodeficiency virus causes AIDS, which Mullins contradicted. HIV reproduces by hijacking the body's immune cells, unlike the coronavirus that causes COVID-19, which replicates by attaching itself to lung and bronchial cells.
VERA Files Fact Check also debunked two other claims made by the vlogger who has a history of sharing health-related disinformation.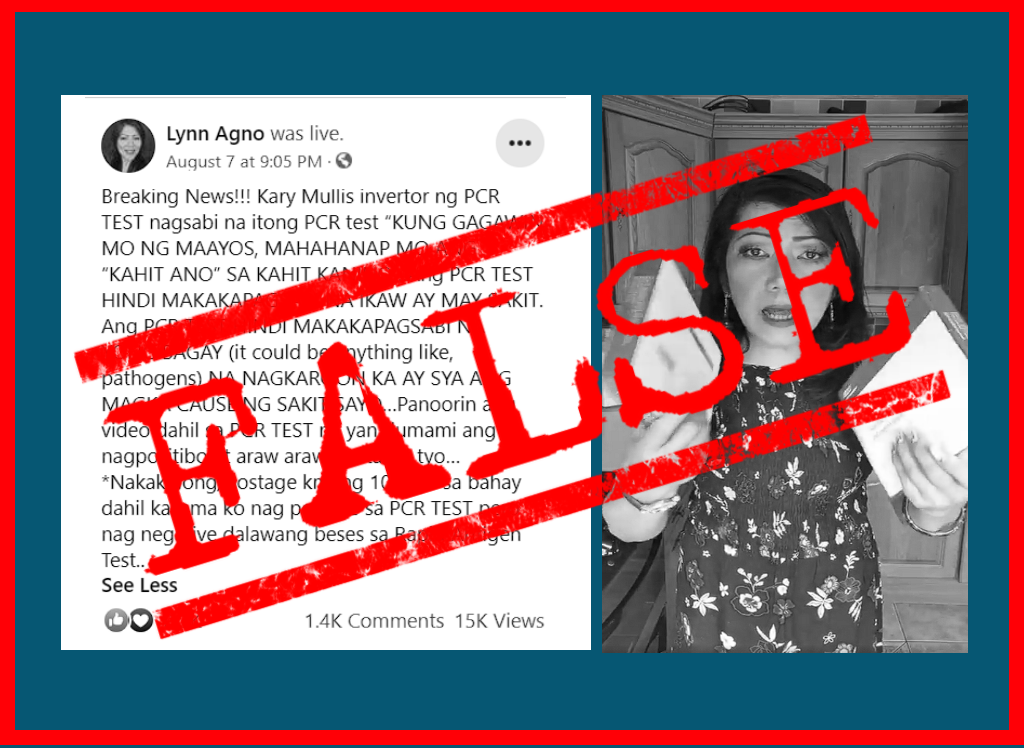 On COVID-19 being 'just a flu': FALSE

Agno dismissed COVID-19 as "just the flu" based on her experience with the flu virus. She said she exhibited symptoms similar to those by her housemate who tested positive for COVID-19.
While COVID-19 and influenza are both classified as respiratory illnesses, the former is caused by a novel coronavirus first identified in 2019 while the latter is caused by influenza viruses.
The United States Centers for Disease Control and Prevention (CDC) advised people to get proper testing, explaining that both illnesses have similar symptoms. It's possible for a person to get infected with influenza virus and SARS-CoV-2 simultaneously, it added.
On PCR and antigen test inaccuracy: NEEDS CONTEXT
The claim that PCR tests and antigen tests used to detect SARS-CoV-2 are repeatedly done because they are "not accurate" needs context. The United Kingdom-based vlogger also blamed the tests to have caused the pandemic.
"Ang PCR test ang nag cause ng pandemic na ito… Test kayo ng test. Ino-obliga dito sa England na twice a week mag pa test, dahil papano yung mga test nila, hindi nga accurate (The PCR test is the cause of this pandemic. You keep testing. It's mandated here in England to test twice a week. Why? Because their tests are not accurate)," the vlogger said while holding boxes of antigen test kits.
Real-time reverse transcription PCR (RT-PCR) tests are repeated for many reasons, but occasionally when clinicians suspect false-negative results. The U.S. CDC recommends frequent administration of antigen tests to monitor symptomatic COVID-19 patients and to diagnose people who are in close contact with confirmed COVID-19 cases.
It is possible for a patient to be deemed positive for COVID-19 via PCR test, and then have a negative result under an antigen test, given an inherent flaw in the latter.
Antigen tests look for protein fragments called antigens which indicate the immune system's response to SARS-CoV-2. Although it can be done in as little as 10 minutes, it has a high rate of giving false negative results (a negative result despite active infection with the virus) due to handling, contamination, or test errors.
(Editor's Note: VERA Files has partnered with Facebook to fight the spread of disinformation. Find out more about this partnership and our methodology.)