A video posted on Facebook and YouTube carried a title falsely claiming that President Ferdinand Marcos issued an order to free former senator Leila de Lima.
Published on Oct. 17, the video had a thumbnail with text that read: "HALA! PALALAYA-IN NA | ITO ANG NAKAKAGULAT NA UTOS NG PANGULONG BBM (Oh no! Set to be freed | This is the shocking order of President [Marcos])." The thumbnail photo was that of De Lima with the text "Salamat Pangulong BBM (Thank you President [Marcos])" superimposed on her image.
Nothing in the video supports the claim. Neither has any news article come out about it. The former senator, accused, but not convicted, of drug trafficking, has been incarcerated at the Camp Crame Custodial Center.
The video appeared three days after Marcos said that urging prosecutors to dismiss charges against the former senator interferes with the judicial system.
A good portion of the 15-minute video showed a 13-minute speech of Marcos during the 8th annual Balik Scientist Program convention held on Oct. 14.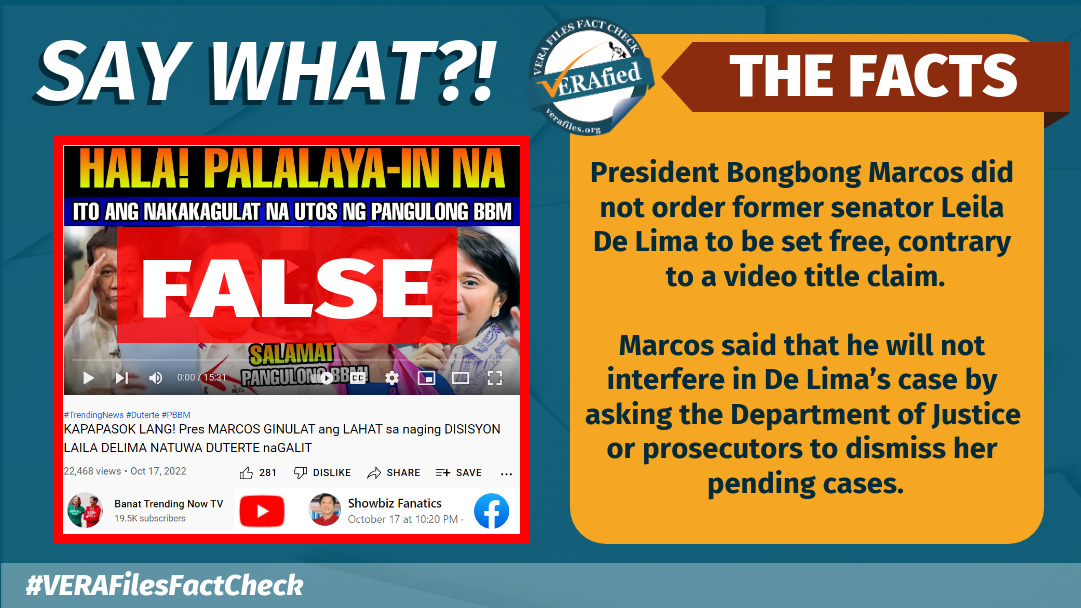 De Lima, on Oct. 13, wrote tweets pleading with Marcos to order the Department of Justice to stop blocking the testimony of Rafael Ragos and to cease presenting false witnesses such as Herbert Colangco.
Two days prior, Office of the Press Secretary Officer-in-Charge Cheloy Garafil said Marcos would not intervene with cases in court, including De Lima's.
"I think urging prosecutors to do one thing or another is interfering," Marcos reiterated on Oct. 14. He said this in response to calls to free De Lima after the latter was taken hostage on Oct. 9.
YouTube channel Banat Trending Now TV (created March 22,2022) posted the video first, garnering over 22,578 interactions. Facebook page Showbiz Fanatics (July 17, 2022) re-uploaded the video, getting more than 114,200 interactions.
Have you seen any dubious claims, photos, memes, or online posts that you want us to verify? Fill out this reader request form.
(Editor's Note: VERA Files has partnered with Facebook to fight the spread of disinformation. Find out more about this partnership and our methodology.)