"So I am going to Busan to attend this concert, and I am being held hostage."
I capture myself on video saying this on October 13, and it is partly true.  I am in the midst of a year-long training in preparation for the Paris-Brest-Paris, a 1,200 kilometer event that is considered as the Olympics of long-distance cycling (not only because it is held only once every four years and requires completion of qualifying rides of 200, 300, 400 and 600 kilometers in an Audax "season", but also because it has to be finished in an elapsed time of 90 hours) to be held in August 2023.
To find time to train for such a tough event while continuing my private law practice was already a difficult proposition; breaking off from training to attend a concert abroad would mean starting all over in my level of fitness, and possibly more strenuous workouts dictated by my cycling coaches to get to the physical conditioning needed to finish Paris-Brest-Paris.  However, ever since Carole's near-fatal shooting incident in December 2013, I had promised our Heavenly Father that I would look after my family for the rest of my days.  So when she informed me that we had won two tickets at ground-level of the BTS concert in Busan, I reluctantly consented to come with her.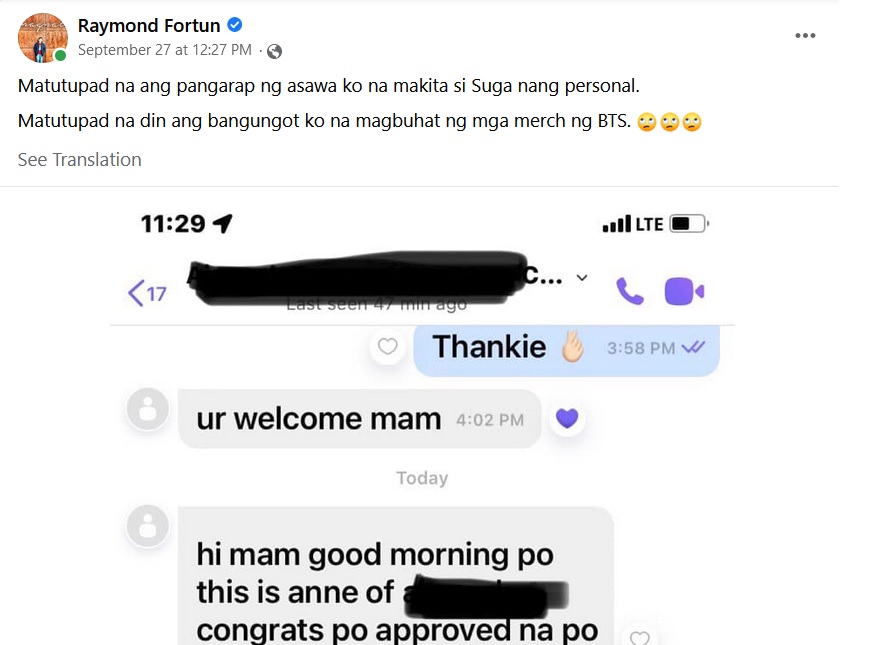 Raymond Fortun FB post
The BTS Phenomenon
Well, "reluctantly" is also partly true; attending a BTS concert was not a hard sell to me.  I first heard of BTS when Dynamite began flooding the airwaves in August 2020.  I was surprised that a purely English song with a really catchy disco-pop beat was sung by a Korean boy band instead of an American or British group.  I began to be drawn to the group when Carole would play YouTube compilations of BTS songs while doing her indoor cycling workouts (as I binge-watched nearby on Money Heist and Brooklyn Ninety-Nine on Netflix).  I would go, "WTH are you singing along to songs in Korean that you don't understand??"
Then, one day I checked out what she was watching on YouTube.  The song, Spring Day got me hooked.  Even as it was sung in Korean, the melody and beat was amazing; it was haunting and inspiring at the same time.  So as Carole totally embraced BTS and became an ARMY wife (N.B. there are various reasons why BTS fans were called ARMY, but the most reasonable explanation may be related to BTS's full name 'Bangtan Sonyeondan', which translates loosely to "Bulletproof Boyscouts", with BTS being the armor while the fans are the ARMY.  Ummm I don't quite get it, but okay), I quietly supported her new-found passion in this singing group, and installed all their songs on my phone.  Whenever she was inside my SUV, I would bluetooth my phone to my car radio and play BTS songs.  I could see that she was pleased by this.  Goodbye, Bukas Palad; hello, BTS.

Spring Day
Preparations: Visa and Travel Arrangements
The first problem with going to the concert was getting a Korean visa.  As soon as it was announced sometime in August 2022 that BTS was holding a concert in Busan, there was a huge deluge of Pinoys applying for visas to South Korea, forming long lines outside its embassy.  You see, there had earlier been hints that BTS would be going on a hiatus in order for its members to fulfill their mandatory military service commitments (N.B. Once a Korean male turns 18, his compulsory service in the military comes into effect.  It is possible, however, to delay the starting date of such service until the age of 28.  BTS was given a deferral of their military service until its members were 30 years of age), so the Busan concert was probably going to be BTS's last before its members undergo compulsory military service.
Carole went home one day this September in tears, informing me that she was told by a travel agency that the earliest we would be granted a Korean visa would be in November, too late for us to attend the concert.  However, through the kindness of friends, she was referred to another agency and viola!  We were granted multiple-entry visas to South Korea good for five years!  No, we did not resort to pulling strings using my political connections.  For sure, a lot of prayers and possible divine intervention came into play.

Dynamite
As soon as Carole said that the concert was a go, I immediately checked the internet to book our flights and hotel accommodations.  It would be our first time to Busan, so we wanted to maximize our time there.  The concert was on October 15, so I proposed that we fly in on October 13 so we would have one day to familiarize ourselves to the venue (the Busan Asiad Main Stadium) and the city's subway system.  I also proposed that we return home by October 20, as I will be attending a three-day religious retreat from October 21 to 23.  Carole heartily agreed; it was a practice for us whenever we were abroad to stay for several days in one place to relax and enjoy its sights, rather than doing exhausting hops from one city to another.
Once I had booked the PAL flights to Busan for October 13-20, I then began looking for hotels near the Asiad Main Stadium.  I finally decided on Hotel the Lau, which was not only a mere 2.3 km away from the concert venue and just 150 meters from the Yeonsan subway station, it had a personal massage chair inside the room!  This was a serious luxury, as I expected to be doing a lot of walking (thus, a lot of weary muscles).
The day of our flight came soon enough.  I finished all my legal work and assigned the minor work and hearings for the entire week to my associates.  The flight was comfortable and uneventful (N.B. I got the seats next to the emergency exit, for the extra legroom).  I had packed three jackets — a light one for warmer days, a winter coat for cold days, and a water-repellent Lacoste in case of rain.  Our first contact with Busan was with a Korean driver who didn't know how to speak English, but we were able to get to the hotel after about an hour's drive.
Hotel the Lua is a two-star hotel (at best).  It didn't serve breakfast or other meals, simply because it didn't have a dining area.  It reminded me of the hotel we stayed in Seoul five years ago, where it had a reception on the first floor, a small elevator and rooms.  That's all.  Thankfully, the hotel had unlimited free coffee (with hazelnut syrup) and ice on the ground floor just before entering the elevator.  And man!  There were only small body towels (35cm x 70cm) inside the bathroom (N.B. Carole and I had to buy our own bath towels the following day at Lotte Department Store Dongnae).  There also weren't any built-in cabinets in the room, so we had to keep our clothes in our baggages and just opened them up on the floor.  The one saving grace was that the hotel had really good hot water with strong pressure, which were heaven-sent when taking a shower during the cool mornings where temperatures went down to six degrees Centigrade.

Butter
The Penultimate Day
On October 14, Carole and I headed for the Busan Asiad Main Stadium to become familiar with the venue and to check out the BTS merchandise already being sold there.  Like all foreigners who are first-timers in a place, it took sometime for us to get accustomed to the subway system, made more difficult by the strange-sounding names and the absence of people who can give directions in English.  To be honest, I find this experience of getting lost in a subway quite thrilling and enjoyable, and I get filled with a sense of satisfaction once I get my bearings and understand which platform to go to.  One of the pleasant surprises in Busan is securing a "day pass" ticket for only KW5,000 (Php206), which would allow you to access almost the whole of Busan for the entire day.
After taking photos at the Stadium and securing souvenirs for friends, we had to decide where to eat (aside from getting to the nearest Lotte Department Store to buy good bath towels).  Our meal when we got to the hotel the night before was pretty simple — we bought Korean chicken similar to Bon-Chon from a take-out restaurant near the hotel and bought drinks and instant noodles from the corner 7-11.  So another good thing about our hotel was that there were a LOOOOT of eating places nearby that served decent (some sketchy) Korean food like samgyup, ramen and authentic noodle soup.  Sure, there was a Burger King and McDonalds as well, but as they say, "When in Rome, eat as the Romans do."  And when in Korea, prepare to get your palate burned by the spicy food.
The Big Day

Inside Mosh pit Oct 15
October 15.  Carole was giddy with expectation, I doubt if she slept more than a couple of hours. We took our time in leaving the hotel at 9 a.m., under the premise that the ticket verification windows wouldn't be open until 11 a.m. and that there would be an orderly lining up of ticket claimants.  BOY WERE WE WRONG.  When we arrived, there were a bajillion (yes, this is a word) people at the venue. Worse, the lines were snaking around the stadium that you didn't know where it ended.  We finally found the tail of the line at 10:30 a.m. At 3:30 p.m. (or a total of five hours), Carole and I were finally given our respective wristbands.  I would be in Section G01, or front left of the stage, while Carole got the choicest spot — Section G02 or directly infront.  I was extremely hungry and thirsty while lining up, but there was no food vendor in sight. Because the concert organizers had specifically prohibited bringing any kind of food, we didnt even have candy bars or candies with us.  The last two hours of falling in line was at the open field at the back of the stadium, totally exposed to the hot sun (yes, it is also hot in Korea at 1p.m).  It was fortunate that Carole advised me to bring along an umbrella just in case it rained.  The umbrella saved us from heat stroke.
We were finally able to get some chili dogs and fries at the back of the ticket verification booth, and in the nick of time, too.  The lines to enter the stadium were already forming up and I was one of the last to be allowed into Section G01.  Most of the choice spots nearest to the stage had already been filled up, so I decided to stay at the extreme back because I feared that I would be crushed by fans coming from the back when the concert started.  This was a bad decision; quite a lot ALSO thought of staying back, making me feel claustrophobic.  I finally decided to stay in the middle of the field where the crowd was thinner.
After five hours of falling in line and another two hours of waiting for the start, my back started to cramp up.  However, the security people kept telling people NOT to sit down and to remain standing.  I didn't know how to say, "my back hurts!" in Korean.

Opening Fireworks
The concert promptly started at 6 p.m. (N.B.  Shout out to Filipino organizers — it is NOT COOL to keep practicing Filipino time).  Fireworks began firing and filling the air. The jumbo screen showed drone shots of the stadium and aerial views of the fireworks display.  Then the screams of the crowd crescendoed as the BTS members — RM, Jin, Jimin, Suga, V, J-Hope and Jungkook, entered.  I didn't join in the screaming; I was more concerned in coming up with video clips of the show, but making sure to capture the crowd reaction and the flashing lights of the ARMY bombs, those light globes that flashed to the rhythm of the concert beat.
The entire concert (about two hours long) lived up to its reputation.  The songs were from BTS's best collection (although they didn't sing Permission to Dance or Not Today), their rapport with their adulating fans were fantastic, and the lighting effects and accompanying fireworks complemented the performances.  And of course, the one thing that separates BTS from other singing groups (aside from their matinee idol good looks) is the synchronized dances while singing onstage.  Putting it all together, it is no wonder that BTS had created a cult following all over the world.  Indeed, I was a witness to the diverse nationalities of the people in the crowd — South Americans, Africans and Europeans mingled with Koreans, Filipinos and other Asians.  Flags of different countries and marriage proposals were flashed on-screen, sending the crowd into a frenzy.  There was even a Happy Birthday serenade to Jimin, who celebrated his 27th birthday two days prior.

Mic Drop
As 8 p.m. crept closer and the BTS members each gave their closing remarks, I decided to leave the stadium early.  I am actually averse to crowds, a minor reason why I refused to enter politics (aside from being a closet introvert).  I got out just as the boy band began singing its last song, "Yet to Come." I watched the closing fireworks for three minutes.  More and more people began streaming out.  Carole got trapped at the exits, and I waited one- and -a -half hours at our designated waiting area before she came.  Despite the long wait, there were still two  bajillion people waiting for a subway ride.  We finally got back to the hotel at 11 p.m., with just enough energy to eat some Korean instant noodles and take a quick shower before heading off to sleep.

Run BTS
The Days After
There were a lot of good places to visit in Busan, and we had four days to move around.  On October 16, we visited the official BTS Store in Lotte Department Store Seomyeon.  On October 17, we went to Lotte World Adventure which is Korea's version of our Enchanted Kingdom (with a Giant Splash ride that is way better than Jungle Log Jam).  On October 18, Carole and I went to Haeundae Beach, which is considered as the best beach area in South Korea, and SeaLife Aquarium, that had a huge central tank inhabited by at least two Great White sharks.  Finally, our Busan trip would not have been complete without visiting MAGNATE Cafe, the brunch bar owned and operated by the father of a BTS member.  During these trips, Carole got to buy a ton of souvenirs without a whimper from me (since she pays for my credit cards anyway).  At every chance that we got, we partook of the different Korean food and noodles, and always came back to the hotel tired but sated.
Postscript
Our Train to Busan experience exceeded our expectations.  The Korean people were by and large friendly (save for an unruly few who jumped the lines at the concert and the subways).  The subways were extremely clean, with none of the spit and grime that you will notice (and smell) in the Hong Kong Metro.  Busan itself is a highly progressive metropolis, with first-class roads and sparkling high-rise buildings.  Its tourist attractions were manned by English-speaking attendants and their souvenir shops fully stocked.
But the experience of attending a BTS concert in person is one that I will truly cherish, and the videos that I had taken will remain in my phone indefinitely.  It is arguably one of the best concerts I have ever witnessed.
And this, coming from a non-BTS fan.  Yes, I am still in denial while my wife hasn't bought me a new bike.  Even hostages can make demands, ya heard.
Watch on Facebook: The Fortunies Train to Busan2022
(The author is a Managing Partner at Fortun & Santos Law Offices.)