Several Facebook (FB) pages are circulating false claims about charges against former senator Leila De Lima.
In the same post is a misleading claim about the final sentencing of Rappler CEO Maria Ressa for her cyberlibel case. 
On July 9, at least three such posts appeared with the caption: "Sen. Leila de Lima sentenced in prison (sic) on illegal drug charges. Maria Ressa of Rappler, sentenced to 6 years in prison for Cyber Libel. Ang dalawang kriminal na may maraming awards (The two criminals who have many awards.)"
The deceptive posts had a mugshot of De Lima, taken when she was arrested by police in 2017. Two of the posts also carried a photo of Ressa taken from The Nobel Prize website while the other used an older image of the Nobel laureate.
The claim that De Lima, one of former president Rodrigo Duterte's staunchest critics, has been sentenced to prison is false.
Of the three cases over alleged conspiracy to trade illegal drugs filed against the former senator, De Lima has been acquitted in one while the other two cases are still pending resolution.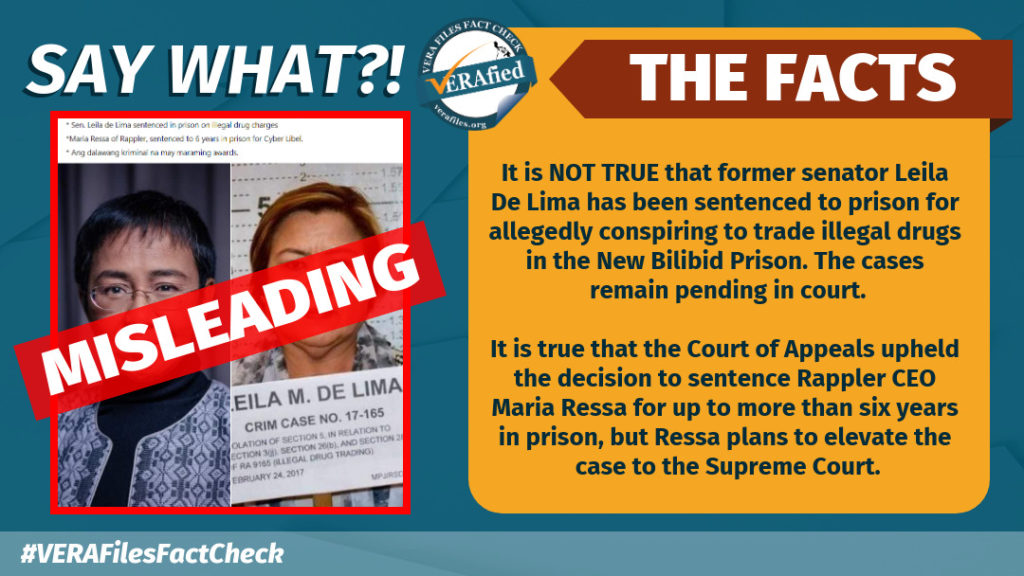 Self-confessed drug lord Kerwin Espinosa and former Bureau of Corrections chief Rafael Ragos recanted in April their drug testimonies against De Lima, stating they were coerced to fabricate allegations against the former senator.
De Lima has been detained for five years at a Camp Crame facility while awaiting the court decision on the two pending cases.
On the other hand, the claim that Ressa has been sentenced to prison for cyber libel needs context. While the Court of Appeals (CA) indeed affirmed Ressa's cyber libel conviction with a more than 6-year sentence, Ressa said in a July 8 statement that they will "elevat[e] the decision to the Supreme Court for review."
The inaccurate posts appeared a day after the CA in a 41-page ruling upheld the decision of the Manila Regional Trial Court Branch 46 to sentence Ressa and former Rappler staff Reynaldo Santos Jr. for a maximum of six years in jail. The CA modified the punishment, further extending the sentence to up to six years, eight months and 20 days.
The erroneous posts were published by FB pages Sara DU30 Supporters for 2022 (created on Jan. 8, 2020), Ka Team Bbm-Sara Bicol 2022 (Nov. 5, 2021) and Eleksyon 2022 (Oct. 8, 2021). It has collectively garnered more than 6,600 reactions, 870 comments and 370 shares.
Have you seen any dubious claims, photos, memes, or online posts that you want us to verify? Fill out this reader request form or send it to 'VERA, the truth bot' on Viber.
(Editor's Note: VERA Files has partnered with Facebook to fight the spread of disinformation. Find out more about this partnership and our methodology.)