A Facebook (FB) Reel revived part of a five-year-old YouTube video, where a naturopathy practitioner claimed that people with diabetes should not eat fish without scales. 
"There is no health recommendation against eating fish – with or without scales – for people with diabetes," health experts convened by non-profit organization Meedan told VERA Files Fact Check. 
A higher overall intake of fish is associated with a lower risk of diabetes. Studies also show that fish can be a good source of nutrition for people who already have diabetes, the health experts from Meedan added. 
The FB Reel, uploaded by a netizen on April 27, is an excerpt from a YouTube video dated March 5, 2018, where naturopathy practitioner Arturo "Atoie" Arboleda claimed: 
"Galunggong, alumahan, tambakol, matambaka, tuna, sapsap, mga walang kaliskis iyan. Bawal iyan sa mga may diabetes (Fish without scales: mackerel scad, mackerel, yellowfin tuna, bigeye scad, tuna, ponyfish, these are [fish] with no scales. People with diabetes cannot eat those)."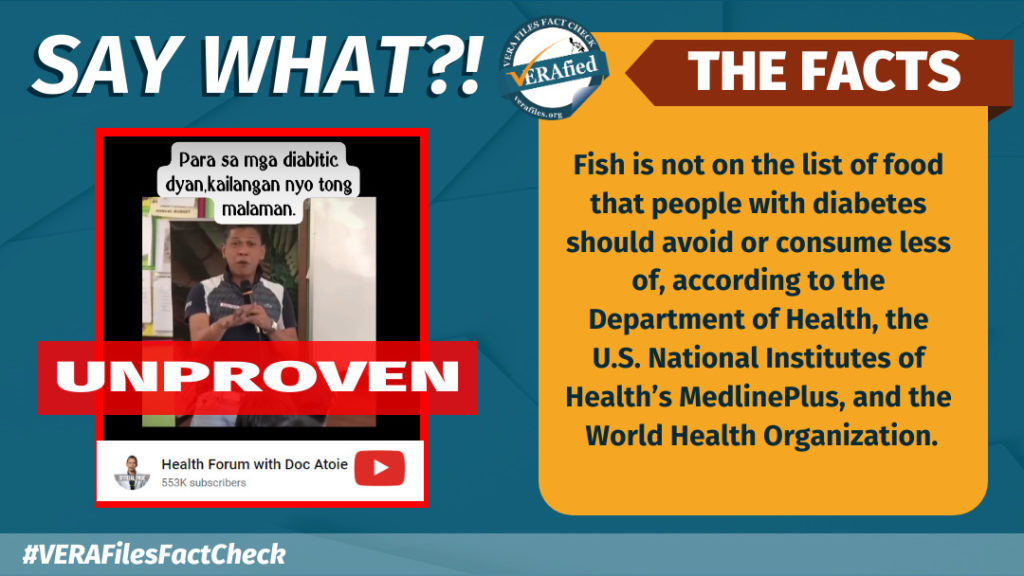 The reel appeared the same day cardiologist Willie Ong posted about foods that lower blood sugar.
According to endocrinologist and University of the Philippines Manila professor Iris Isip-Tan, the 2008 Food and Nutrition Research Institute (FNRI) Diabetes Guide recommends a serving of 35 grams of galunggong (mackerel scad), 35 grams of sapsap (ponyfish), and 50 grams of tuna sardines for diabetics.  
People with diabetes can better control their blood sugar by giving preference to non-starchy vegetables, minimizing added sugars and refined grains, and choosing whole foods over highly processed foods, according to a 2019 report published in the Diabetes Care journal.
The American Diabetes Association, U.S. National Institutes of Health's MedlinePlus, the Department of Health, and the World Health Organization said people with diabetes should also limit their intake of these foods and drinks: 
Foods high in saturated and trans fat;
Foods high in salt;
Alcohol: for one day, one drink for women, and two drinks for men. 
Diabetes is a long-lasting health condition that affects how your body turns food into energy, according to the U.S. Centers for Disease Control and Prevention. 
There are three main types of diabetes. Type 1 happens when the body makes little or no insulin, Type 2 occurs when the body doesn't use insulin well, and gestational diabetes is caused by high blood sugar during pregnancy, the International Diabetes Federation explained.
Insulin is a hormone that helps the body turn food into energy, according to the Cleveland Clinic. 
The FB Reel got over 2 million interactions, while the video posted by YouTube channel Health Forum with Doc Atoie (created on March 27, 2018) accumulated 3.36 million interactions. 
Have you seen any dubious claims, photos, memes, or online posts that you want us to verify? Fill out this reader request form or send it to 'VERA, the truth bot' on Viber.
(Editor's Note: VERA Files has partnered with Facebook to fight the spread of disinformation. Find out more about this partnership and our methodology.)