A manipulated video published on Facebook (FB) claims that supporters of Vice President Leni Robredo were shouting the name of rival candidate Ferdinand "Bongbong" Marcos Jr. in one of her campaign sorties.
The altered video appeared on March 27 and was published by a couple of FB pages and a netizen. In the 22-second video, an audio of the crowd repeatedly chanting Marcos' name can be heard while Robredo held a placard that read: "Shout out sa pamilya kong BBM!!! (Shout out to my family [who are supporters of] BBM!!!)."
It was a placard carried by a supporter during Robredo's multisectoral people's assembly in Kidapawan City, Cotabato on March 15. The original video taken during the event was published by TikTok user barrilayasan3rd on the same day.
The crowd was not shouting Marcos' name but was screaming as Robredo held up the poster. The audio of a crowd chanting 'BBM' was just inserted into the video.
The altered video bore the caption: "LENI ROBREDO Grand Rally BBM sinisigaw… (Leni Robredo grand rally shouts BBM…)"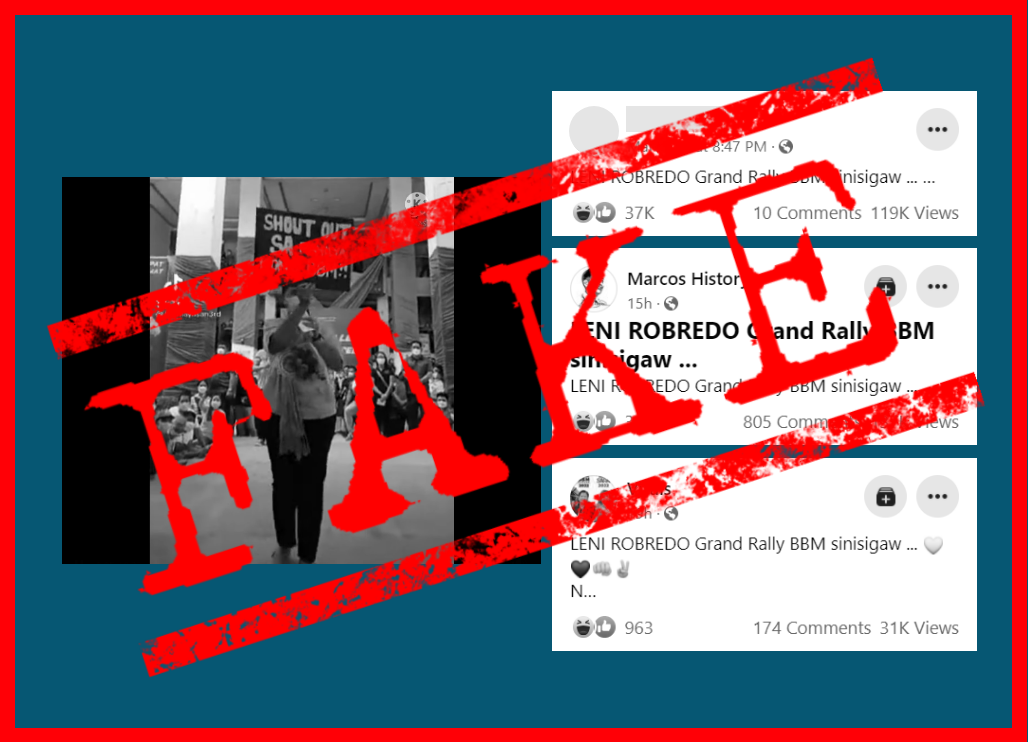 Believing the video is real, some netizens thanked Robredo for endorsing Marcos while some criticized the FB pages for publishing an edited video.
Another video of the incident was taken by online news website Rappler and was published the same day as the TikTok video. In it, Robredo said she will remain quiet and let the placard speak for itself, much to the delight of the crowd.
The video emerged around the time several Mindanaoan politicians, including the leader of presidential candidate Panfilo "Ping" Lacson's former party Partido Reporma and some members of the pro-Uniteam National Unity Party, officially endorsed Robredo for president.
The video was posted by FB pages Marcos History (created on April 22, 2020), Virals (Jan. 3, 2021) and a netizen. Their videos collectively received more than 264,000 views and garnered more than 41,640 reactions, 900 comments and 55,460 shares.
Watch our video fact check here:
Have you seen any dubious claims, photos, memes, or online posts that you want us to verify? Fill out this reader request form or send it to 'VERA, the truth bot' on Viber.
(Editor's Note: VERA Files has partnered with Facebook to fight the spread of disinformation. Find out more about this partnership and our methodology.)