A video circulating online claims that the Supreme Court (SC) has ruled in favor of presidential aspirant Ferdinand "Bongbong" Marcos Jr. over a petition seeking to cancel his candidacy in next year's election.
This is not true. The petition filed with the Commission on Elections (Comelec) to cancel his Certificate of Candidacy (COC) has yet to reach the High Court as the poll body is only now preparing to hear the case.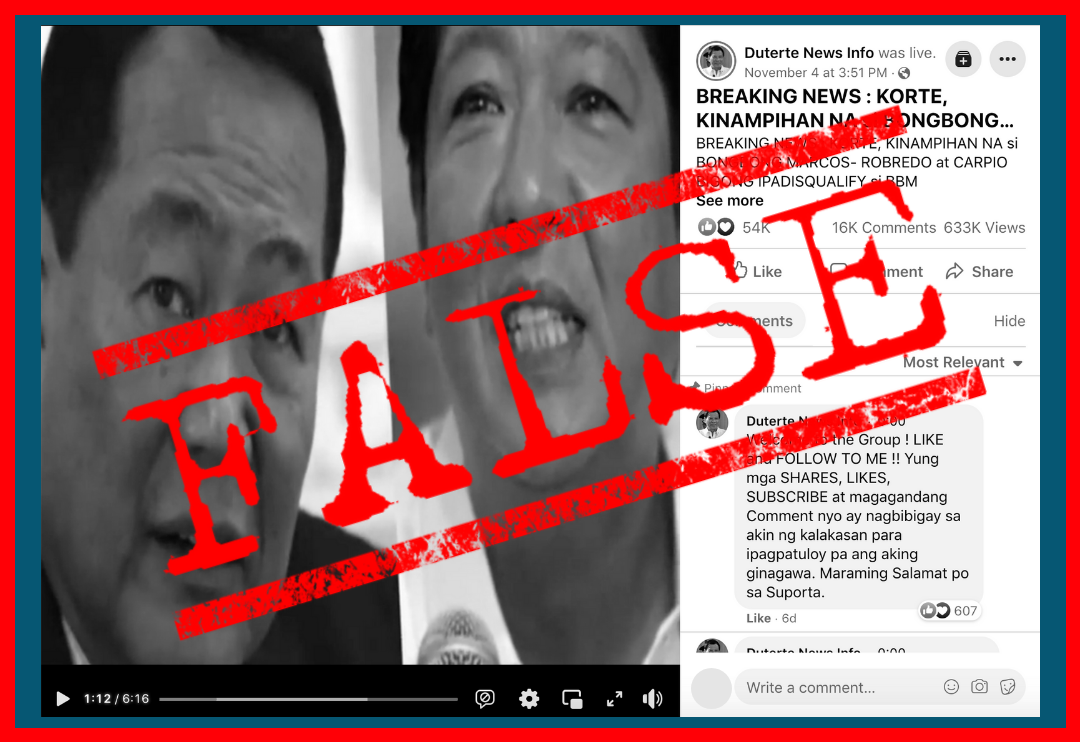 The petition was filed on Nov. 2 by human rights groups on the grounds of "false material representation" after the former senator declared his eligibility to run despite a 1995 tax evasion conviction.
Neither retired SC senior associate justice Antonio Carpio nor Vice President Leni Robredo has anything to do with the petition, as falsely claimed in the erroneous video originally published on YouTube by Showbiz Fanaticz, which is behind a lot of disinformation previously fact-checked by VERA Files.
Comelec Spokesperson James Jimenez told the media on Nov. 9 that the case had been raffled to the Commission's 2nd Division. On Friday, he said the summons had been issued.
The case will only reach the SC "if the Commission's decision is brought by the aggrieved party to said Court" before the ruling becomes final and executory five days following its promulgation, as per Comelec's Rules of Procedure.
The supposed "official letter" from the High Court cited in Showbiz Fanaticz' video was a copy of a June 1997 SC ruling affirming a 1994 Court of Appeals (CA) decision denying a petition by Marcos in connection with his family's estate and income taxes.
This 1997 SC decision is unrelated to the 1997 CA ruling which found the former senator "guilty beyond reasonable doubt" of violating Section 45 of the 1977 National Internal Revenue Code (NIRC) after failing to file income tax returns from 1982 to 1985. (See Final decision to bar Bongbong Marcos in 2022 nat'l elections due to tax evasion is on SC — Carpio)
Marcos' 1995 conviction is the basis of the petition calling for the cancellation of his COC.
Petitioners pointed out that as per Section 253 of the now amended NIRC, any public officer or employee convicted of a crime under the tax code "shall be dismissed from the public service and perpetually disqualified from holding any public office."
But Marcos declared in his COC that he has never been found liable for an offense that imposed a penalty of "perpetual disqualification to hold public office." Petitioners argue that this is a case of false material representation, and is a ground for the cancellation of COC under Section 78 of the Omnibus Election Code.
On Nov. 4, Facebook page Duterte News Info uploaded the video from Showbiz Fanaticz' YouTube channel that now has over 218,000 views. While on Duterte News Info's FB page, the video has been viewed more than 633,000 times by netizens. It garnered 86,000 engagements and could have reached 3.7 million FB users, as per the social media monitoring tool CrowdTangle.
Both Showbiz Fanaticz and Duterte News Info — created in November 2017 and December 2020, respectively — are notorious for spreading false and misleading information online.
Have you seen any dubious claims, photos, memes, or online posts that you want us to verify? Fill out this reader request form.

(Editor's Note: VERA Files has partnered with Facebook to fight the spread of disinformation. Find out more about this partnership and our methodology.)