A Facebook (FB) video originally posted on Tiktok claimed that Vice President Leni Robredo led the 2016 vice presidential race after a brownout occurred during vote counting. Not true.
Posted on March 30 by FB page Dj_VINCEmusic.com (created on April 1, 2017) , the one-minute clip carried this in-video text: "Nagbrownout lang, biglang nanguna si Leni Robredo (After a brownout, Robredo suddenly got more votes)." Two readers asked VERA Files Fact Check to verify this claim.
There was no brownout at the command center of election watchdog Parish Pastoral Council for Responsible Voting (PPCRV) in Ermita, Manila where a transparency server of the Commission on Elections (Comelec) was counting votes, Arwin Serrano, board trustee of the PPCRV, said.
"No brownout or blackout, I was there at the command center. Mayroong mga brownout in some of the areas nationwide pero different time 'yon." Serrano told VERA Files Fact Check via phone call.
(There were brownouts in some areas nationwide but that happened at a different time.)
Asked where in the country the brownouts happened, Serrano said he does not remember. A 2016 Rappler article reported that brownouts occurred during election day in Davao, Dipolog, Zamboanga del Norte, and Carmona, Cavite, but it was not specified what specific precincts or areas were affected.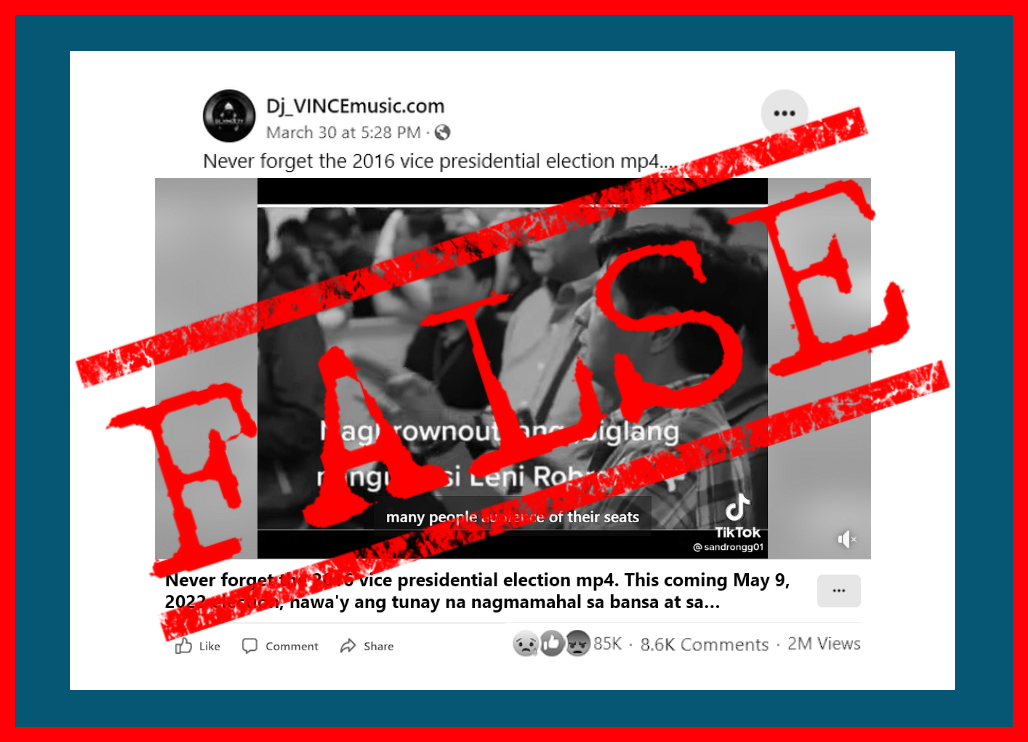 Multiple news articles reported that Robredo's rival, former senator Ferdinand "Bongbong" Marcos Jr., led the quick vote count of the polls in the early evening of May 9, 2016. Robredo took the lead around 3:29 am of May 10, 2016, and got over 200,000 more votes than Marcos in the evening.
"Meron talagang mga areas na nag-transmit na kaagad, and marami ring mga areas na, although hindi naman a hundred percent, came from North Luzon areas… So leading 'yung sa vice presidential race noon si BBM but not so much kasi di pa naman ganoon karami 'yung transmitted results," Serrano explained.
(There were areas that transmitted early, and a lot of areas — although not a hundred percent — came from North Luzon areas… so [Marcos Jr.] was leading in the vice presidential race before but not so much because the transmitted results weren't that many.)
Robredo was declared winner in the vice-presidential race on May 26, 2016 but about a month later, Marcos asked the Supreme Court, sitting as the Presidential Electoral Tribunal (PET), to nullify her victory and declare him the rightful winner.
The electoral protest, which involved vote recounts, took almost five years to resolve but the PET on February 16, 2021 unanimously dismissed the case.
Dj_VINCEmusic.com's video got a total of 2 million views, 85,000 reactions, 8,600 comments, and 15,000 shares. It appeared a day after the Comelec said on March 29 that it's expecting the report of its service provider Smartmatic about allegations of an election-related security breach.
The account of TikTok user sandrongg01, who originally uploaded the video, cannot be found on the platform as of April 6.
Have you seen any dubious claims, photos, memes, or online posts that you want us to verify? Fill out this reader request form.
(Editor's Note: VERA Files has partnered with Facebook to fight the spread of disinformation. Find out more about this partnership and our methodology.)