Netizens on Facebook (FB) and Twitter have falsely claimed that the Department of Health (DOH) will artificially increase the number of COVID-19 cases in the country two days before the May 9 elections.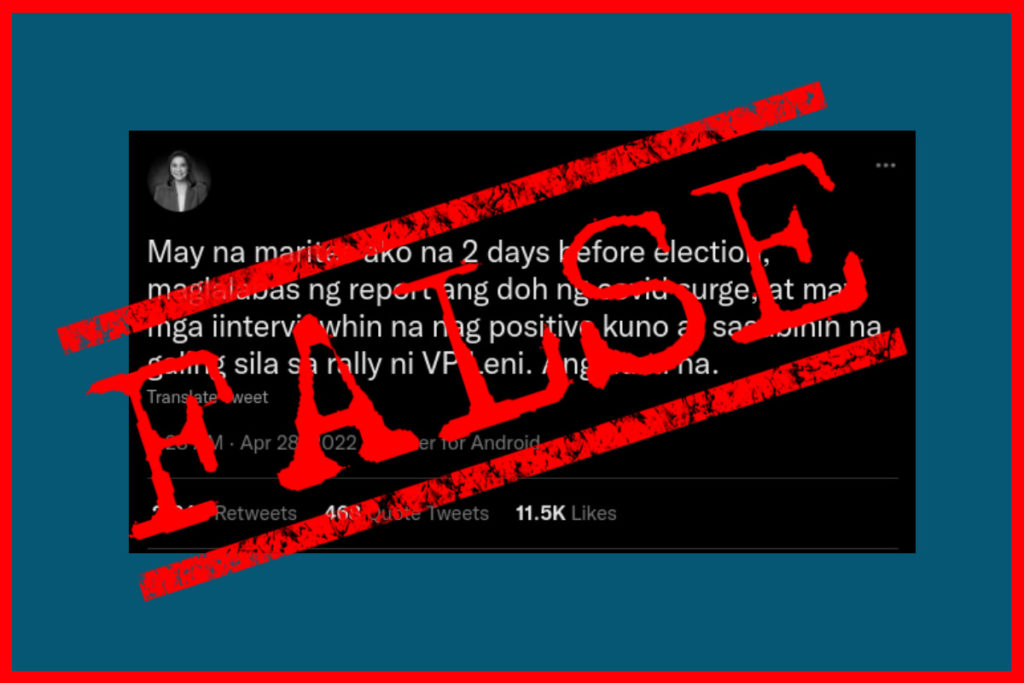 The baseless claims, which started circulating on April 28 and continued to be shared a few days before the polls get underway, said the DOH will attribute a "surge" to the campaign rallies of presidential candidate and Vice President Leni Robredo. Ostensibly to evade detection, one FB post referred to the health department as "DeeOoAche."
The claim is false. The DOH debunked this claim in a statement released on April 30.
"The Department of Health categorically denies unfounded rumors that it will report an artificial increase in COVID-19 cases close to election day for partisan use against any candidate at any level," its statement read.
The agency said the country's high vaccination rate and adequate compliance to minimum public health safety standards resulted in the country's low COVID-19 case trends.
"The DOH also uses other metrics such as healthcare utilization to evaluate and recommend to higher authorities whether an escalation or de-escalation of Alert Levels is warranted," the statement said.
As of writing, the Philippines has 4,517 active COVID-19 cases and a 1.2% positivity rate.
The false claims first circulated on FB and Twitter on the day of Robredo's campaign rally in Lucena, Quezon. Approximately 80,000 supporters were present, according to organizers.
Have you seen any dubious claims, photos, memes, or online posts that you want us to verify? Fill out this reader request form or send it to 'VERA, the truth bot' on Viber.
(Editor's Note: VERA Files has partnered with Facebook to fight the spread of disinformation. Find out more about this partnership and our methodology.)