The Tokyo Skytree's pink light display this month is to commemorate Breast Cancer Awareness Month, not in support of Vice President Leni Robredo, as suggested by a Facebook (FB) page that used a photo of the Tokyo landmark.
FB page Leni Robredo Para Sa Bayan posted a nighttime photo of the Tokyo Skytree illuminated in pink with a caption that read: "LENI FEVER! Tokyo SkyTree is for VP Leni Robredo. #LabanLeni2022 (#LeniFight2022)." It emerged on Oct. 7, the day Robredo announced and filed her candidacy for president in the 2022 national elections.
On Oct. 1, 2021, the Tokyo landmark, which also serves as a broadcast and communications tower, featured a special light display in celebration of Breast Awareness Month, according to its official website.
Its symbolic pink lighting is consistent with the color of the ribbon that "has become the universal symbol of breast cancer, illustrating the cause, raising awareness and bringing together women in solidarity."
It was not in any way connected to Robredo or her presidential bid that also used pink as a rallying color for her supporters.
Also, the photo that was used in the FB post was not taken this month. TinEye's reverse image search tool shows that the original photo was captured on Oct. 24, 2020 to commemorate a different event.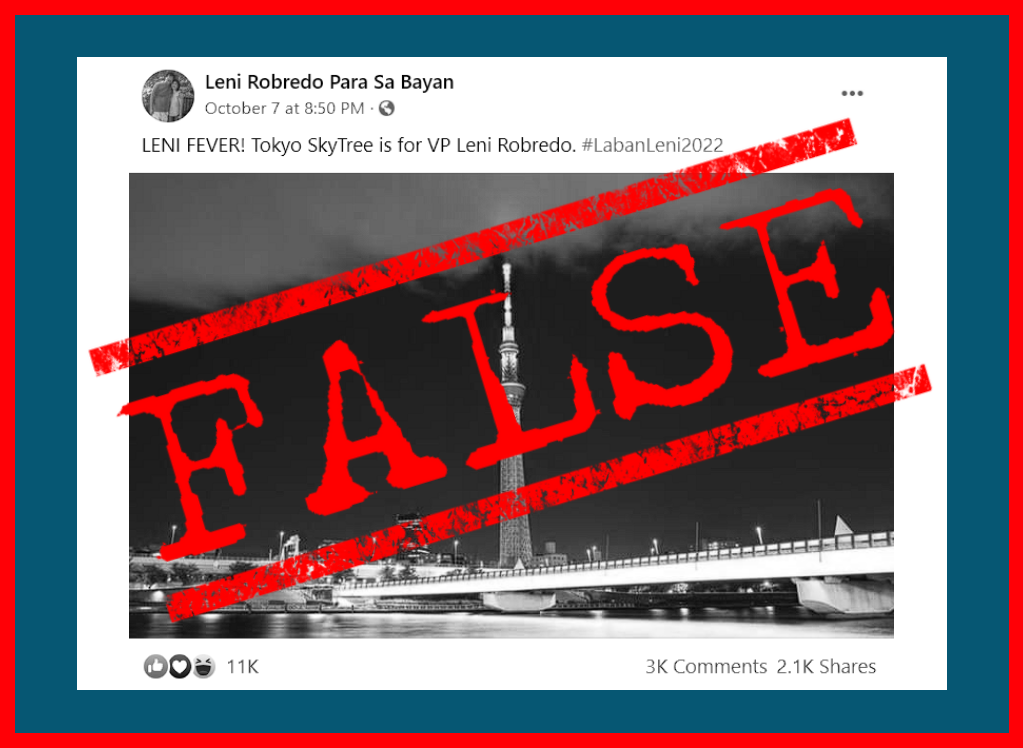 According to the original photo's caption, the structure was lit pink to celebrate the United Nations' (U.N.) 75th anniversary and to boost momentum towards achieving one of the UN's 17 sustainable development goals.
Pink symbolizes the 10th sustainable development goal of the UN about "reducing inequality within and among countries."
A special lighting display showcasing the 17 colors of UN's sustainable development goals was held from Oct. 24-28, 2020, and from Sept. 17-25 this year.
The incorrect post garnered a total of 26,000 interactions, according to social media monitoring tool CrowdTangle. Some FB pages such as KLC Happy Thoughts and Duterte Youth Party-list called the use of the photo "credit-grabbing" and "fake news."
Leni Robredo Para Sa Bayan, formerly named E-Patrol in 2012 and Ang Bayan Ko in 2016, was created in March 2012.
(Editor's Note: VERA Files has partnered with Facebook to fight the spread of disinformation. Find out more about this partnership and our methodology.)
Have you seen any dubious claims, photos, memes, or online posts that you want us to verify? Send us a message here or here.