A three-minute video that circulated this week claims that the opposition is annoyed at the launch of the Duterte government's LRT-2 East extension project. This is false.
The video uploaded by KIDSTVA (zozoha.xyz) last June 20 carried the false headline: DILAWAN NAINIS SA LRT-2 EXTENSION DAHIL BUBUKSAN NA NGAYON JUNE 2021! SAMPAL NA NAMAN SA KANILA! (Yellows annoyed at the LRT-2 extension because it will be start operations this June 2021! It's another slap to their faces).
The video thumbnail juxtposed photos of President Rodrigo Duterte and Transportation Secretary Arthur Tugade with those of former Senator Antonio Trillanes IV and Vice President Leni Robredo. The quote, "Makakain ba 'yan? (Can that be eaten?) was attributed to Robredo.
No comments from either of the two opposition leaders were used in the video. Not one has been reported by media as saying anything about the LRT project extension, which would add the Marikina and Antipolo stations to the line.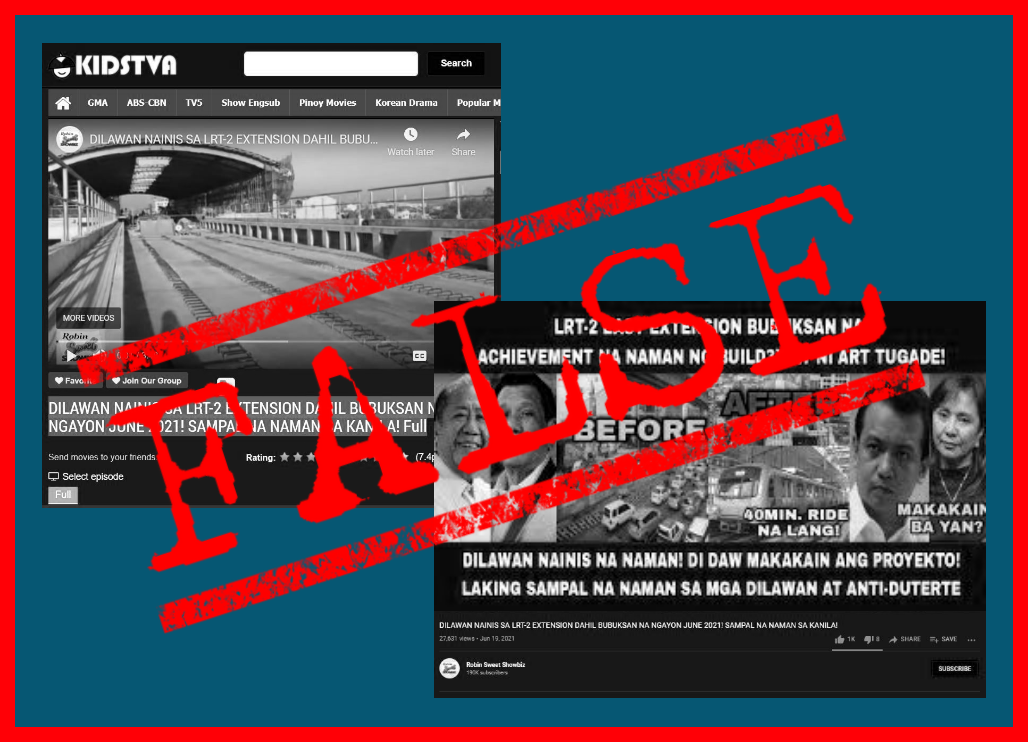 The inaccurate headline was based on a netizen's comment featured in the video, which said that the government has been making progress, but the 'Yellows' see only the negative.
The comment implies that the opposition is unhappy about the LRT extension as this showcases the Duterte administration's accomplishments, but facts would show that this particular project was approved as early as May 2012 or during the term of the late President Benigno "Noynoy" Aquino III.
The video emerged a week after the Light Rail Transit Authority (LRTA) announced the June 22 opening of the extension project. A day after the video was published, the LRTA announced in a June 21 statement that the proposed inauguration will be moved to July 5 to allow for "preparatory activities."
"[T]he Marikina and Antipolo stations are set to open to passengers the day after, 6 July 2021," the statement read.
KIDSTVA has a history of publishing misinformation which VERA Files Fact Check has debunked (SEE VERA FILES FACT CHECK: Video FALSELY passed as breaking news claims ex-Comelec chief Bautista will be arrested and VERA FILES FACT CHECK: ABS-CBN did NOT publish 'fake' report on Bajo de Masinloc fisherfolk).
The false video could have reached 368,842 online users, according to social media monitoring tool CrowdTangle. Its top Facebook traffic generator is page Duterte News Info Live with 120,972 followers. The page posted the video twice.
Youtube channel Robin Sweet Showbiz also uploaded the video on the same day and has drawn nearly 30,000 views. Created on July 25, 2017, Robin Sweet Showbiz has 190,000 subscribers.
(Editor's Note: VERA Files has partnered with Facebook to fight the spread of disinformation. Find out more about this partnership and our methodology.)