A fabricated quote card is circulating online where former vice president Leni Robredo attributed her defeat to President Ferdinand "Bongbong" Marcos in the May election to massive disinformation. 
Posted on Nov. 23, the graphic carried an image of Robredo with this quote: 
"Kaya siya nanalo kasi natalo ako (He won because I lost). (He won because of the massive disinformation against me)." 
This is fake. Robredo has made no such remark. 
She has been giving talks about disinformation and democracy in the Philippines in various forums but there are no reports of her making such a statement. She admitted, though, that it was wrong not to respond to false information thrown at her.
Several netizens fell for the graphic, with some calling Robredo "lutang" (absent-minded), criticizing her for having simplistic reasoning and telling her to move on.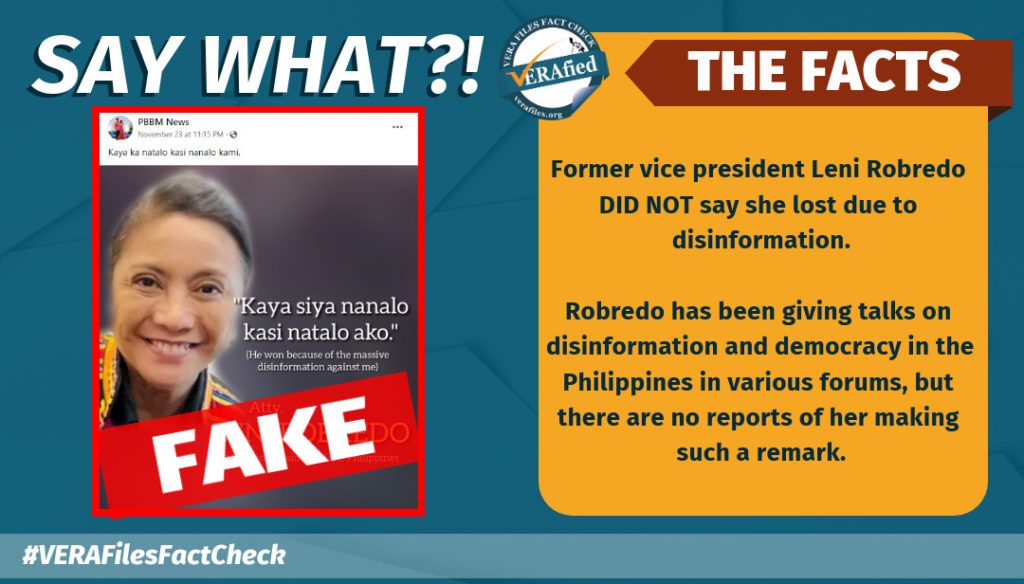 The fake quote card circulated five days after Robredo attended the Nov.18 democracy forum organized by the Obama Foundation in New York City. In a panel discussion, she talked about disinformation in the country, specifically what she has experienced since 2016 and during this year's presidential campaign. 
Robredo also held lectures on the same topic at Harvard Kennedy School and Massachusetts Institute of Technology Sloan School of Management. 
On Nov. 29, she was the keynote speaker at the Konrad Adenauer Stiftung's Solutions Conference on Fighting Fake News, Misinformation, and Disinformation held in Makati City.  
This is not the first time that VERA Files debunked fake quote cards attributed to Robredo. (Read Robredo DID NOT say 'sunshine after rain is climate change') 
The FB page PBBM News (created on Feb. 4, 2021 as BBM Pilipinas 2022) first posted the quote card garnering 1,000 reactions, 194 comments and 18 shares. It was also shared by other FB pages and groups like Lugaw Chronicles (March 16, 2020) and Real Talk! Politics Culture & Economy (created on Jan. 30, 2021 as Real Talk! Philippine National Election 2022), collectively garnering 1,779 interactions according to the social media monitoring tool CrowdTangle. Some netizens also posted the quote card on Twitter.
Have you seen any dubious claims, photos, memes, or online posts that you want us to verify? Fill out this reader request form or send it to 'VERA, the truth bot' on Viber.
(Editor's Note: VERA Files has partnered with Facebook to fight the spread of disinformation. Find out more about this partnership and our methodology.)