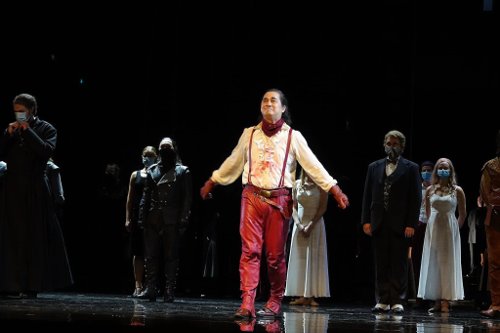 Curtain call for tenor Arthur Espiritu and ensemble. Photo by Detlefkurth_opernfotografie

Filipino tenor Arthur Espiritu got back on the opera stage October 3 with a triumphant role debut in Gounod's Romeo et Juliet mounted at the Magdeburg Opera House in Germany.
German critics were full of praises for the opening night with special mention of tenor Espiritu who the German radio critic wrote provided "a fascinatingly balanced warm timber" in the title role.
The opening night report from Elisabeth Richter went thus: "The Filipino-American tenor knows how to lead his powerful voice tastefully and without kitsch remaining technically sovereign with equal dose of musicality. It was a real treat."
Equally praised was the Juliet of Raffaela Lintl who was simply fantastic according to the tenor. "She sang the role of Juliet with more depth and more lyrical colors in her voice which filled the theater. She sang the Poison Aria in the last act of the opera with more power and pathos. With her solid and lyric voice, she got a very good balance with the orchestra which had thicker instrumentation."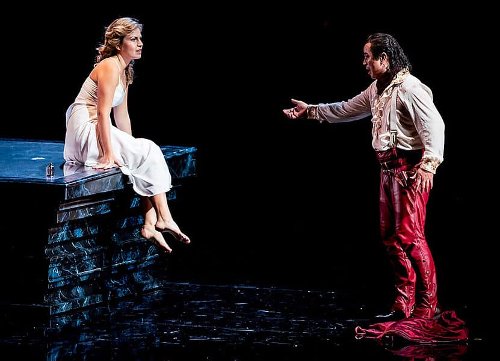 Arthur Espiritu with his Juliet (soprano Rafaella Lintl) in the tomb scene of the Gounod opera. Photo by Andreas Lander

The opera ended with the last of a total of four great love duets with Juliet "dying" a conscious love death singing of the "blessed dagger" and the "highest, infinite joy" of dying with her Romeo."
As of this writing, he has done two performances with more than six more appearances that stretch all the way up to January 10, 2021.
While he has no rough moments with the music, the acting posed quite a challenge.
He cannot imagine a Romeo not touching her Juliet because of the strict health protocol which made connecting with the other characters difficult.
The tenor pointed out: "It felt disconnected, but the more we rehearse and have gotten used to the situation, we made it work with abstract ideas and pulling more energy from the text. It is frustrating to have a love interest and you cannot be near each other. It's human nature to seek intimacy and closeness to the person you love. In the end, we figured out a way to feel all the emotions while away from each other. So, when we were singing duets and arias, we had our masks off. When we have fight scenes, we must have our masks on. In the scenes with the chorus and the other cast members, the choral ensemble members were used as commentators at the back of the stage. It was tricky during the fight scene because I had to sing before I go and start fighting, I have to dedicate a few seconds in covering my face right after a phrase. That took some practice including our sword fights. Singing with face masks on was hard. It was hard to intake air I had to breath in with my nose a lot and smaller opening of mouth as if I'm sipping air in from a straw. It was the only way I could do it to get ample air while having mask on."
To his relief, the acoustic of the theater was great. But due to health protocol, only some 250 people were allowed out of the 800-audience capacity.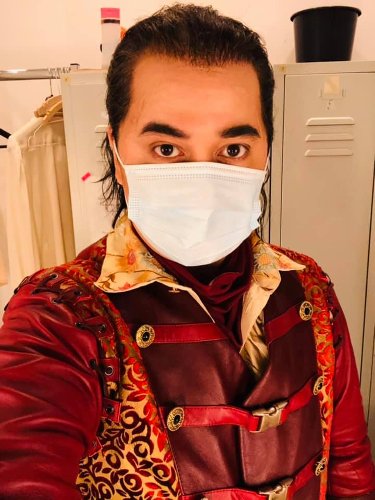 Arthur Espiritu in mask. Strict health protocol on opening night. (From the FB page of Arthur Espiritu)

What did he learn from singing under strict health protocol?
"I had to learn how to be mindful of the new habit. It is a regimen that I can't break. Before I come out to the stage, I have to wash my hands, put on my gloves and put on my mask, then change over to the costume mask with my costume. So many to keep in mind and it is very stressful! You can't let your guard down with all the signs and warning notes around. It's sad that it's the new norm. I cannot spend time with other people and I have to stay in my apartment as much as I can and I try not to go out too much. I think the most important part of it all is that you have to follow the rules. You cannot break any because you may end up getting sick."
For another, he has to be extra careful with his voice. "I have to rest more and when I have to practice, I don't stay in the practice room too long. I have to keep the body and voice going somehow. I now do more studying and mental memory work so I would be more efficient. I have to hope and pray that the voice is still there. Thankfully, I have gained a bit more consistency with my sound I didn't have to go to my teacher to do alignment work. This is the new norm and I have to keep myself going even with the pandemic still around us."
After his last performance of the Gounod opera in January 2021, the tenor flies to Switzerland to sing Alfredo in Traviata at the Basel Opera House.