Senator Manny Pacquiao remains president of the ruling Partido Demokratiko Pilipino–Lakas ng Bayan (PDP-Laban) party. President Rodrigo Duterte has not removed him, as falsely claimed by Facebook (FB) page Balitang Balita TV on May 4.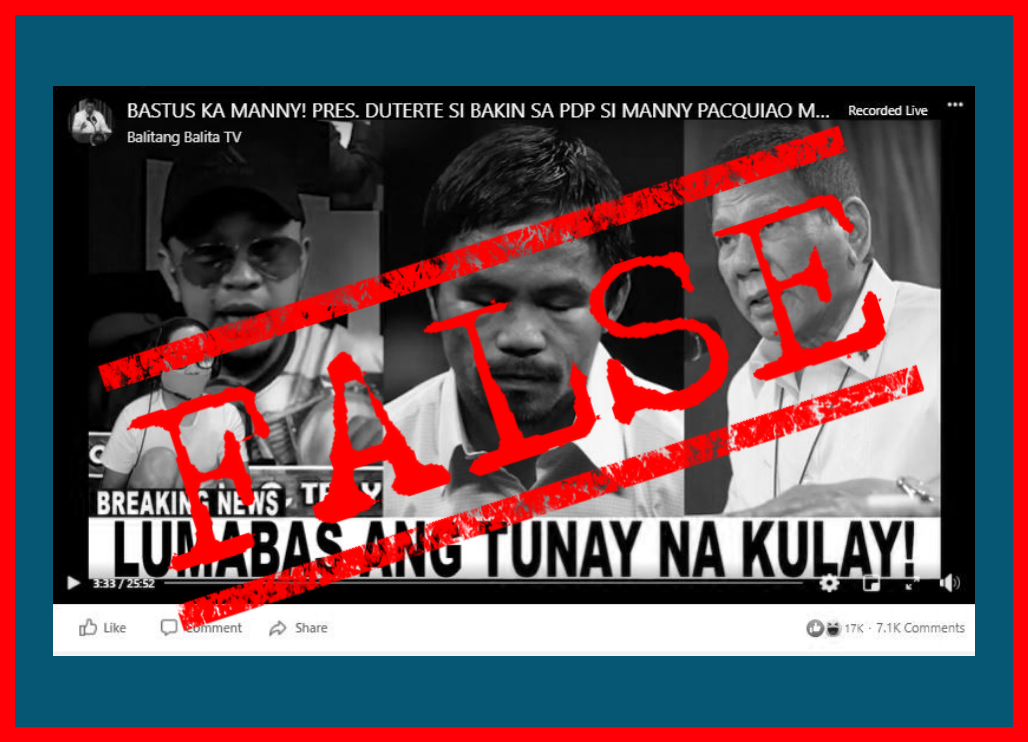 The FB page posted a 25-minute video on loop, with a headline: BASTUS KA MANNY! PRES. DUTERTE SI BAKIN SA PDP SI MANNY PACQUIAO MAHIYA KANAMAN (You're rude, Manny! Pres. Duterte will remove Manny Pacquiao from PDP, have some shame). This is FALSE.
There are no official statements or news reports that say Duterte, who is the PDP-Laban Chairman, has removed Pacquiao from the party's top post he has occupied his December 2020.
Passing off the video as breaking news, it carried the title "Lumabas ang Tunay na Kulay" (Showing His True Colors). The video showed an exchange of opinions between a vlogger and pro-administration online personality – Jam Magno and Banat By, reacting to Pacquiao's comment on the government's weak response to the Chinese incursions in the West Philippine Sea (WPS).
The video reached over 500,000 views on FB.
PDP-Laban Executive Director Ron Munsayac released on May 12 a response saying Pacquiao was "even defending the President." He said: "Senator Pacquiao said nothing to criticize President Duterte and, in fact, expressed his respect and admiration for what the president stated in his jet ski bravado."
In early May, presidential spokesman Harry Roque said there is no falling out between the president and the boxer-turned-politician.
Balitang Balita TV, which was created on Oct. 17, 2017, has 32,961 followers.
(Editor's Note: VERA Files has partnered with Facebook to fight the spread of disinformation. Find out more about this partnership and our methodology.)