A May 21 video posted by Facebook (FB) page Ogie Diaz Live claimed in its headline that Supreme Court Associate Justice Mario Victor "Marvic" Leonen has been impeached. This is misleading.
The headline, falsely labeled as breaking news, read: "JUST IN BALITA : PRES DUTERTE TINANGGAL saPWESTO LEONEN IMPEACH na (removed Leonen from his position, now impeached) LENI MARCOS GADON CALIDA TAGUMPAY (victory)."
That Leonen has been removed from his post by Duterte is false. Impeachment of members of the Supreme Court is initiated in the House of Representatives and the trial against Leonen has yet to begin. The House Committee on Justice has set for May 27 its first hearing on the impeachment complaint filed against the SC Justice. The complaint was filed on Dec. 7, 2020.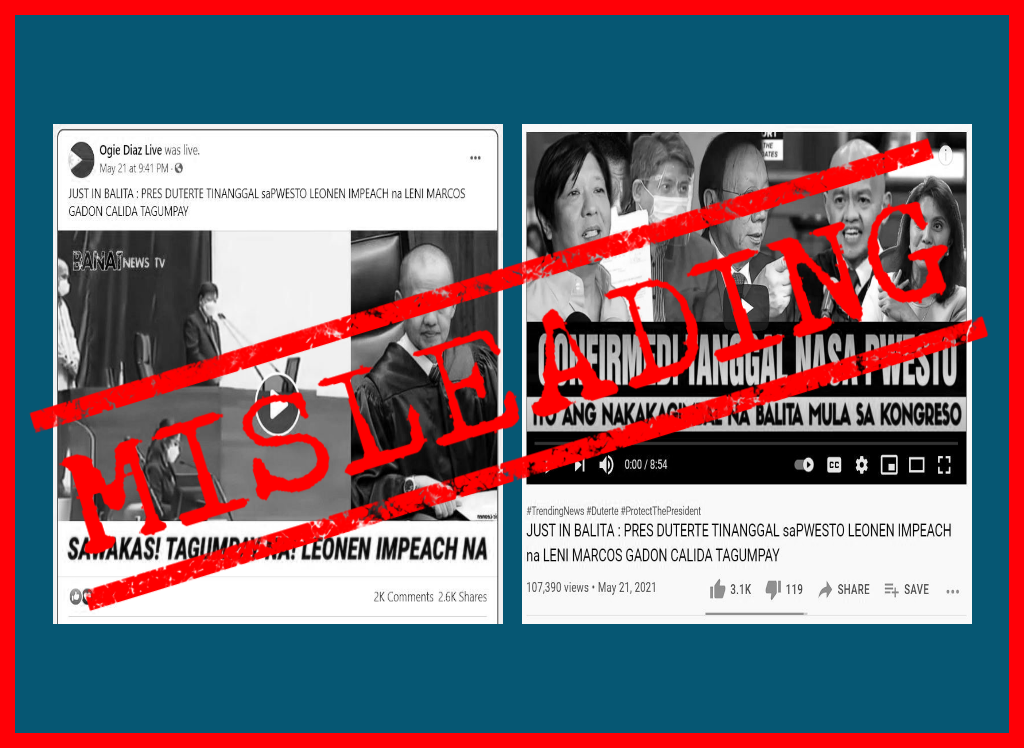 The voice-over intro of the video erroneously claimed that an impeachment complaint filed against Leonen was recently filed in the Supreme Court. It used a 2020 Inquirer.net article as its reference.
The video used footage of the House of Representatives secretary general reading of the additional reference of business in a plenary session that cited the impeachment complaint by Edwin Cordevilla, secretary general of the Filipino League of Advocates for Good Government, with the help of lawyer Larry Gadon. Ilocos Norte Rep. Angelo Barba endorsed said complaint. Gadon's claim about Leonen's lack of litigation experience to justify the impeachment has been debunked by VERA Files.
On May 18, more than five months after the filing, the House verified the impeachment complaint by referring it to the Committee on Justice.
Article XI, Sections 1-3 of the 1987 Constitution state that if a verified impeachment complaint is voted by or filed by at least one-third of all House members, an impeachment trial shall take place in the Senate. An executive official such as a member of the Supreme Court shall be impeached if two-thirds of all senators vote in favor of it.
The impeachment complaint stemmed from Leonen's alleged failure to submit his Statement of Assets, Liabilities and Net Worth (SALN) for 15 years and failure to dispose of 37 cases within the period prescribed.
It was not about stealing millions from the SC due to lack of transparency in his projects, as the video spuriously claimed.
Ogie Diaz Live's video has gathered 19,700 FB interactions and 508,000 views. An earlier version uploaded by YouTube channel BANAT NEWS TV got 107,500 views.
(Editor's Note: VERA Files has partnered with Facebook to fight the spread of disinformation. Find out more about this partnership and our methodology.)