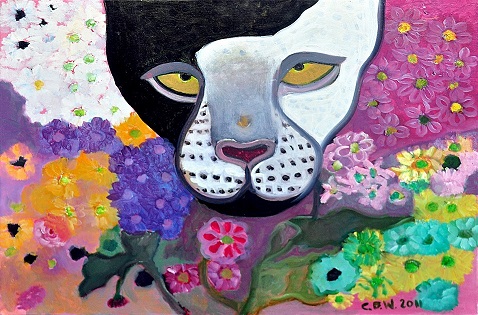 By WINNIE VELASQUEZ
CARMEN Brias rekindles her love affair with her country of birth in "In a New Light," an exhibit of her latest paintings and sculptures which is ongoing until March 13 at Altro Mondo Gallery in Greenbelt 5, Makati City.
Brias was born in Manila and lived here until her teenage years before her family moved to Madrid, where her mother, portraitist and Presidential Medal of Merit for Art and Culture awardee Betsy Westendorp founded a painting school.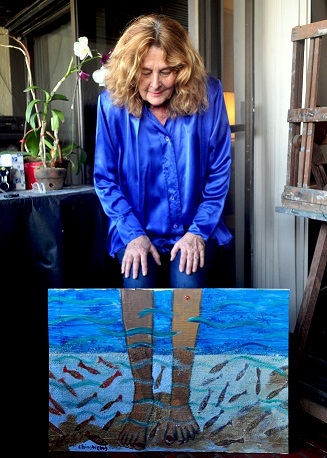 In 2009, she had a joint exhibit here in Manila with her mother. Then she went back to Madrid, continued painting in her studio and experimenting with different techniques and exhibiting her works in various shows there. She also attended drawing classes at the Universidad Complutense and started a sculpture group with her friend and teacher Eduardo Mazariegos with whom she had a joint exhibit in 2012.
"For a few years I carved almost every day. We started working with pine logs and later tried other kinds of wood. We had pupils who worked in the garden with us, and during winter, we would dress up as though we were going to ski in the mountains. Wood carving is not easy but seeing the finished form after much hard work gives me a lot of satisfaction," Brias said. Some of these sculptures are included in the Altro Mondo exhibit.
Even as she kept up with the art happenings in Madrid, the desire to exhibit again in Manila never left Brias.
"As an artist, my soul is Filipino. Most of the inspiration for my art comes from my childhood in Manila. It is my home. I went to school here and a great part of my father's family lives here. The stories I grew up listening to include those about my grandfather during the Second World War in Manila. My childhood memories are all set in the Philippines, like spending holidays at the beach in Matabungkay with cousins and visiting islands like Hermana Mayor and Pamalikan in Palawan. I remember taking pictures of the Banawe Rice Terraces," Brias said.
Some of her most unforgettable memories are of the beautiful sunsets in Manila Bay. "Our family used to live in an apartment at the Excelsior and we would rent a bangka at sunset and cruise around the huts where the fishermen lived. There is such magical beauty in these places, the way the houses were built and stood on stilts over the water and how the fishermen lived. Always there was air going through these houses, and they looked fragile but at the same time, they were strong like bamboo. My mother painted a lot of these fishermen's houses."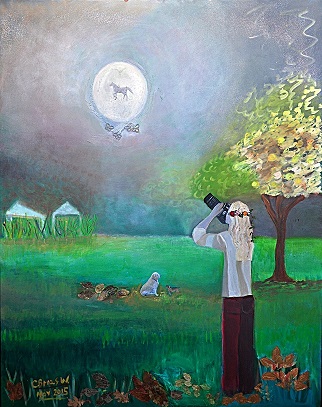 Living in the Philippines and growing up close to nature and the animal world, she became sensitive to nature's vibrations of what The Little Prince said, "What is essential is invisible to the eye."
" I feel the Philippines is placed strategically in a certain part of the world where energy vibrates in a different way; everything is always moving." Brias said.
Her current exhibit focuses on the close ties between the Spain and the Philippines from her perspective as an artist. "I love this country. It has given me so much. There is a lot of sense of humor here, too, which can also be found in my art. I have been lucky to be born and raised as a child here. At the same time, I also love Spain and would love for Spaniards to know more about the Philippines. They are far away geographically but Spain and the Philippines have a past that has bound them together and both have influenced each other's culture," she said.
Apart from her exposure to her mother's world, Brias also received extensive training in the arts. She has a diploma in painting restoration from the University of Madrid. The Diccionario de Pintores y Esculteros Españoles (Dictionary of Spanish Painters) describes Brias's style as "a fantastic ingenuism with a surrealistic inclination, an exuberance of color using firm drawing to recreate the reality that surrounds us."
In her latest exhibit, Brias introduced new materials in her works including plastics, pigments, acrylic, and a synthetic resin to make the finished work look transparent and shiny. "Sometimes, I add elements in the painting through pasting but lately, I must confess, I am becoming more of a 'purist'; the less addition, the better. As artists we sometimes have a destructive attitude towards art, and even to ourselves, which can manifest in 'destroying' work that is already finished by adding unnecessary elements," she explained.
"Each of my paintings is different, so each work is always new. Although they say that every artist always ends up doing the same painting, I can't relate to that. I suppose what you can expect from my new works is more experience and humanity," Brias said.