A group of 11 printmakers showcases their prints and technical prowess in Parched Earth, Ardent Spring at the UP Vargas Museum until 07 June 2023. The eleven artists are Ambie Abaño, Virgilio Aviado, Imelda Cajipe-Endaya, Ronyel Compra, Rey Concepción, Brenda V. Fajardo, Ofelia Gelvezon-Téqui, Caroline Ongpin, Henrielle Baltazar Pagkaliwangan, Anton Villaruel and Pam Yan-Santos and with support from Tin-aw Art Projects. Their works deal with "social issues, redefine spirituality, and respond to the urgencies of the times."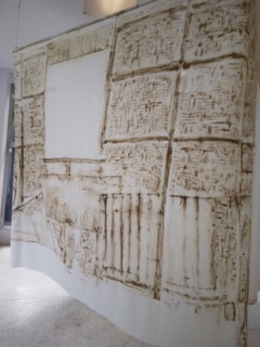 Consisting of artworks from the 1970s to the present, and produced from woodcut, serigraphy, intaglio, rubbing, and installation, the exhibition explores "counterpoints and nodes in Philippine printmaking practices." New printmaking approaches have been created by the artists that include a textile print of a dilapidated house hanging like a giant lantern, using termite soil rubbings to wall print installations.
Ambie Abaño's reza por los Filipinos…rezar por las Filipinas uses the imagery of estampitas, depicting a woman fierce and strong, in contemplation. In another work, Your Exhalation, My Inhalation, a large print composed of 20 pieces that form a huge tree, expresses the artist's ode to the natural world that sustains life on earth. Without nature, we simply cannot exist.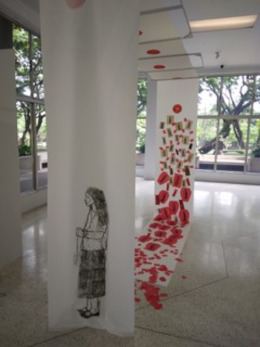 An installation, titled the Miracle of Lipa by Virgilio Aviado, evokes the feeling of witnessing "a supernatural moment." Suspended on a thin metal frame, a long piece of mulberry paper depicts red pieces of paper with prints of the Lady of Mt. Carmel, a reference to the rain of rose petals in 1948 during so-called apparition of the Virgin Mary that has not been recognized by the Vatican. Nonetheless, many devotees continue to visit the site.
Brenda Fajardo's early prints play with form, texture, and color. Sarili sa Kahon and Nang Sumilip ang Buwan Pumasok ang Dilim, both made in 1974, refer to the cycle of life and death amidst social and personal turmoil.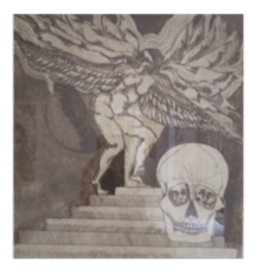 Inspired by the The Allegory of Good and Bad Government of medieval artist Ambrogio Lorenzetti, Ofelia Gelvezon-Tequi's triptych titled Homage 2 to Ambrogio Lorenzetti uses elements and symbols from the Italian fresco to contrast and critique the virtues of good governance versus tyrannical rulers, greedy for power and wealth in the Philippines.
In Buhol-buhol and Kastigo, Imelda Cajipe-Endaya's early prints in 1974 express the turmoil and disquiet in fighting for women's rights.  In Kastigo, the phrase "Que lastima!" (What a pity!) and other phrases are repeated throughout the print. In Buhol-buhol, people are tied with chains, inside a church-like structure. Through her multilayered works, the artist expresses painful stories of suffering and oppression that many Filipinos continue to endure.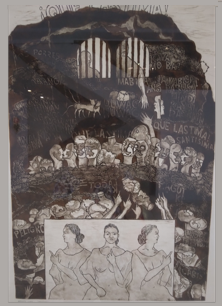 The printmakers
Ambie Abaño (b.1967): Exploring extensively printmaking, she creates works in mixed media, sculpture, and installation.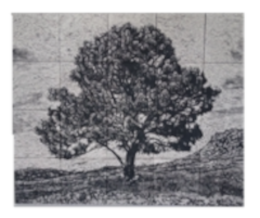 A multi-awarded artist, she is the first recipient of the Alliance Française de Manille Philippine Artist Residency Program with a three-month residency in various intaglio techniques at the Atelier La Taille Douce, Paris. She also attended lithography classes at the Robert Blackburn Printmaking Workshop and a studio residency at the International Studio and Curatorial Program in Brooklyn.
A faculty member of fine arts in UP Diliman, she was president of the Philippine Association of Printmakers, 2006-2012
Virgilio Aviado (b.1944): One of the country's celebrated printmakers, he trained and worked with master printers in Madrid and Paris from 1969 to 1976. Two major exhibitions dedicated to him included the Autoretrato: Selected Graphic Works, 1950–1990 at the Ateneo Art Gallery, 2004 and the Graven Images: 1964-2014 at the Ayala Museum, 2014.
Imelda Cajipe-Endaya (b.1949) A leading figure in the country's printmaking landscape, her mixed media and installation works often depicted issues of cultural identity, power, gender, migration, and displacement. An advocate of women's rights, she is a cofounder of Kasibulan (Kababaihan sa Sining at Bagong Sibol sa Kamalayan), and the founding editor of Pananaw: Philippine Journal of Visual Arts.
She has received the Cultural Center of the Philippines (CCP) Thirteen Artists Award, 1990; the CCP Centennial Honor for the Arts, 1999, and the Ani ng Dangal from the National Commission for Culture and the Arts, 2009. In 2022, her 50-year retrospective exhibition Pagtutol at Pag-asa   was held at the CCP.
Brenda V. Fajardo (b.1940): A visual artist, art educator, and community organizer,  she is known for her series on tarot cards, using them as a critical frame on Philippine history and society.
One of the pioneers in the establishment of Philippine Educational Theater Association (PETA) in the late 1960s, she received the Thirteen Artists Awards in 1992 and the Centennial Awards for the Arts in 1998, both from CCP.
Ofelia Gelvezon-Téqui (b.1942): One of the pioneers of printmaking in the country, she has a fine arts degree from UP Diliman, a diploma in painting from Accademia di Belle Arti di Roma, Italy, and did special studies in graphic arts in Pratt Institute, New York City.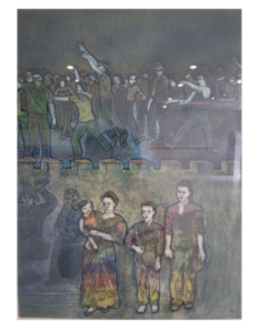 Based in France, in 2020 the CCP held an exhibit Allegories and Realities, Ofelia Gelvezon Tequi: In Retrospect.