An old video was doctored and falsely passed off as showing a tornado during the onslaught of Super Typhoon Mawar in Guam. The original clip was taken in Florida in 2018 and showed no tornado.
On May 24, a netizen posted a Facebook (FB) reel showing extreme winds ripping off a roof from a house, as a tornado whirled in the background. Its caption read: "#supertypoon (sic) #mawar Pray for guam." 
Some believed the post to be true, while others asked whether the video was legit. It was further circulated by netizens and shared on other FB pages.
This is fake. There was no tornado in the original video taken in Panama Beach, Florida when Category 5 Hurricane Michael hit in 2018.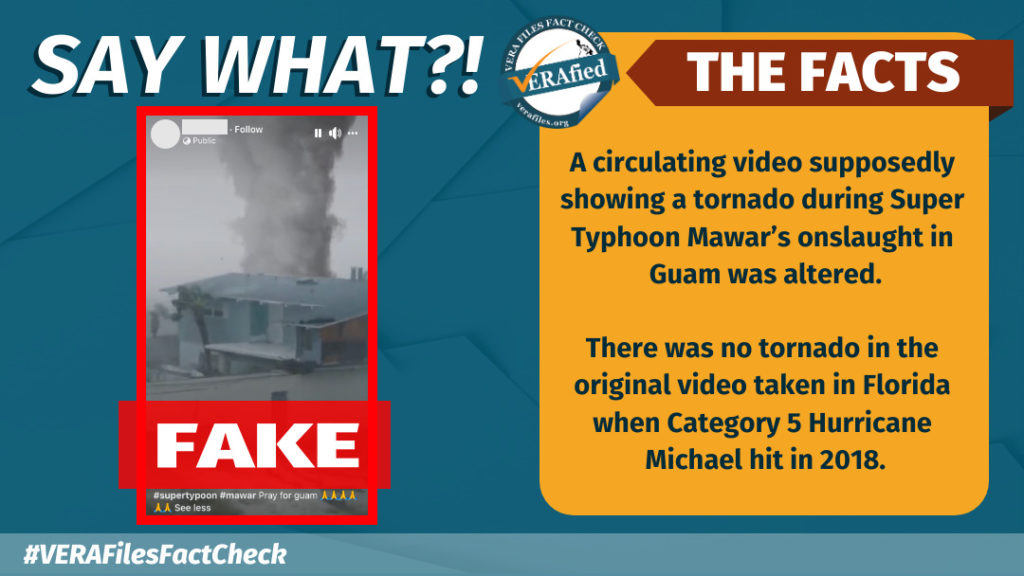 The original clip is part of the Hurricane Michael YouTube compilation video uploaded by Tornado Trackers, an organization providing weather stock footage, on Oct. 13, 2018. 
Tornado Tracker's cofounder Gabe Cox reuploaded the stock footage in Pond5.com on Aug. 12, 2020 with the description: 
"Powerful Category 5 Hurricane Michael tears a roof off of a building as the eyewall winds howl through a coastal town."
A tornado was digitally added in the circulating clip to deceive netizens. 
According to the United States National Hurricane Center's tropical cyclone report, Hurricane Michael's winds, storm surge and rains directly caused "16 deaths and about $25 billion in damage in the United States." 
The altered video circulated the same day Super Typhoon Mawar devastated Guam, reported to be the strongest tropical cyclone in the world since 2021. No deaths or injuries have been reported as of publishing. 
Mawar, locally known as Super Typhoon Betty, is currently within the Philippine area of responsibility and is expected to remain as a supertyphoon over the weekend. The tropical cyclone is expected to weaken on Monday or Tuesday.
VERA Files previously fact checked other videos taken during calamities posted in the wrong context. (Read Old building demolition video WRONGLY linked to Turkey quake).
The altered video uploaded by at least two netizens has 33,000 views collectively as of writing. It was also included in Super Typhoon Mawar compilation videos uploaded by FB pages Paspas Balita (created on Feb. 18, 2021) and Adventure time (created on Dec. 13, 2021 as Waray waray) garnering additional 19,800 views.
Have you seen any dubious claims, photos, memes, or online posts that you want us to verify? Fill out this reader request form or send it to VERA, the truth bot on Viber.
(Editor's Note: VERA Files has partnered with Facebook to fight the spread of disinformation. Find out more about this partnership and our methodology.)