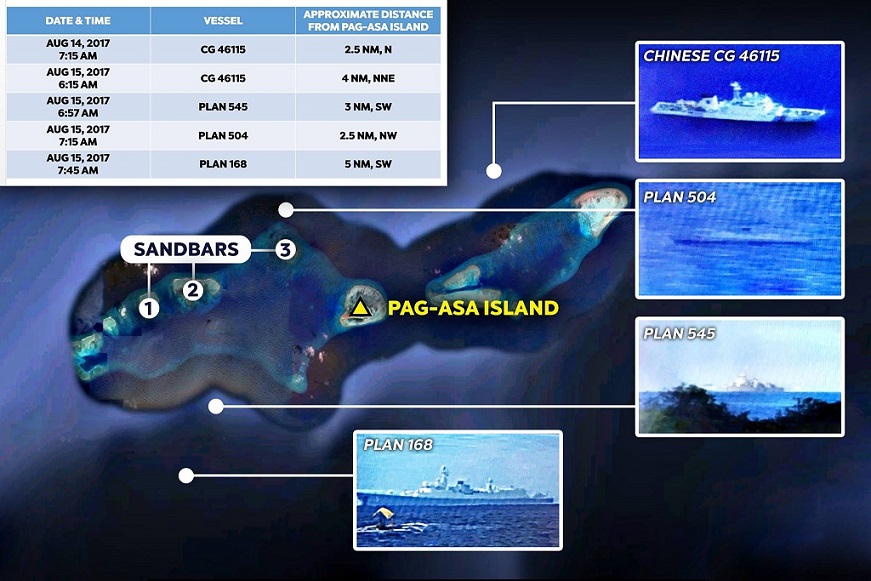 Recent sightings of Chinese vessels near Pag-asa island. Photo from Rep. Gary Alejano.
In order to answer how best to secure Philippine interests in the Kalayaan Island Group (KIG) and West Philippine Sea (WPS), we should put it first in the context of where Philippine policy is. That policy, sadly, is both fragmented and incoherent, at best.
Both the Palace and the DFA believe that our policy in the KIG and the WPS must involve massive concessions and a shift away from vigilance and a guarded optimism to one of trust and accommodation. Meanwhile, the policy of the agencies tasked with the massive responsibility of guarding our islands and our EEZ, namely the AFP and the Coast Guard, has been one chiefly of fearless vigilance in the face of great odds. This dilemma is evident in the seeming divergence of tenor in the statements of the DFA and the AFP.
On the one hand, Foreign Sec. Alan Cayetano has even smacked down the statements of a concerned legislator, Magdalo Cong. Gary Alejano, befuddling in his implied criticism that the latter's raising the alarm over Chinese presence in the sand bars near Pagasa Island is near-rumor mongering.
How best to defend our islands and our national interest? Without singling out the DFA but squarely laying it at the doorstep of Malacanang, what really is our policy? Is it not to secure our EEZ and ensure that our national interests in these islands both under UNCLOS and Philippine laws are continuously protected. I am sure that this administration is aware that it has various instruments of national power at its disposal. They are by no means a match to China's, but even without the perceptible threat of force the Duterte administration has caved in and crumbled before China. This despite China's clever resort, so far, to hybrid tactics outside of the military realm – law enforcement and operations other than war and the use of naval militias masquerading as fishermen. China has used measures short of war in an ever increasing push of the envelope, accruing for itself advantage after advantage – to the Philippines' detriment.
For Sec. Cayetano to quiet down concerned voices domestically based on his sanguine reading of Chinese policy and interest is a serious miscalculation bordering on treasonous betrayal of the national interest. We should not sacrifice national security and our patrimony at the altar of Chinese largesse and yet-to-be proven benevolence.
Our defense has always been, and will always be, vigilance. Improve our detachments, and if necessary, bolster the number of our personnel thereat and their capabilities to monitor the area and sustain their presence and mutually support the network of outposts that guard our reefs and shoals in the KIG. To bolster this strategically is to improve Maritime Domain Awareness. But awareness carries with it the concomitant need to predict or anticipate hostile actions, interdict and (even better), deter unwanted or threatening presence of foreign elements. All of these require a coherent and sound strategy, a dedicated allocation of resources, and a consistent policy that is clear to both our foreign and domestic stakeholders.
(Francisco Ashley L. Acedillo is president of the Institute of Policy, Strategy and Developmental Studies Inc. (IPSDI). He was Magdalo Partylist representative, 2013 to 2017.)