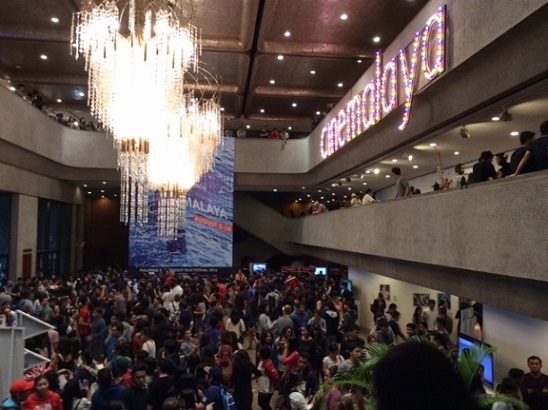 By ELLEN T. TORDESILLAS
I hope the movies shown in the recent Cinemalaya Independent Film Festival would be shown in commercial theaters more widely later.
I was able to watch only two: "Kusina" starring  Judy Ann Santos under the direction of  David Corpuz and Cenon Palomares and "Pamilya Ordinaryo" by Eduardo Roy, Jr.
"Pamilya Ordinaryo" won the best film, best director and best actress awards.
I missed  "Toto" by   John Paul Su; "Tuos" by Roderick Cabrido starring Nora Aunor;  "Hapis at Himagsik ni Hermano Puli" by  Gil M. Portes; "Dagsin" by  Renato Ignacio Magadia, Jr. and many more.
I met actress, writer and director  Bibeth Orteza, one of the stars in  "Toto" at the Cultural Center of Philippines last Saturday and she shared the good news that  the movie will be shown in commercial theaters later.
"Toto", according to the movie's blurb, is about a young Filipino hotel room service attendant who is determined to obtain a U.S. visa by any means. But when his schemes put the lives of his loved ones in danger, he is forced to question the extremity of his actions and re-evaluate the cost of fulfilling his dream.
"Kusina" is set where else, the kitchen – a pretty one, country-style. The kusina covered the more than three decades of the life of Juanita (Juday is the adult Juanita)- from the day she was born to the arms of her grandmother (played by Gloria Sevilla)  to the days when she was  now a grandmother and sharing with her apo the cooking tips her lola taught her.
Santos has admirably matured as an actress. She conveyed intense emotion without saying a word  in the Martial Law scene where she was told by her activist daughter that her dutiful son's life was in danger because he eloped with the daughter of a general who disapproved of their romance.
I'm glad that the movie touched on Martial Law to give the mostly young viewers an idea about what that dreaded situation is that is being floated now by President Duterte.
While I was watching  "Pamilyang Ordinaryo," I thought of  the La Pieta couple of Pasay, Jennelyn Olaires cradling the lifeless body of her lived-in partner tricycle driver Michael Siaron, another casualty in Duterte's anti-illegal drugs drive. They are people who never had a break in life.
Directed by Eduardo Roy, Jr. , "Pamilya Ordinaryo" is a searing portrait of the Philippines' unprivileged. Jane and Aries are teenage street children with a month-old baby. Their residence is  sidewalks of Manila and they live by hustling, snatching, pick-pocketing, shop-lifting.
But despite that kind of life, they have not lost their capacity to trust. Which was how they lost their baby.
The search for baby Arjan gave the audience the distressing reality how the disadvantaged in life are further being taken advantaged of.
The movie is so well-written, the direction is brilliant  and the acting by Ronaldo Martin (brother of Coco Martin)  as Aries and Hasmine Killip as Jane is so believable. They are good.
Despite its being set in grime and deprivation, it's actually a feel- good movie.  The audience cheered when finally Aries and Jane were able to make it through the high fence of a suburban housing subdivision when they decided to return the wrong baby. During the suspenseful chase, we thought they would be shot and end up like Michael Siaron with the now familiar cardboard sign thrown at them.
Oh well, that happens only in real life.
Cinemalaya Philippine Independent Film Festival aims to invigorate the Philippine filmmaking by developing a new breed of Filipino filmmakers through various activities including the yearly competition ad festival.
It is run by The Cinemalaya Foundation, a non-stock, not-for-profit, non-government foundation, committed to the development and promotion of Philippine Independent film.
Last week's festival showed the abundance of Filipino talent capable of producing intelligent and meaningful films.