(Quote on immunity from suits starts at 17:40 mins)
By ELLEN T. TORDESILLAS
In many of his speeches , President Rodrigo Duterte flaunts his immunity from suits as an armor amid mounting concerns about the extra-judicial killings in his campaign against illegal drugs.
In a speech before troops at Camp Gen. Macario B. Peralta, JR, Jamindan, Capiz  last Aug. 5, he said, "Ang Presidente, hindi mo ma-demanda. ..mag-order ako ng patay, you cannot arrest me, may immunity ako."
It's not only those dealing with illegal drugs that he wants  killed but all those he believes  pose obstructions to his desire to improve the lives of the   Filipino people.
While visiting the V. Luna  AFP Medical Center, last Aug. 2, he expressed frustration over the refusal of some business owners to stop "Endo" –  the distortion of contractualization where workers' employment is terminated at the fifth month before the end of the six-month probationary period to avoid making the workers permanent employees entitled to labor benefits.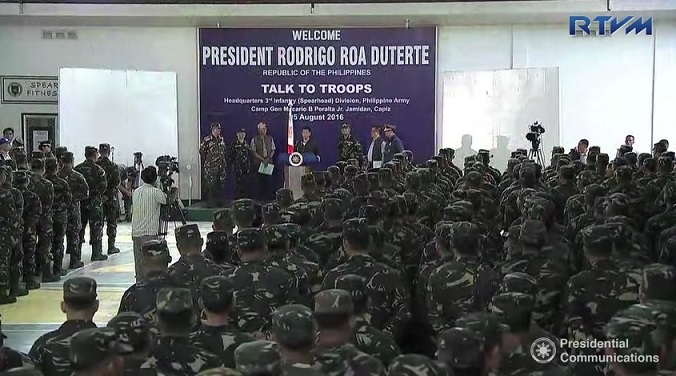 Duterte said:  "Ako mag-warning lang: Stop contractualization or patayin kita. You know why kaya ako magsalita ng ganun ang Presidente? While I am here, may immunity ako."
During the Mindanao summit early this month, he said he is looking for a "killer" to head the  the Philippine Charity Sweepstakes Office, which he said is  corruption-riddled. "I'd like to give you a warning: Do not F.. with me. I cannot pronounce the exact word, just the F and C. Don't dare me. As President, I have the immunity from civil or criminal. If I lose my patience, I'll call and shoot you," he said.
Duterte's immunity from suits is only during his incumbency as president. After June 30, 2022, he becomes fair game to those who want to haul him into court.
Duterte said he is not worried and directed people to the Revised Penal Code: "Ang sabi ng Revised Penal Code, pagdating ng 70, i-release ka na. All persons upon reaching the age.. mandatory ilabas. 71 na ako. Pagkatapos ko Presidente, 77. Saan mo ko ilagay? O 'di wala naman," he said to the amusement of the soldiers listening.
Lawyer Raymond Fortun corrected the President.
In a Facebook post, Fortun said, "With all due respect to the President, he is wrong here."
Fortun explained that, " Age is s merely a mitigating circumstance. (Art. 13, Sec. 2, RPC). It does not mean that he cannot be charged and, if found convicted, cannot serve his sentence in a jail.
"Being 70 years of age merely reduces the penalty to its minimum (or, if there are other mitigating circumstances, by 1 to 2 degrees lower)," the lawyer further said.
Fortun  gave as an example former senator Juan Ponce Enrile who was charged and imprisoned for plunder at the age  of 90. He was later allowed to post bail for humanitarian reason.
Philippine incumbent presidents are protected by the Constitution in order for them to perform their job unhampered by legal obstacles but they are not totally touchable if they commit a crime against humanity.
Last Aug. 2, Kabayan Rep. Harry Roque, a human rights lawyer before he entered politics, delivered a privileged speech saying that although Duterte is immune from suits during his six-year term as president he  may be indicted for the continuing spate of extrajudicial killings related to the government's campaign against illegal drugs by the International Criminal Court.
The number of those killed in the campaign against illegal drugs continue to rise (1,054 as of Aug. 16, 2016 since May 10, when Duterte was elected president according to ABS-CBN monitoring ) and have raised concerns in the country but also international groups.
Roque is  with the Minority in the House of Representatives considered friendly to the administration-allied Super Majority. He said,  "while it would be imprudent for me  to say with certainty that President Duterte has already committed a crime against humanity, it would be a disservice to this entire nation if  I did not warn [the president] to be careful."
Roque said Article 7, Section 1 of the Rome Statute– the treaty that established the ICC of which the Philippines is party to – a "crime against humanity" is a widespread or systematic attack directed against any civilian population with knowledge of such attack.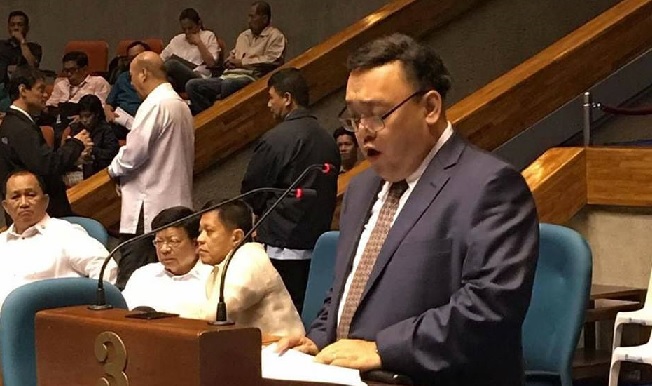 "By definition, crimes against humanity may be committed even in times of peace, without the existence of an armed conflict," he said.
Roque warned that the principle of state immunity granted to a sitting president "is not an effective shield against the ICC."
Roque said, "The ICC has indicted leaders even during their term of power. It has done so in Kenya, Sudan, and others. Even without actual or direct participation, the President can be indicted for crimes under the principle of Command Responsibility so long as he knew that such crime was being committed, and he failed to take all necessary and reasonable measures within his power to stop such acts. The ICC does not need to wait for news about the massacre of an entire town or barangay before it investigates.
"If the administration does not temper the methods it has been using over the past few weeks, then it is only a matter of time before the international community turns its focus to the Philippines for justice," he said.
That's coming from an ally.