By MARIA FEONA IMPERIAL
WITH startling clarity, 22-year-old Joshua Broqueza recalls how a split second in his life landed him in a hospital bed, bleeding and almost lifeless.
It was in the middle of the night, when he and his friends aboard a Toyota Vios were on the Albay province's so-called killer highway, Maharlika Highway.
Broqueza was driving round a bend, and he tried to avoid a fast-approaching truck, whose headlight beams were too intense that steering the car to the side was the only life-saving course of action, even if it meant smashing through a concrete fence.
He survived. His three friends didn't.
That happened May last year, and Broqueza is now back in school and for once or twice a week, he still visits the doctor whenever his leg badly hurts. His therapy and hospital expenses have already reached nearly half a million pesos.
"I still have six lives left," he said, jokingly. But quickly added, "Pwede palang mawala lahat sa isang iglap (Truth is, you can lose everything in a split-second)."
For people aged 15 to 29 years old like Broqueza and his friends, road traffic injuries are the leading cause of death, even in the Philippines.
Every year, at least 1.25 million lives are lost to road crashes, according to the World Health Organization (WHO). In developing countries, 30 to 70 percent of hospital beds are occupied by survivors of road crashes.
In the Philippines, at least one person is killed and 46 are injured on the road every day, based on 2015 data from the Metropolitan Manila Development Authority (MMDA). This excludes unreported cases either unseen by traffic enforcers, or those that never reached the hospital.
Despite glaring figures, Philippine lawmakers do not perceive road safety as a pressing public health issue, contrary to movements advanced by road safety advocates dating back to the 1970s.
Catanduanes Representative Cesar Sarmiento, who was re-elected to chair the 17th House Committee on Transportation, said road safety only becomes a public health concern when it involves medicines and the like.
"When you talk of public health kasi, parang, for me, it's not a public health issue, smoke or sa pagkain. Ang cause of death is accident," Sarmiento told VERA Files.
Road safety advocate Sophia San Luis, who is also the executive director of Imagine Law, however said "old terminologies" should be dispensed with.
The term "accident" is still widely used even in Philippine legislation, instead of "road crash," which suggests preventability.
"When you say accident, it's like an act of God, and there's nothing you can do about it," said lawyer Evita Ricafort, who is also a road safety advocate.
"They're not inevitable. There is some human contribution to the incident," Ricafort said.
This is what the WHO has been pushing for when they came up with five key risk factors for road traffic injuries: speed, drink–driving, and non-use of helmets, seat-belts, and child restraints.
Both said Congress should start treating it as a pressing public health issue.
"Yung concept nila ng public health risk involves only yung infectious diseases," San Luis said, adding the lack of disaster preparedness should be considered as a serious health risk.
Though Sarmiento does not perceive road crashes as a public health concern, he is well-aware of the consequences: "loss of life, loss of property and loss of productivity."
Philippine lawmakers 'reactive'
Unlike Sarmiento, former Representative Ashley Acedillo of the Magdalo Party-list believes road safety must be treated as a public health issue.
Yet when asked if road safety was a political priority of the previous Congress, Acedillo gave an outright "no." He said Congress in general is "reactive."
Acedillo is among the authors of a bill seeking to create a National Transport Safety Board, an investigative body that seeks to unearth and pinpoint causes of transport-related "accidents." The bill never prospered.
He also said the high incidence of road crashes are due to two factors: either the Department of Transportation (DOTr) "doesn't take road safety seriously" or Filipinos are inherently stubborn.
"As a culture, we are not safety-conscious," he said.
For this 17th Congress, Sarmiento said the lower chamber has yet to tackle three separate bills seeking to grant emergency powers to the president to address the problem of congestion.
The bills grant the president special authority to enter into negotiated contracts for traffic and transportation projects without bidding. They also allow the president to reorganize transportation institutions, which includes the abolition and creation of offices, splitting, grouping and merging positions, transferring functions and personnel, among others.
For road safety, the lower chamber is set to prioritize the passage of the Air Passenger Bill of Rights, and the creation of a National Transport Safety Board, an independent body that will investigate crashes covering road, maritime, air and rail.
Sarmiento said it will be a landmark legislation and a solution to "cover-ups" in investigation.
"Ang nag-iimbestiga (ay) 'yung dapat imbestigaha (The investigators should be investigated)," he said.
Lack of data cripples legislative work
Road safety advocates say Congress could also better exercise its oversight function, but only if there were reliable data to measure how well laws are working.
But judging from the footnotes and endnotes of the recently published policy framework alone, most information were drawn from secondary sources such as media reports.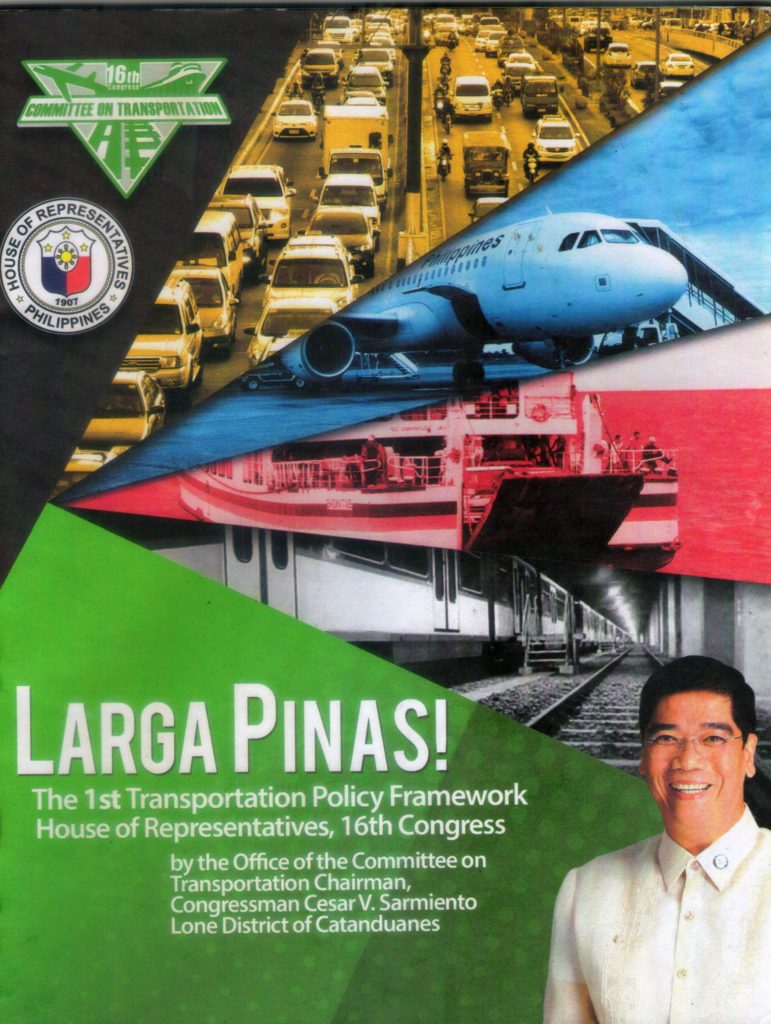 "The absence of reliable road safety data in the Philippines is the biggest gap that we have," San Luis said."It's not one of the five risk factors, but you cannot monitor and evaluate laws if you don't have reliable data."
San Luis said evidence-based policy making in the Philippines isn't that established yet.
"There are a lot of legislators who just rehash existing bills," she said.
Transportation agencies are required to collect data. The question, however, is if the data they collect are reliable and considered in legislation, Ricafort said.
The government relies heavily on manual data collection. In an earlier interview, lawyer and Police Superintendent Oliver Tanseco admitted the Philippine National Police does not give much premium on collecting road safety data.
It focuses more on carnapping incidents, which aligns with the PNP's anti-criminality mandate. Without a streamlined data collection system, the government relies only on what enforcers are able to monitor and record, leaving doubts on the number of unreported cases.
For San Luis, this only underscores the need to develop an institutional mechanism that would compel all transportation agencies to contribute to data collection.
"That's the only way (road safety laws) will really survive," San Luis said, adding there will be proper enforcement only if it's based on evidence.
Poor implementation of laws
Road advocates are also protesting the slow implementation of laws.
For instance, the law on children aboard motorcycles has not been fully implemented since it was passed in 2015 due to lack of clear guidelines. (See https://verafiles.org/delays-in-implementation-of-road-safety-law-put-children-at-risk/)
Meanwhile, two years after it was enacted, the Anti-Drunk and Drugged Driving Act has yet to be fully implemented. The purchase of necessarily breathalyzer kits, which shall be used to detect alcohol levels of suspected drunken drivers, is far too low at 150. (See https://verafiles.org/so-many-drunk-drivers-so-few-breathalyzers/)
Congress also has to look into updating speed restrictions and ensuring its consistent implementation among local government units.
The 52-year-old Land Transportation Code is no longer appropriate for present road conditions. There weren't as many trucks and road users back then, Ricafort pointed out.
Of the five key risk factors, child restraint remains the "low-hanging fruit" in the Philippine context.
San Luis said while there is an enabling law mandating the use of child restraints, LTO has not acted on its power to issue regulations.
Under the Aquino administration, at least five laws on road safety had been passed in Congress.
These include the helmet law, the drunk-driving law, the law on safety of children aboard motorcycles, and recently-lapsed laws on speed limiters and distracted driving.
Ricafort and San Luis hope the new administration will give more attention to road safety.
"Unless it is treated as a public health concern, (road safety) will not be as urgent as it should be," San Luis said.
This story was produced under the Bloomberg Initiative-Global Road Safety Media Fellowship implemented by the World Health Organization, the Department of Transportation and Communications, and VERA Files. #SafeRoadsPH