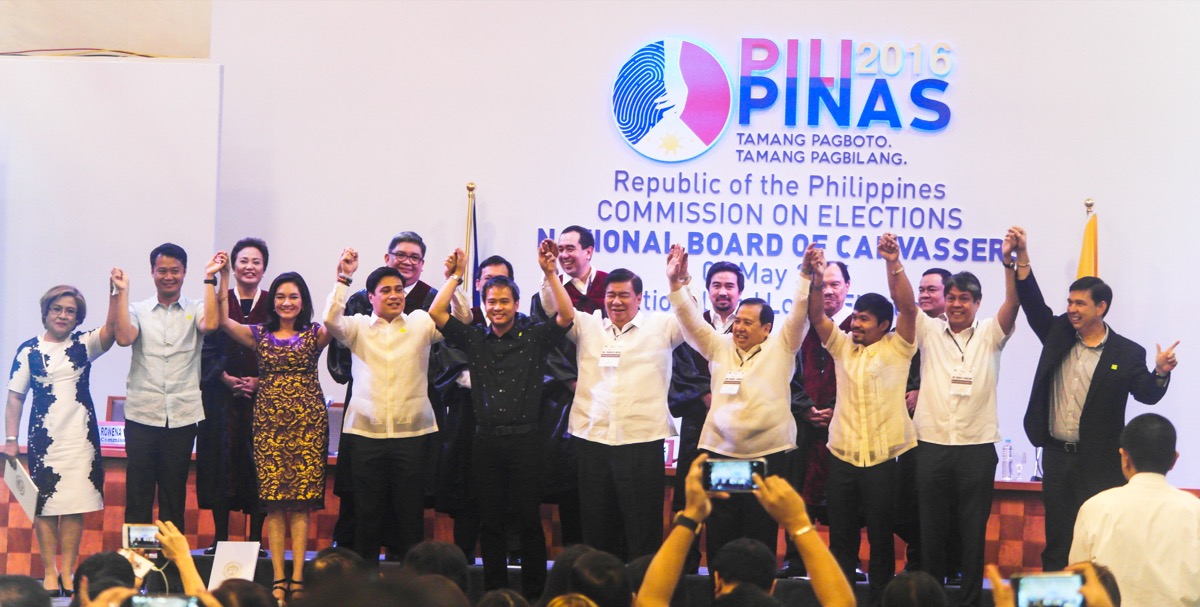 By MARIA FEONA IMPERIAL
AMID protests to stop the proclamation of winning candidates, the Commission on Elections proceeded to declare the Senate Magic 12 today at the Philippine International Convention Center.
Newly minted senators Joel Villanueva, Emmanuel Pacquiao, Ana Theresia Hontiveros, Sherwin Gatchalian and Leila Norma Eulalia Josefa de Lima join returning senators Franklin Drilon, Vicente Sotto III, Panfilo Lacson, Richard Gordon, Francis Pangilinan and Ralph Recto.  
Former Bukidnon representative Juan Miguel Zubiri also returns to the senate after he resigned in 2011 due to fraud allegations.
Yesterday, losing senatorial bet Francis Tolentino asked the Supreme Court to issue a temporary restraining order to halt the proclamation of the last three winning candidates, saying the May 9 polls were compromised due to "data manipulation."
Per final tally of the Commission on Elections, Tolentino ranks 13th with 12,811,098 votes, after former justice secretary de Lima who has 14,144,070 votes.
Before proclaiming the senators-elect today, Bautista said de Lima's over 1-million margin won't materially affect the results.
De Lima, meanwhile, said the petition is dismissible because Tolentino's camp did not exhaust administrative remedies first, such as filing a complaint before the poll body.
Tolentino's protest hinges on Smartmatic's introduction of a new script in the transparency servers for a "cosmetic" change, which has prompted the poll body to deny access to election canvassing software without prior consent from Comelec officials.
On May 11, vice presidential aspirant Senator Ferdinand Marcos Jr. claimed the new script eroded his lead over administration bet Camarines Sur Representative Maria Leonor Robredo. (See PPCRV servers altered, Marcos says)
Last week, Commissioner Rowena Guanzon has also urged the poll body to ban Smartmatic officials from leaving the Philippines, pending investigation on the altered script.
A stay-away order, however, is not enough.
Ex-poll exec calls for massive nationwide audit
For former Commissioner Gregorio Larrazabal, the poll body must conduct a massive audit of the automated elections, not just of the altered script, because "there are many things Smartmatic's not telling the public."
Numerous laptops used for the Canvassing and Consolidation System (CCS) were not functioning properly, while some of them could not read secure digital (SD) cards, Larrazabal said.
"Who does the reconfiguration? Is it Comelec? Is it Smartmatic? Or both? Who supervises?" he asked.
Larrazabal said there is fear that the same breach in protocol did not happen in the provinces.
On Friday, an incensed Guanzon slammed Smartmatic for the "unauthorized use" of election software after a new script was introduced for a cosmetic change that would reflect candidates names with "ñ" instead of question marks.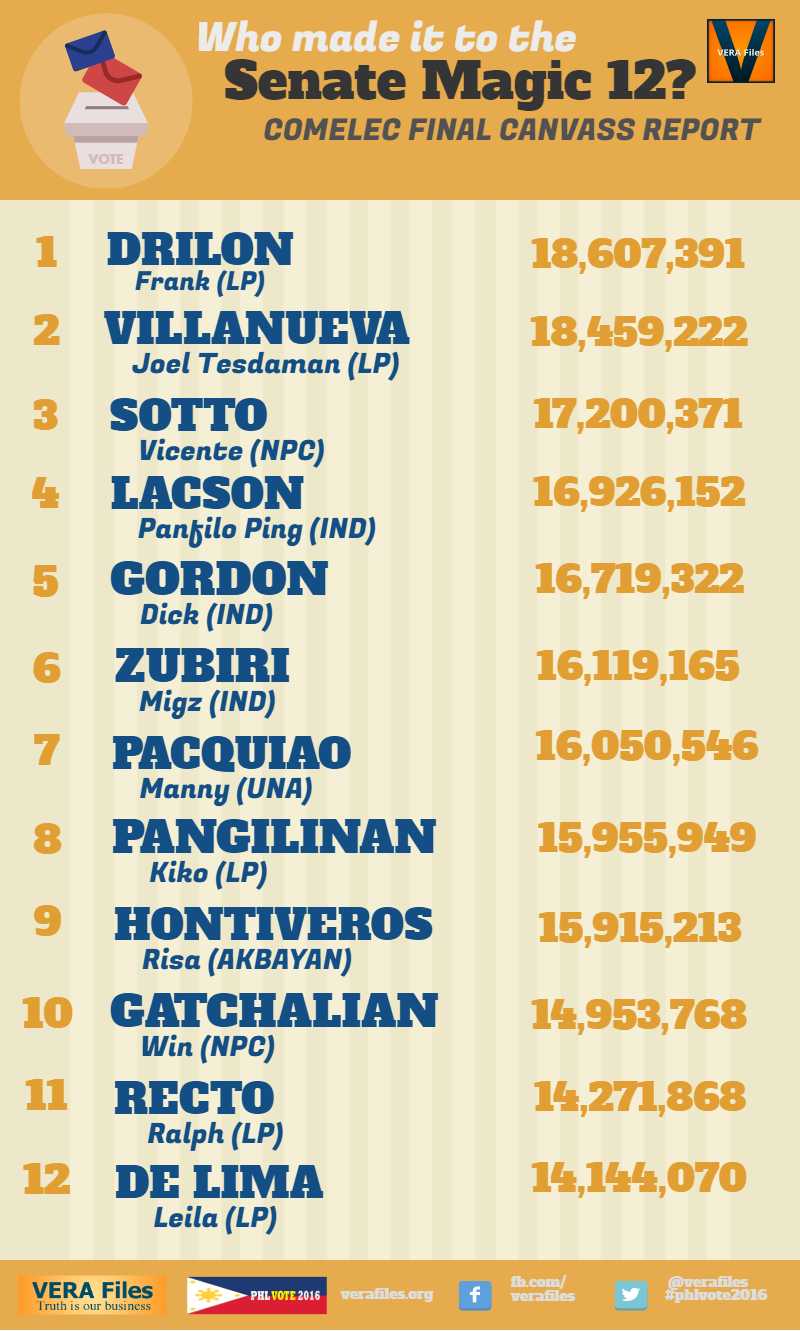 "If they did that..how sure are we that some Smartmatic official went to the field and did some changes in the command without telling Comelec?" Larrazabal told VERA Files.
There may be instances when Smartmatic officials are sent to the municipalities to reconfigure malfunctioning laptops, Larrazabal said.
"Kasi if you have a (Board of Canvassers) of one particular municipality, sasabihin nilang may sira, lalagyan nila (they would say something needs to be fixed, then they would do it), without informing Comelec," he said.
"Where is the audit now? How do we know that what they did was legal and in accordance with protocol?" Larrazabal asked.
In past elections, Smartmatic would inform Comelec ahead of adjustments that are needed to be done, he said.
"Kung may magreklamo at least sabihin namin na inapprove namin (If someone complains, we can say that we approved the change)," he said.
"This is the responsibility of Comelec. If Smartmatic wants to do something, they have to ask authority form Comelec because Comelec here is the boss."
'They're not supposed to touch it without permission'
Though minimal and benign, Guanzon said it cannot be denied that the incident had an impact on the "psyche" of the people, and asserted that Smartmatic must be held liable.  
In a news conference, Guanzon said: "It's our property, it's not their property. The AES is property of the Comelec and they're accountable to the people and their accountable to the Congress."
"They're not supposed to touch it without (our) permission," Guanzon added.
Marlon Garcia, head of the Smartmatic tech support team, keyed in the change in script.
He said he sought for the Comelec information technology (IT) staff's password, aside from his own, in order to access the system.
But Guanzon said it doesn't change the fact that the move was "unauthorized," and that Smartmatic had the last touch on the program.
"I would like to know what they said to the Comelec employee such as he or she gave the password," she said.
'It could have been worse'
When she first heard about the news, Guanzon said she was "weak in the knees," even if she sees herself a feisty woman.  
"It could have been anything! It could have been worse. We are responsible for this elections," she said.  
"(Smartmatic) will say, oh, it's benign. There's no alteration. But when the people are guarding their votes, and candidates are guarding their votes and Senator Marcos and Congresswoman Robredo are in a very tight race, it doesn't help!" Guanzon said.
"Thank God it did not alter the results otherwise we would have been here another year," Guanzon said.
Guanzon said the Commission en banc will look into the possible liabilities of Smartmatic under their contract and the law, which includes disqualification from bidding in future contracts.
Monsod on protocol breach: Smartmatic has 'too much power'
Though benign and cosmetic, the altered script could not have risked the credibility of the polls at all, if only the Comelec was on top of everything, said former poll chief Christian Monsod.  
Monsod said technology supplier Smartmatic "has been used to have too much power in the electoral system."
"(T)hings like these, where a Smartmatic person can just make his own changes means that the Comelec was not on top of everything," Monsod told VERA Files.
"In other words, anything they do, they must clear," he added.
'Comelec has been warned'
Monsod says the chaos could have been prevented, if only Comelec heeded his advice of not allowing the elections to be "supplier-driven."
"We warned Comelec already to be careful about that. Do not allow Smartmatic too much control. The Comelec must retain control to the system," he told VERA Files.
For instance, he believes the activation of the Voter Verification Paper Audit Trail (VVPAT) voter receipt feature of vote-counting machines (VCMs) is a Smartmatic idea.
"What did (Smartmatic) say? It would create havoc on the election? They were wrong," he said.
There have long been suggestions for Comelec to conduct a "forensic study" of the automated elections, Monsod said.
"But the Comelec did not do that," he said.
Monsod said it is about time to conduct a thorough review of the electoral process because the oversight committee of Congress is "just sitting."
"Comelec must take the lead," said Monsod.