By CHICKIE LOCSIN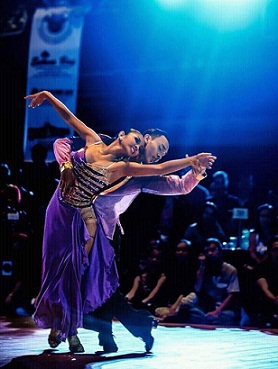 From bleak garbage dumps to glamor-filled dance floors, Wilbert Aunzo has come a long way.
Aunzo was a scavenger and an out –of- school youth who picked garbage to buy his daily meal of rice and salt . When he was twelve, he joined a dance camp organized by Edward and Eleanor Hayco and literally danced his way out of poverty and his crime-ridden neighborhood. His dancing prowess qualified him as an athletic scholar, enabled him to graduate high school, become a nine-time national champion, a member of the elite Philippine national team and the grand winner of the World Youth championship in Australia.
Azuro is just one of the recipients the Haycos advocacy of making life better through dance.
The Haycos were dance enthusiasts who, upon earning their team's first gold medal in 2001, paid a courtesy call on then- Mayor Tomas Osmena who challenged them: "Medals have no meaning if you don't share your gift of dance with the barangays."
That very same year the couple picked up the challenge and set up free dance lessons in depressed barangays in Cebu City. "We felt that this added skill it would be easier for our dance athletes to get a job. We did not expect that the kids would take dancing seriously enough to compete."
"Our team provides free lessons to kids from six to twenty-five years old. One year alone we taught over seven thousand kids which won us the Guinness record for the biggest dance class." Over thirty thousand Cebuano kids have participated in the Hayco dance camps in the last fourteen years.
The couple has set up DanceSport Cebu and is assisted by volunteer teachers who were at one time their dance scholars. "We expect our scholars to give back by teaching other kids what they have learned. That has been our simple rule for the past 15 years."
Despite the glitter and glamor of their performances the dance scholars make many sacrifices whenever they compete. They share meager accommodations, even their shoes. The Haycos loan them costumes from their own inventory or help by buying ukay-ukay garments which the kids themselves embellish.
Although it was never the intention of the Haycos to develop competitors, the DanceSport Team Cebu City has won many awards: the first medal won by the Philippines in the International Children's Game, 35 out of 36 medals in Batang Pinoy Nationals, Gold in the 2005 SEA Games, the World Youth championship in Las Vegas in 2011.
Becky Garcia, acclaimed as the "Mother of Philippine DanceSport" is encouraged by the tremendous progress of DanceSport in the Philippines which she founded eighteen years ago. "We brought in foreign instructors and now our dance teams are close to world class. This shows in our ranking and the number of medals they have won in Asian competitions."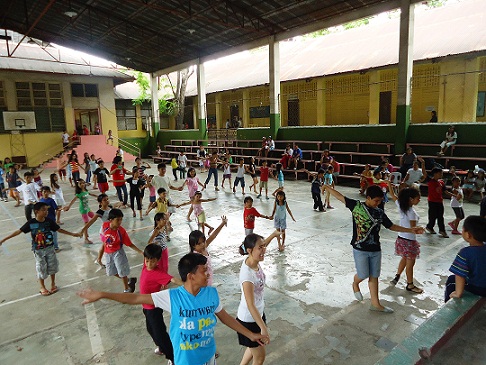 She is excited that the Philippines is sending a team for the first time to this year's German Open "As they have never competed in Europe we are considering this a major milestone. Our couples have trained long and hard and are ready for the challenge."
Marvie Cojuangco-Yulo and Chona Valdez-Mercado, both directors of the Dance Sport Council and members of the competition committee, explained that the group was organized to develop competitors and to promote ten international dances. The Council is open to everyone to "everyone who competes."
They have three competitions a year, with around two hundred participants in each heat who vie to represent the Philippines in the Asia Pacific Championship. Winners are considered athletes and the top one or two are qualified to receive a monthly allowance from the Philippine Sports Commission.
Both long-time dance enthusiasts, Yulo and Mercado recall the early days of ballroom dancing. "It started as a socialization activity" reminisced Mercado. "Ladies gathered in dance clubs like Equinox , 92 DB, Zu, Savannah and Bykes and danced all evening with instructors who were more patient and energetic than their husbands in teaching them the latest dance steps."
Yulo recalls, "In the early 2000, Filipino DIs were the best in the region. At one time, more than one hundred of our best male Dis were working in Singapore earning as much as Sing$150 per night while the locals were making Php 1000."
She rues the fact that " The number of dancing ladies have dwindled due to the expense. Subsequently the income of the instructors have not improved . Nowadays, in-demand DIs with all -day bookings earn an average of P 55,000 monthly while in-house DIs make do with P 300/night plus tips."
But with the support of the Haycos and the Dance Council, Garcia does not see enthusiasm for DanceSport waning anytime in the future: "DanceSport is the perfect sport for peace and harmony-loving Filipinos. Dancing not only gives a certain education in style, it is also beautiful to watch and you can do it your whole life."