Images courtesy of Art Fair PH,  Kaida Contemporary Gallery, and R.C. Ladrido 
When Russel Trinidad was a student, he was into street art, painting the walls of abandoned buildings. He used an alias, Doktor Karayom to protect himself.  The "doctor" refers to his interest in human anatomy; the "karayom"  is from a Filipino saying, Kahit butas ng karayom, papasukin ko. He whispers this saying to himself, to spur his inner drive to achieve his dreams.
He named himself Doktor Karayom as a reminder to overcome any difficulties that come his way. It also reflects his zest for seeking new experiences and new discoveries in his artmaking.
Painting the town rojo, rouge, rot
Fiercely dominant is the color red in all its shades, in Doktor Karayom's work. As a quite articulate  Tagalog speaker, a Tagalog  poem always accompanies his exhibits, as his artist statement.
Human figures or body parts— opened up, disemboweled, dissected, embellished, distorted, magnified— maintain a strong presence in the artist's visual imagery. In a YouTube video about Sariling Sulok, Trinidad says that he feels that his work injects something into viewers that they can relate with. In turn, this sparks a real conversation between artist and audience.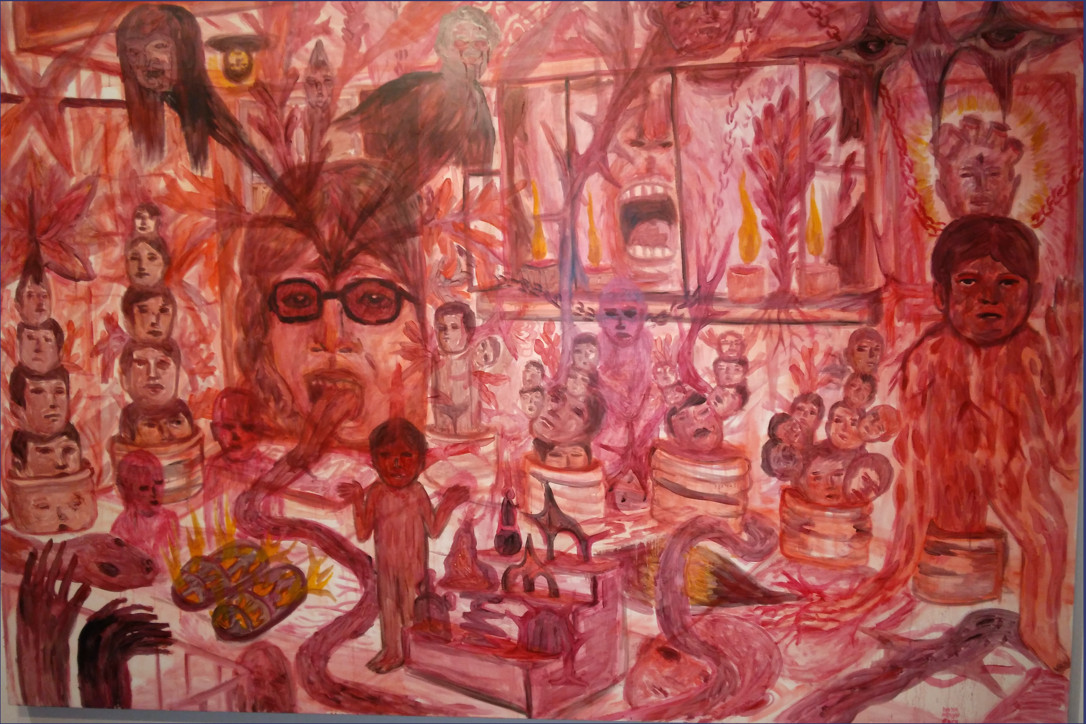 Beyond images of chaos, gore, and macabre, Doktor Karayom's outburst of creative energy in red speaks of our collective psyche, our inner turmoil, in facing today's uncertainties. Between desolation and hope, shall we fail or rise above it? Red also symbolizes happiness, as well as valor and courage, after all.
Selected exhibits
Linya (2016), Cultural Center of the Philippines: Trinidad's third  solo exhibit, it depicts a line of 300 resin figures painted in acrylic and spray paint, each one different from the other. It is based on his experience in queueing as part of everyday life. Paying  bills, taking jeepneys or tricycles, or buying groceries, one queues. We can never escape its tediousness and the banality of life in a queue.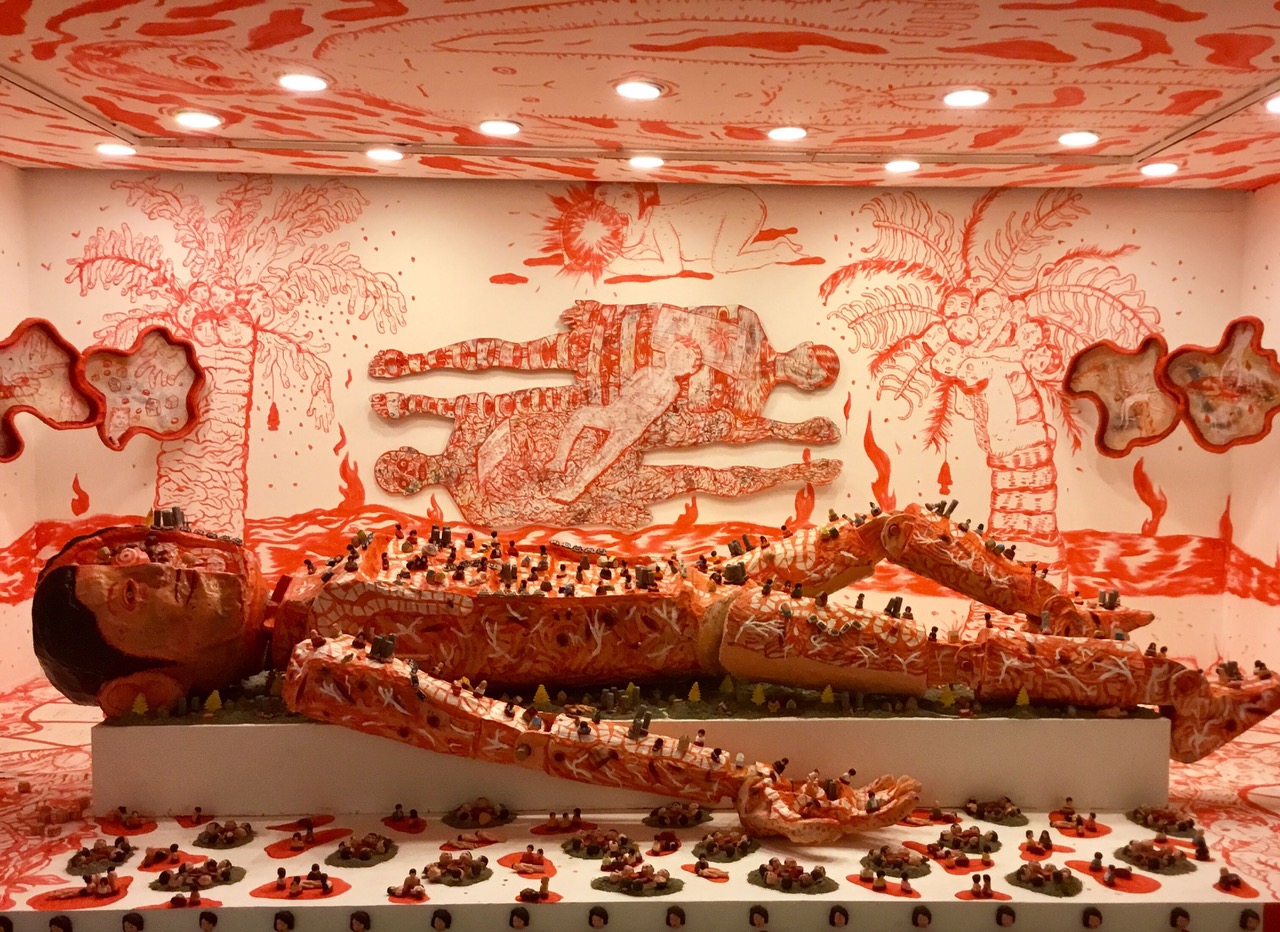 Isla Inip (2018), CCP: An anagram for Pilipinas, the installation presents a 13-foot long figure of a man lying down on an elevated platform, Jose Rizal, with his body opened up, intestines flowing out. It is filled with tiny human figures, unbothered by the bloody spectacle. Life goes on for Juan de la Cruz who has become numb amidst the killings and violence in the streets of Pilipinas.
Surrounding Rizal's body is a large-sized interactive board game in Tagalog. The three walls including the ceiling surrounding the body, are full of drawings: tropical palms with human heads, human figures, and flames of fire everywhere.
Trinidad presented another iteration of Isla Inip in 2019 at an exhibition titled City Prince/sses at the Palais de Tokyo in Paris. It displayed works by 50 artists from Dhaka, Lagos, Manila, Mexico, and Tehran.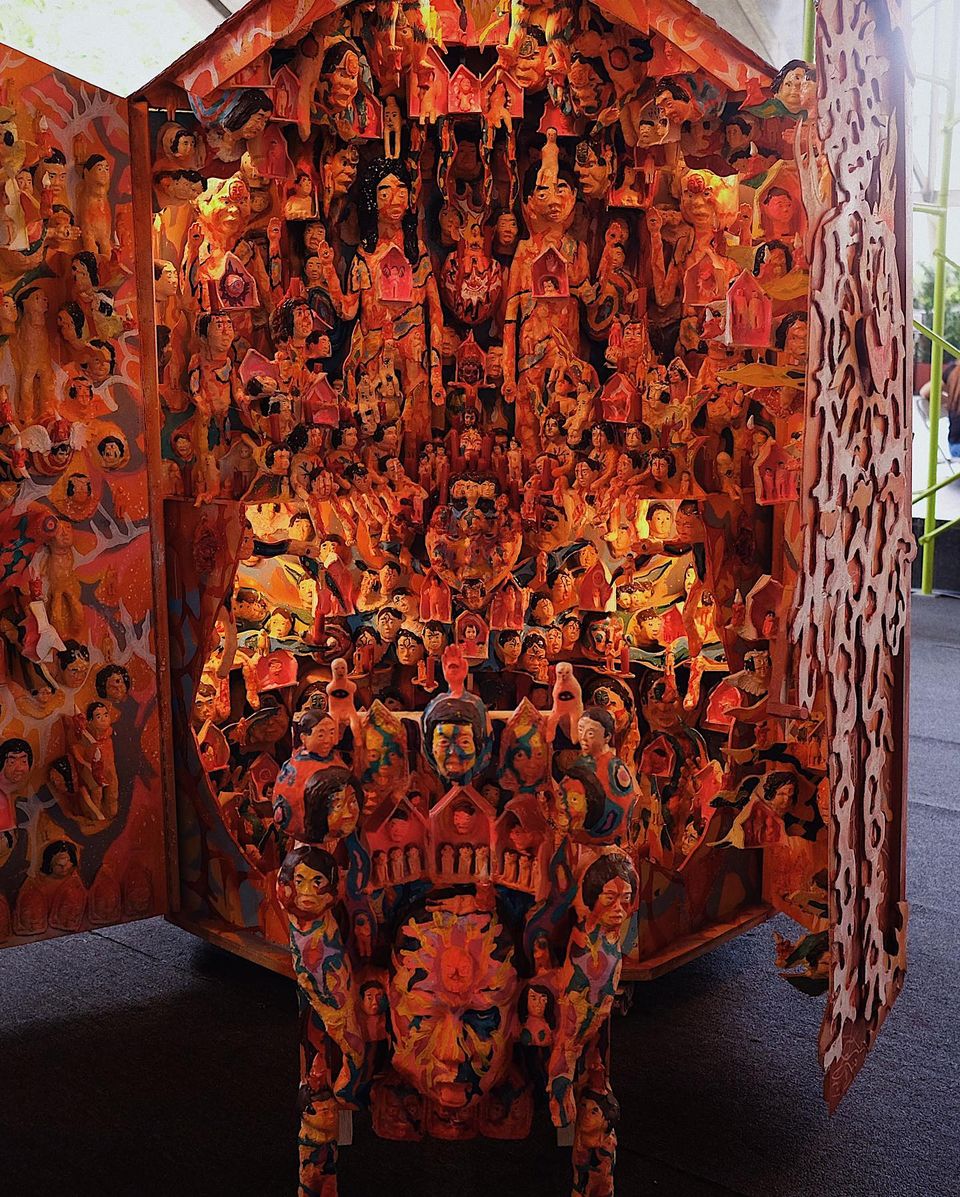 Sariling Sulok (2022), Art Fair Philippines 2022. It consists of a set of installations that evokes an altar, a cabinet of curiosities, or retablo, each with a swinging door that reveals packed sculptures of human figures and paintings.  It may be a personal sanctuary, a safe space, or a comfort zone where one can think and ruminate.  We all need that space to exhale, where one's  unfettered and uncensored id-ego-superego is free to roam.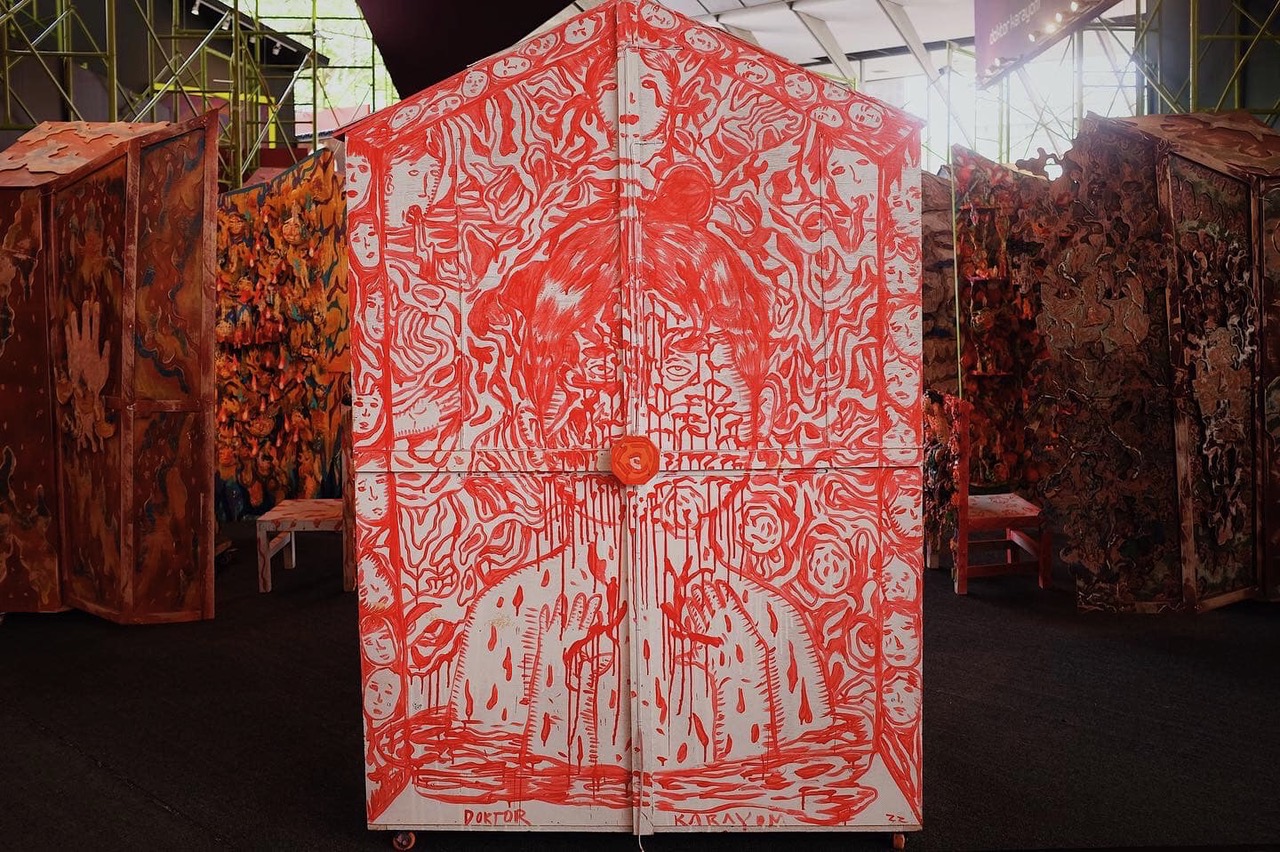 Invoking the primal elements of water, fire(light), and air, the work recalls the experience of pain and suffering through the Covid pandemic years.  The installations are titled "Hardin ng Pag-iisa," "Apoy ng Pagtataka," "Langit ng Ligaya," "Tubig ng Pagkilala," and "Harot ng Liwanag. "
Walang Naniniwala sa Iyo (2023), Kaida Contemporary Gallery: At his most recent exhibit this October, his Tagalog poem tells the story of a ghost roaming the earth and trying to make known its presence, in vain. Amidst a barrage of disinformation, never has credibility become as prized as gold. A unicorn of truth, anyone?
The artist
Russel Trinidad (b. 1992) said his name  is spelled "Russel" when asked  directly; his Facebook page spells it "Rasil;" others spell his name as "Rasel."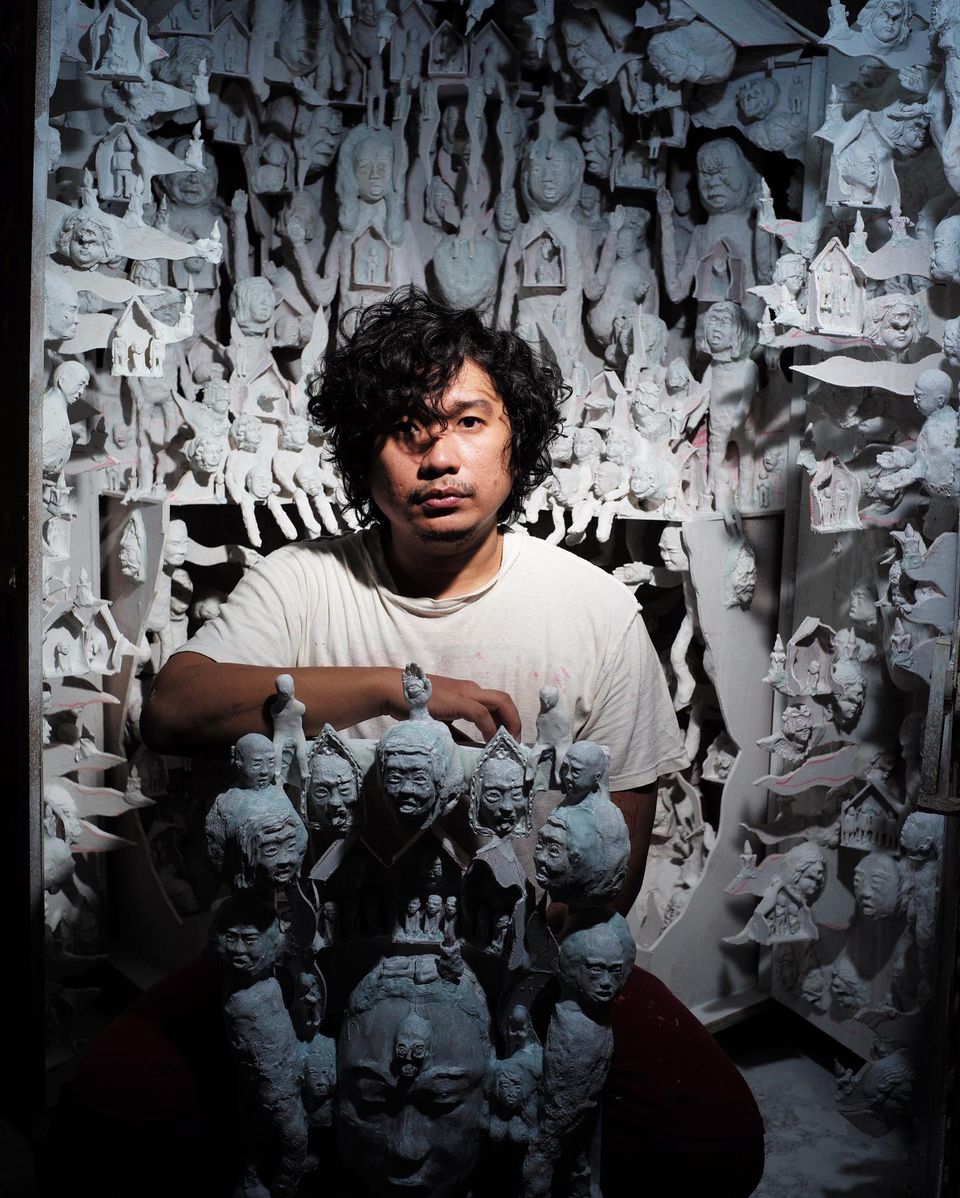 A graduate of fine arts from the Technological University of the Philippines, he worked  first as a graphic designer in a Makati-based company where he started  doodling with a red ballpen. Later, he decided to become a fulltime visual artist.
From his first solo exhibit Santong Pikon! in 2015, Trinidad's rapid rise to recognition came three years later in 2018 when he received the Thirteen Artists Awards of the Cultural Center of the Philippines for Isla Inip.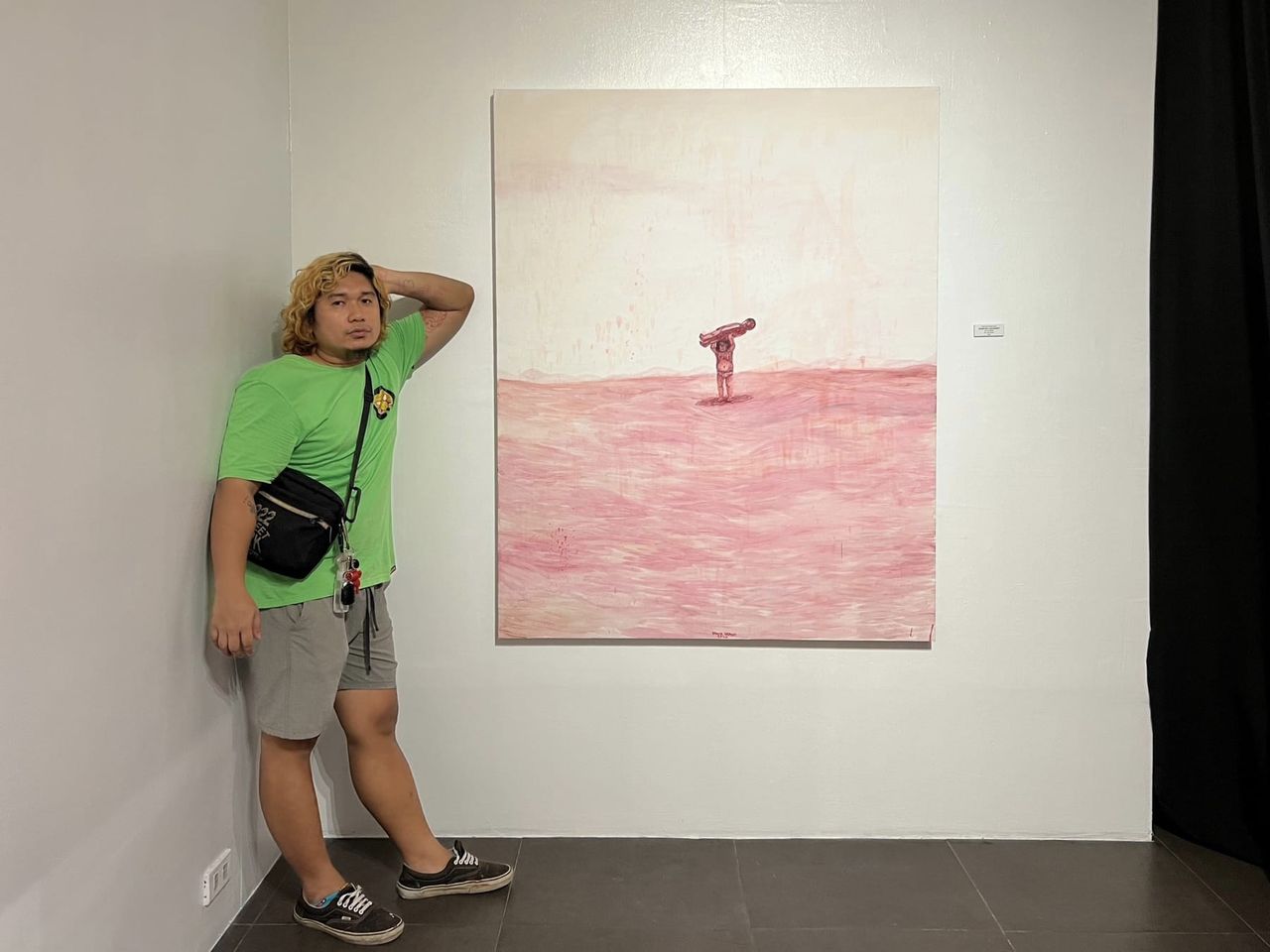 At the 2019 Ateneo Arts Awards, Trinidad's Isla Inip obtained the Embassy of Italy Purchase Prize, as part of the embassy's  Philippine Collection of Contemporary Art.
This year, Doktor Karayom is one of the four winners of the Fernando Zobel Prizes for Visual Arts at the 2023 Ateneo Art Awards for his work Sariling Sulok, Art Fair Philippines 2022.
As part of his prizes, he has garnered a total of four residency grants from Liverpool Hope University,  Liverpool, England; La Trobe University, Melbourne, Australia; OCAD University, Toronto, Canada; and Project Space Pilipinas, Lucban, Quezon. In a year or two, more of Doktor Karayom awaits us!