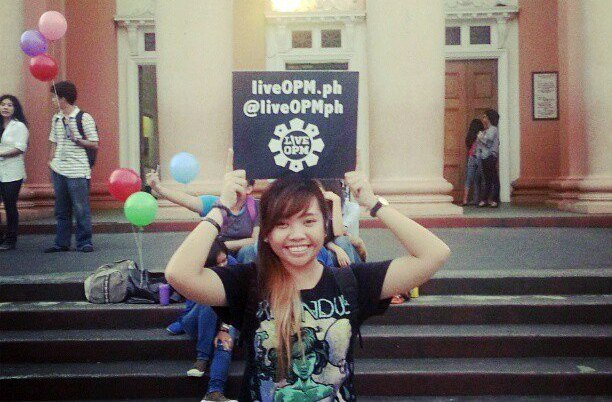 By RIZZA MARIE S. EDU
IT was a night in September 2005, and Nikki Jurado was only 13. After placing her teddy bear under her blanket and stealing money from her yaya, she grabbed a cab from her house in Cainta to 70's Bistro in Quezon City because she heard Urbandub was going to be there. Clad in a Hello Kitty T-shirt and pajamas, she crawled on the crowded bar's floor covered with cigarette butts and spit to get a good view of the band she practically worshipped.
"Kuya, pabuhat po (Big Brother, please carry me)."
She caught the attention of the college student she was standing next to—a person who would later become her professor at the Ateneo de Manila University. Urbandub started playing "First of Summer."That was when it hit her.
The band in front of her provided the background music to the solid plan that was forming in Jurado's mind. She was going to come up with gigs; she was going to make music. As each line of the song brought the crowd together, so did her idea for the local music scene in the Philippines slowly took its form.
A year later, at 14, Jurado became the head organizer of a benefit concert that took place at Bahay ng Alumni, University of the Philippines Diliman. The lineup consisted of the nation's top bands such as Parokya ni Edgar, Paramita and Mojofly.
When she reached college, the dude in the crowd a couple of years ago became her professor, and once again gave her a lift. Not to get a better view of the stage, but to get a better grasp of the industry Jurado so wanted to be a part of.
Her professor got her to tag along and assist in a major concert in 2008 and introduced her to a lot of people in the music scene. He showed her the technical side of the music industry, including the ABCs on creating a program, contacting people, and the importance of having an objective when making concerts. Because of this, she got to work with a major production that held regular free gigs around the Metro.
Last year, Jurado founded liveOPM, a social campaign that aims to promote the local music scene through live events and social media. At the time, the issue about Original Pilipino Music (OPM) was abuzz, and it struck a nerve in the young advocate's mind. It stirred public discourse, and as much as she loved how a number of people were defending OPM, many were declaring it dead.
"Those who say that OPM is dead are either locked up in their houses or are people who just don't know how to research. If you only knew how many gigs there are in one week, there are so many. And that's only Metro Manila, not even Luzon," Jurado said in Filipino.
Jurado decided to set up a Twitter account with the handle "@saveOPM." Eight months into the campaign, however, she realized "save" wasn't going to cut it because there really wasn't anything to save. She changed it to "liveOPM," which grabbed the attention of more people who helped her out in her cause by contributing photos and articles of OPM artists and pitching some bands to her  that are only starting out.
"If it's presented by liveOPM, it means it's free for sure. It's just a campaign to show that, you know what, shut up, things are happening here, nothing is dead," she said.
Jurado recalled having crowds so wild that liveOPM often had to pay for the damaged doors and windows after the gigs. There was even a night she and a couple of other people got drenched in beer while dancing on stage with the band Pedicab.
"But I think the best thing when you make gigs is when strangers approach you and tell you how good the band is, and then you see them in the band's next gig. The audience builds up because of a gig that you made," she said.
Jurado even brought her love for OPM abroad when she represented the Philippines in the ASEAN Youth Forum 2012 held in Bangkok. She made her Vietnamese and Singaporean friends listen to some Filipino songs in English which they all enjoyed. She got them to listen to "Torete" by Moonstar88, which they also liked, and she was quick to explain what it was about.
"What is torete? It's like you're crazy for someone, but not quite. That's what special about OPM. There are words and things you can't translate to another language," she said.
Jurado thinks of OPM as cliquish, special and unique that one cannot possibly find an equivalent of it in a foreign language. It stands for things that are truly Filipino. It's something that is nostalgic even when it's new.
"It's like listening to something released in 2013 but you feel like you listened to it when you were six," she said.
Now 22 and a project coordinator at the Department of the Interior and Local Government, Jurado said she often shares in her talks about building communities or youth empowerment through music the magic of "CoCo" or "communication and collaboration." Through CoCo she hopes to create a community of collaborators that loves OPM as much as she does.
This is why she is talking to ndfy.me, an online movement that aims to give independent Filipino artists a chance to be heard. It provides netizens a growing track list of music produced by talented artists across the Philippines. She teamed up with this organization to produce more free gigs that feature indie artists.
LiveOPM is setting up a new website that is expected to launch this month. She said it will try to zero in on live gigs and further encourage the collaboration between various sectors of the local music industry.
Headstrong and inspired, Jurado envisions the campaign turning into an NGO of event organizers, producers and band managers. It's a big leap, but then again, this is coming from someone who loved OPM so much she escaped in her pajamas to go to a gig when she was 13.
(The writer is a journalism student at the University of the Philippines-Diliman who submitted this story to her Journ 101—Introduction to Journalism—class under VERA Files trustee Yvonne T. Chua.)